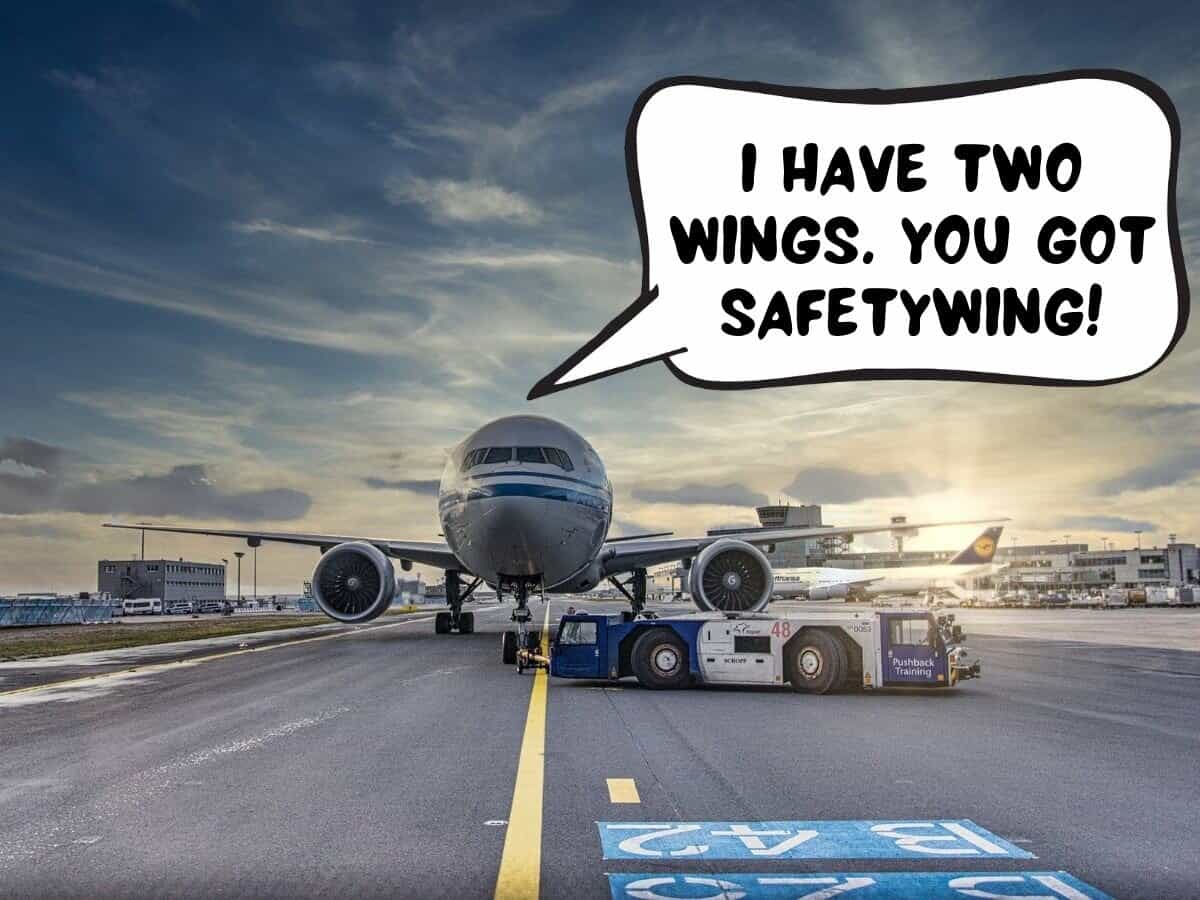 Posted: May 27, 2022
As someone who is neurodivergent with OCD, I process the world — including my travels — in ways that need additional attention on my part. By being backed with mental health treatment covered by a travel insurance company, I will feel much freer and more confident to go out into the world. It is important to me that travel is accessible for people with mental health conditions. If this includes you, read on!
In April 2022 at TravelCon 2022, I had the privilege of speaking with SafetyWing. After they learned that my travel niche is in mental health, they asked for an appointment to meet me. That way, I could get familiar with not only their current coverage but exciting future plans for travelers who would like to have mental health coverage while traveling.
Later this year, they will debut the Remote Therapist product, which provides exactly what the name suggests! While you're traveling, if you need mental health therapy, you can meet an online therapist using Remote Therapist.
I am glad to see that SafetyWing is breaking out of traditional travel insurance coverage that is narrowly focused on emergencies, such as a broken leg requiring hospitalization or a trip delay (though as I describe below, they do cover that too!) The company is expanding on health and safety in a more general sense, and that includes therapy services for mental health.
While we are waiting for Remote Therapist to become available, let's explore two of their products: Nomad Insurance and (coming soon) Remote Health for individuals.
Nomad Insurance
SafetyWing's travel medical insurance, Nomad Insurance, protects you against unexpected cases and emergencies.
If you got sick or into a medical accident, you are covered. Let's say you slipped on a wet surface and injured your back, requiring an ambulance so that you can get hospitalized. Or you contracted dengue fever and needed to go to the hospital to treat the illness. Those kinds of scenarios are included in their travel medical insurance plan.
Travel is full of uncertainty, and something undesirable may happen. If the airline lost your checked baggage, you needed to relocate due to a natural disaster, or your flight got delayed by at least 12 hours, then Nomad Insurance will help you cover the incurred expenses.
The beauty of SafetyWing's Nomad Insurance plan is that it's flexible — you can buy it while you are abroad.
Remember that travel insurance is not meant to cover the whole range of your health, but rather, any emergencies and unforeseen circumstances.
If it is important to you that mental health treatment is covered with a plan, please wait for the Remote Therapist product or (depending on your pre-existing condition) for the Remote Health plan for individuals to debut. This is because Nomad Insurance excludes mental illnesses. It also does not cover pre-existing health conditions, unless there was an acute onset that came immediately and unexpectedly, which is detailed in their Nomad Insurance policy.
Please remember to read the fine print of the policy before buying any travel insurance plan. Also please contact SafetyWing if you need clarification on something. You need to be making an informed decision before buying.
You can get a quote for Nomad Insurance here:
---
Remote Health (for Individuals)
Currently, Remote Health is only for remote companies. However, they recognize the need for digital nomads who live extensively abroad. This means a Remote Health plan for individuals is coming soon! They already have the details about this upcoming plan, so let's talk about it.
Remote Health covers those health emergencies needing hospitalization, so that slip that broke your back and the dengue fever contraction. But also think of it as a comprehensive health plan that covers routine visits for your general, dental, and vision health. Get your cancer screening, fill any cavities, and take a yearly eye exam! It's all a part of your Remote Health plan.
This plan is flexible too. From whichever of the 175+ countries you happen to be in, you can buy this plan. You can keep using it, no matter how much moving you do through the covered countries. And that includes your home country!
Although you have the option to pay monthly, Remote Health is an annual contract. So this plan is ideal if you are living on the road for at least a year, rather than taking a 3-month backpacking trip through Europe.
Because this is a health plan, they might cover a pre-existing condition. But they must approve it. If you want to be sure that they will cover it, please contact them directly so you can make an informed decision.
In terms of mental health treatment, it is considered an exclusion to the policy. However, there are some cases where treatment would be covered. Specifically, you are covered for 30 days of inpatient (long-term stays in the hospital) psychiatric treatment. You are also covered for 10 visits per policy year for outpatient (short appointments during the day) psychiatric treatment.
Travel-specific emergencies, such as lost checked baggage or trip interruption, are not included with the Remote Health plan.
***
You never know what could happen on the road. Traditionally, we think of emergencies such as flight delays and physical health injuries. But we should also be thinking about the times when our mental health is not at its prime. That's where SafetyWing's Remote Therapist product will come in handy.
While we're waiting for Remote Therapist and planning upcoming travels, consider getting a travel insurance plan for a greater peace of mind in case that baggage gets lost by the airline or you accidentally injure yourself.
Just remember to review the policy and contact SafetyWing if you have any questions! There shouldn't be any guesswork when considering your travel insurance options.
Featured image by Tobias Rehbein from Pixabay