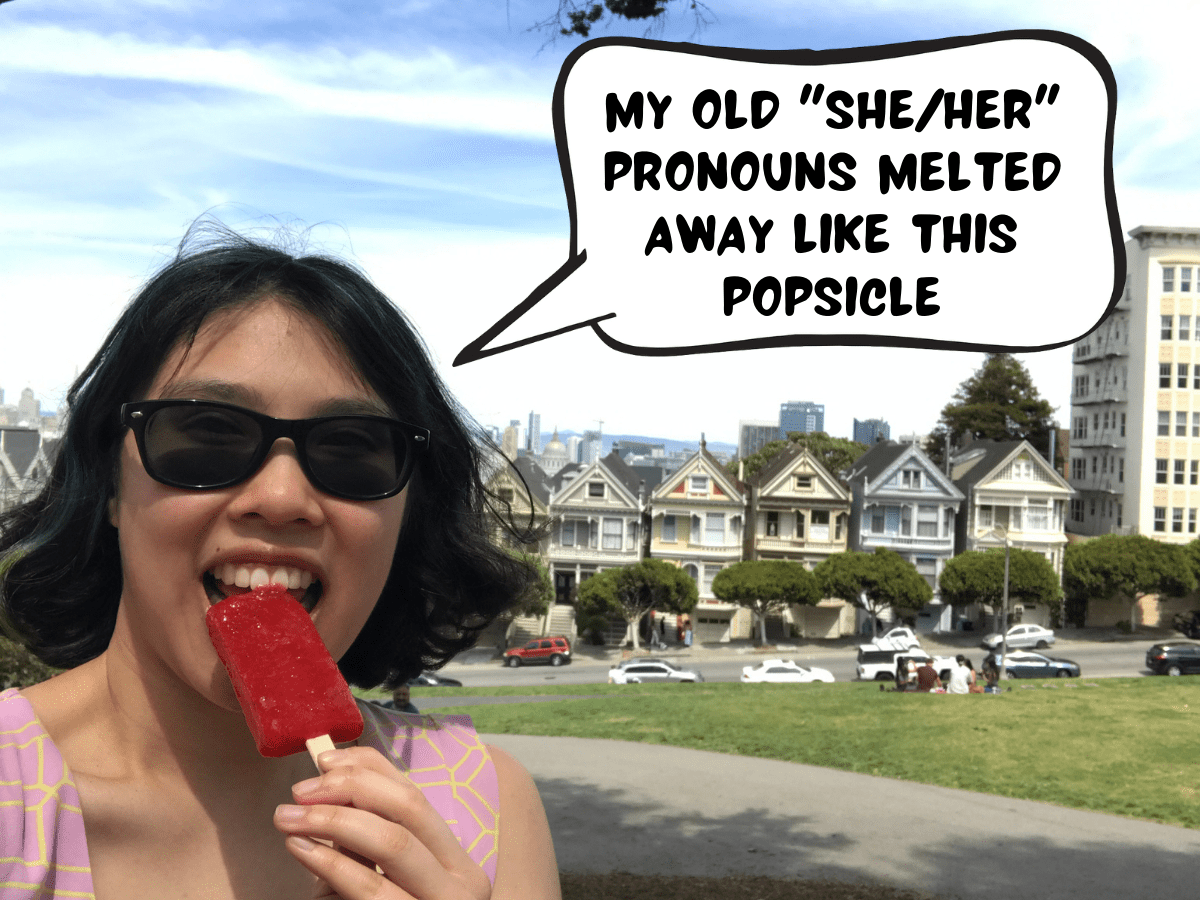 Posted: October 27, 2021
Even though I was born a female, I have never felt like "a girl."
Our society is full of gender roles, which set expectations about a person's behavior depending on the gender they were assigned to due to their biological sex. If you watch an ad for a Chevrolet Silverado pick-up truck, it features tough, brawly men who look in control. Meanwhile, a Victoria's Secrets ad with a pink theme shows skinny, long-haired women striking flirtatious poses. Boys are given blue colors, shirts to wear, and toy cars to play with while girls are given pink, dresses, and dolls.
But I was the rebel who went against nearly everything that society thought I would like.
As a little kid, I always wanted to wear shirts and shorts, especially in blue. At such a young age, I already didn't feel like myself whenever my mom made me wear dresses. I still shiver when I remember wearing a grey dress with flashy sequins that itched the hell out of me. "Mommy, I don't want to wear this ever again!" At the pool, I wanted to wear swimming trunks made for boys instead of one-piece swimming suits.
When my sister gave me dolls for my birthday, I shoved them away. The idea of playing with dolls bored me. What would I do with these things? What truly made my afternoons magical was playing with Thomas the Train sets and pullback cars. (My first ever toy was a pullback red Porsche 911 Turbo that I still keep today.) I liked things that could move and go vroom-vroom!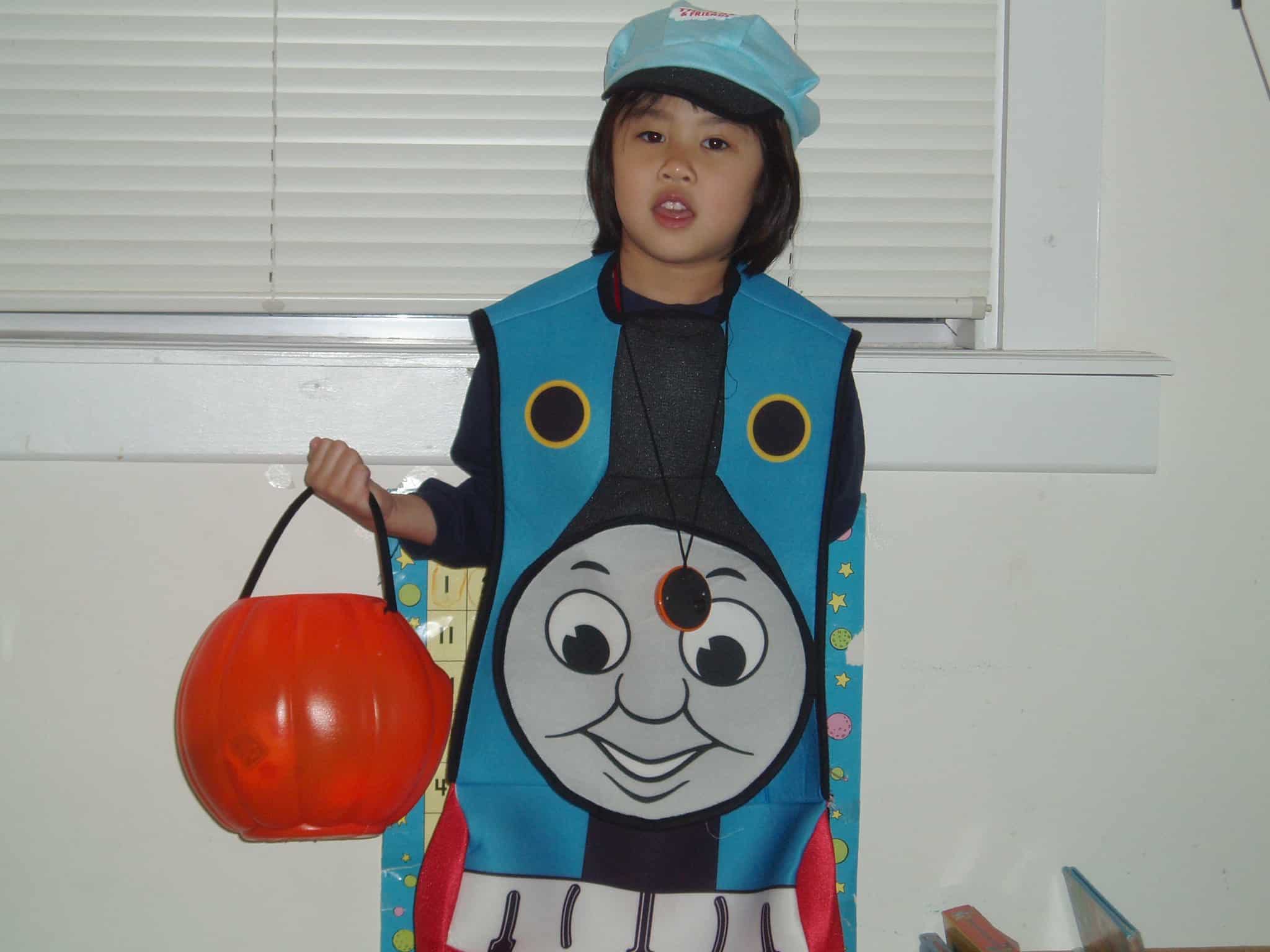 In elementary school, I already knew I wasn't "your typical girl." Many of the female students wore dresses and skirts, the stuff of my outfit nightmares. Not one day in elementary school did I ever wear them. Even on a field trip where we had to don Medieval clothes for a festival, while the girls strutted around with sophisticated dresses, I only wore a simple blue cloak over my everyday clothes — I looked like the most disinterested kid in the class.
Gender constructs couldn't have been more obvious when my elementary school threw parties in different rooms, one for boys, one for girls — which was full of nail polish sets. The teachers thought that all girls must like painting their nails. But that was not how I wanted to celebrate my grades. I groaned at the boredom that would ensue for the next half-hour. I felt like I was a given a chore, not a party. Whatever the boys were doing, I was sure they were having more fun. Were they competing in video games? Or playing sports outside? Now that's how you party!
In my high school's social spaces, I noticed that most female classmates followed the gender constructs closely. Being around them sent the message that girls must like shopping at the mall and putting on makeup. But to me, those activities sounded like a complete waste of time. Even with the curriculum itself, I felt like the odd one out because I chose to take technical computer classes for my elective — where I was the only girl. The message there was that girls didn't belong in computer careers.
Even now as an adult, the idea of sporting dresses feels so unnatural. I have recently given away all of the ones that my mom made me put on during my high school ceremonies. (I felt even more socially awkward and self-conscious with the dresses on since I didn't want people to think that was how I wanted to expressed myself.) I even thank god that my mom forgot to pierce my ears when I was little. If she did, then I would have holes in my earlobes for no reason since I don't care about wearing earrings.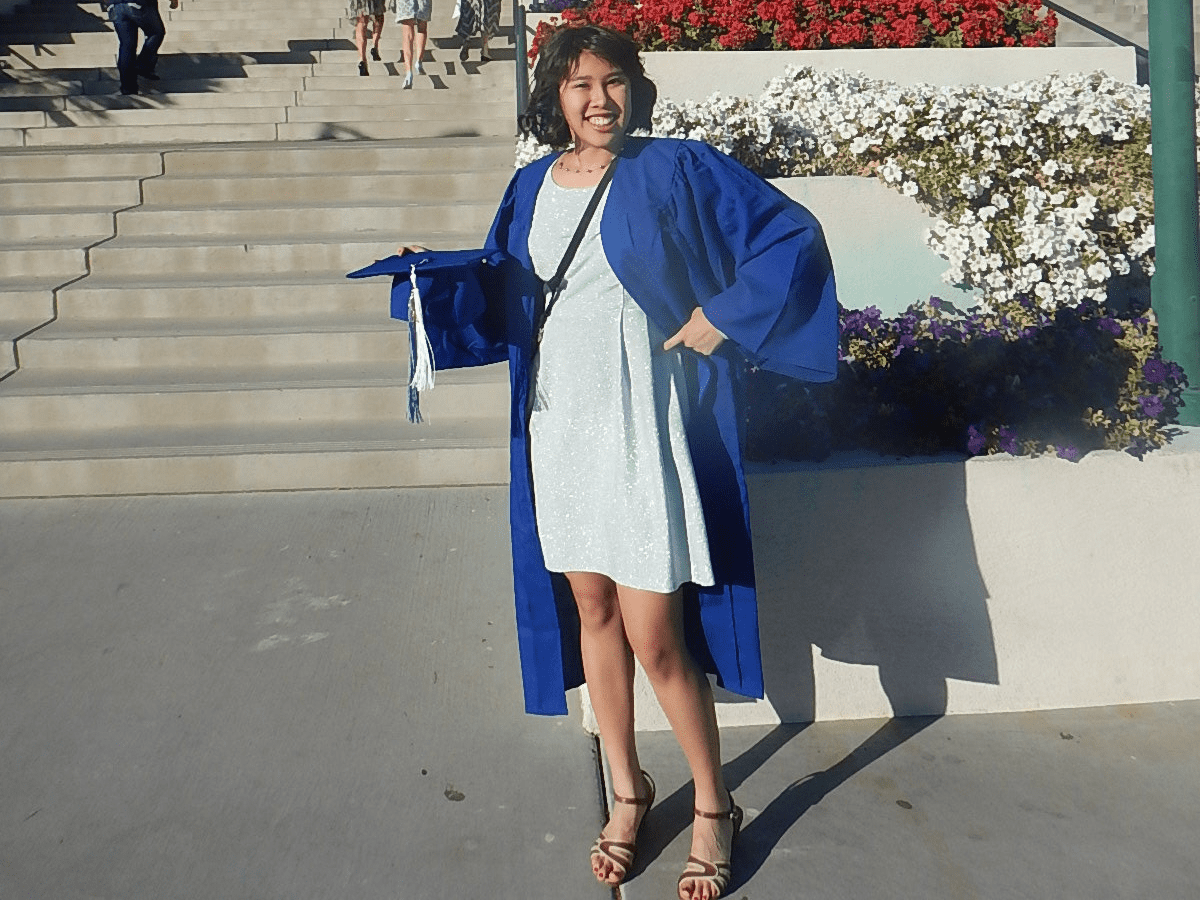 Not much has changed as I've grown up. From childhood to adulthood, I've been a tomboy. I'm proud of how I express myself and what I do with my time, even if I almost always deviate from feminine gender roles.
The other day, I wore rugged hiking shoes, a ballcap, and a plain blue shirt as I shopped in Victoria's Secret, which might be the de facto mall store promoting female customers to wear pink and girly clothes in order to sell lingerie products. My simple, outdoorsy outfit clashed so strongly with these female gender constructs, I almost laughed. Look, I'm only here to buy some comfortable underwear.
But sometimes, there are "girly stuff" that I feel like doing. I might wear pink shorts when I'm out for a run. Or blue fingernail polish to prepare for an upcoming trip and look my best on the road. Or a bikini when I hit the beach.
And who's to say that that is "girly" stuff? A person of any gender can express themselves that way.
Identity is fluid. And I wanted to get inspired.
And that's why this summer, I visited California's Bay Area, particularly San Francisco, during Pride Month. After all, SF is steeped with a history of many "firsts" in the United States for the queer community, including the first lesbian organization, gay community center, gay pride parade, and legal same-sex marriage. Representation has always been in the forefront of the San Francisco identity. As a queer, asexual (ace) tomboy who just turned 21, I was so excited to grab a piece of it for myself.
In the eccentric Haight-Ashbury district, a center for the American counterculture movement, I went along with my identity fluidity by wearing whatever I wanted that day: a blended pink and yellow tank top with vine leaf patterns.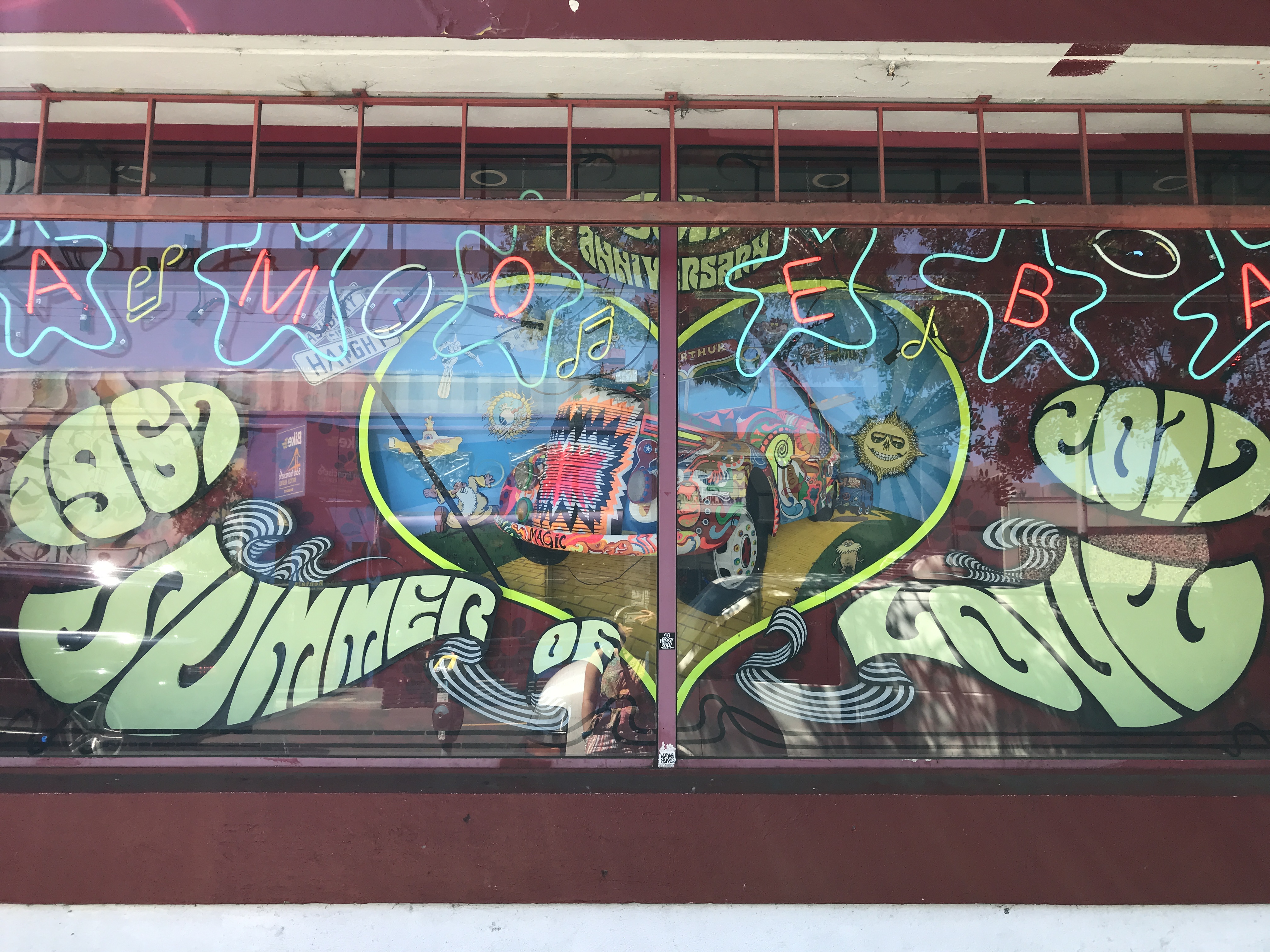 I was observing the colorful psychedelic patterns painted along Haight Street when an elderly person wearing baggy hot pink clothes interrupted my thoughts. They said to me, "I love your shirt! We need more color in our lives." Then they moved their arms as if they were lifting a heavy object in front of them and said, "We need to stand out to lift each other up."
"Oh, thank you so much!" I said. "My cousin Tina just gave me this shirt."
"Well, tell them I gave them one hell of a compliment."
No stranger, not even an acquaintance, had ever taken the time to emphasize, based on my choice of clothing, how important it was to stand in solidarity with how we expressed ourselves. I was so happy that this random person in Haight-Ashbury made me feel seen and understood.
I could feel my spirits rising as I descended the hills of the Castro, a district steeped in LGBTQIA+ pride. More colors filled my eyes, but this time, they were all rainbow, on the intersections, flags hanging in the street, and storefronts. I would also see window signs supporting black queer folks.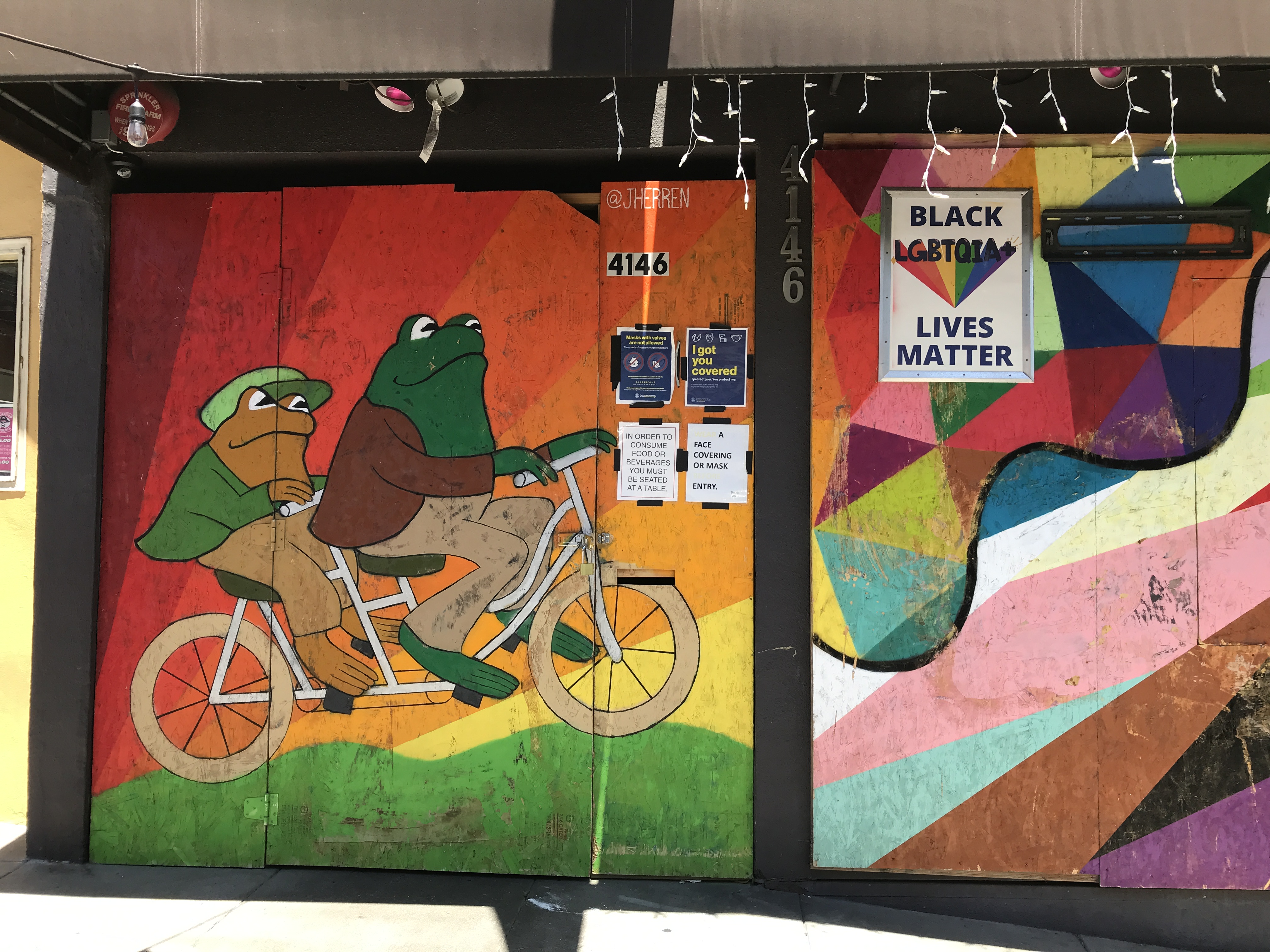 When I walked by a window of yet more colors, I screeched to a stop before the hill's gravity could pull me farther down the street. It was a poster with various pride flags, the history of their creation, and which identity they represented. I had never seen the sexual identities displayed so conspicuously in public, which meant that people here were so proud to represent themselves. I could feel their energy!
As an ace, I especially loved seeing the black, gray, white, and purple asexual flag. In many queer spaces, I was annoyed at how asexual folks were underrepresented. But here in the Castro, they saw aces. They see me. They acknowledge my sexual identity.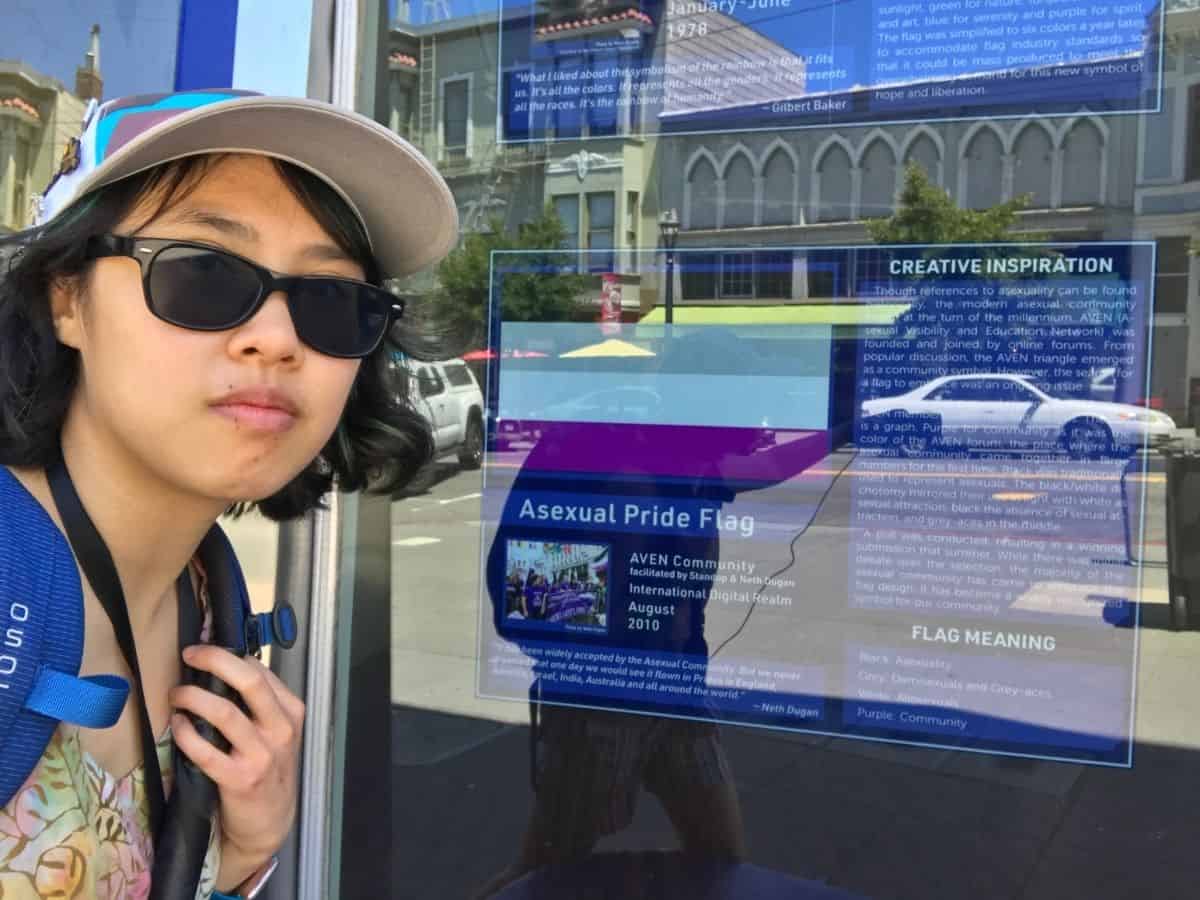 I glanced around the window and saw that the poster was curated by the Gilbert Baker Foundation. Of course. SF was where Gilbert Baker created the rainbow pride flag based on the striped American flag in the late 1970s.
The midday sun began to heat up the city. Whew, I gotta retreat somewhere and get a popsicle. So, I entered the nearest Bi-Rite, which is a local grocery store popular with San Franciscans.
And Bi-Rite was about to get another fan — me!
Shopping here uncovered a part of myself that had been hiding in the shadows for all my life.
No other grocery store I've ever shopped at made the message, "You are loved and welcome here. All identities and expressions are welcome," so prominent.
It was so important for people in their everyday lives and errands to feel like their belonged to society. There are other American food store brands that welcomes its queer patrons, such as Trader Joe's. But Bi-Rite made that welcome so open and so clear-cut due to its signs and rainbow colors everywhere.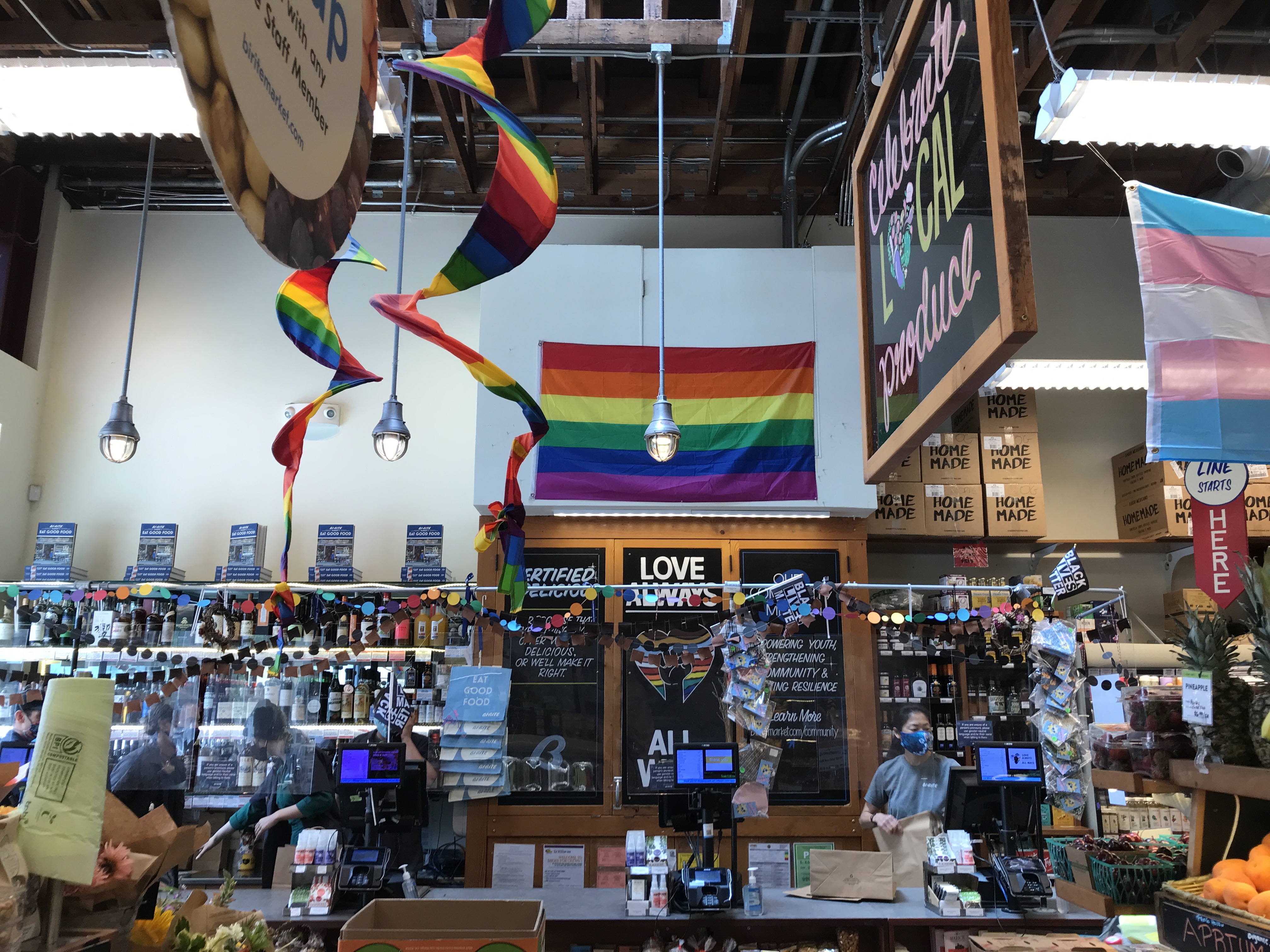 This was pride month, and those decorations might have been just temporary. However, I visited a Trader Joe's this month as well, and they did not go out of their way like Bi-Rite did. It's one thing to believe in welcoming all identities, but it's another thing to deliver that message.
When I was checking out with a red strawberry-lemonade popsicle already beginning to melt, I noticed a blackboard with "LOVE ALWAYS" and a heart colored with the rainbow colors behind the register.
The cashier embodied the blackboard's message. In Bi-Rite, people could express themselves however they wished. When my cashier handed me back my popsicle with a gentle, friendly smile over their beard, I noticed that they had light blue fingernail polish.
I was able to leave when a poster on the protective glass shield in front of the cashier stopped me in my tracks. It reminded customers that we shouldn't assume identities just by how a person looks on the outside and that, to be safe, we should refer to a person by their name or a gender-neutral pronoun like "they." Even though most people would assume that my cashier was a "he" by their appearance, nobody would really know if they wanted to be called a "he." Any person's identity and pronoun is their deliberate choice, not one determined by people's assumptions.
That's when it struck me. My pronouns, she/her, felt so awkward to me. I felt limited as a person to be referred to as only a she. So that's when right then and there, with a strawberry-lemonade Bi-Rite popsicle melting in my hands, that I changed my pronouns to she/they. I resonated with "they" because this pronoun throws all assumptions about gender out the window. I wanted to express myself any way I wanted to without having to be categorized as girly or tomboyish.
It wasn't only the Bi-Rite cashier whom I could stand in solidarity with. Many Bay Area folks refuse to stick to traditional gender roles.
While riding the local MUNI bus, I met Cecelia, a friendly, talkative bus driver who had long hair and a cheerful, deep voice. Tina, my Bay Area cousin, bonded with me, considering they are a non-binary person who didn't identify as male or female and used they/them pronouns. One day, they might wear a graphic t-shirt with pants. Another day, a flowing dress.
Even Tina's community at Stanford University was also proud to express themselves however they wanted. Their professor's appearance leaned towards masculinity, and was known for the orange beanie they wore every day atop their short hair. And one of Tina's classmates, who painted light purple polish on their fingernails and wore a short beard, reminded me of the Bi-Rite cashier.
It took more than pride flags hanging in front of people's homes, over the city streets, or inside businesses. Without knowing people's true intentions, the displays of rainbow could simply be performative and not actually do anything to support the local community.
It was in San Francisco where I first felt an overwhelming support for freedom of expression in its communities. SF made it so obvious that anyone was accepted, no matter how they identified or what they wanted to wear that day. This was a city of people who were proud of being represented any way they wanted to. I wanted in, and I sure got it. I was surrounded by so many people who defied society's gender constructs. The she/they pronoun didn't come across to me until SF's queer community and accepting spaces awakened a dormant part of my identity.
After touring the jailhouse of Alcatraz Island, my cousin Tina and I sat on a bench while tourists scurried back to the return boat back to the mainland. Of all places, a former prison island was where I told Tina that I changed my pronouns to she/they. Beaming with pride and offering a hug, they said, "Awww, my little queer baby! I'm so glad SF helped you discover more about yourself!"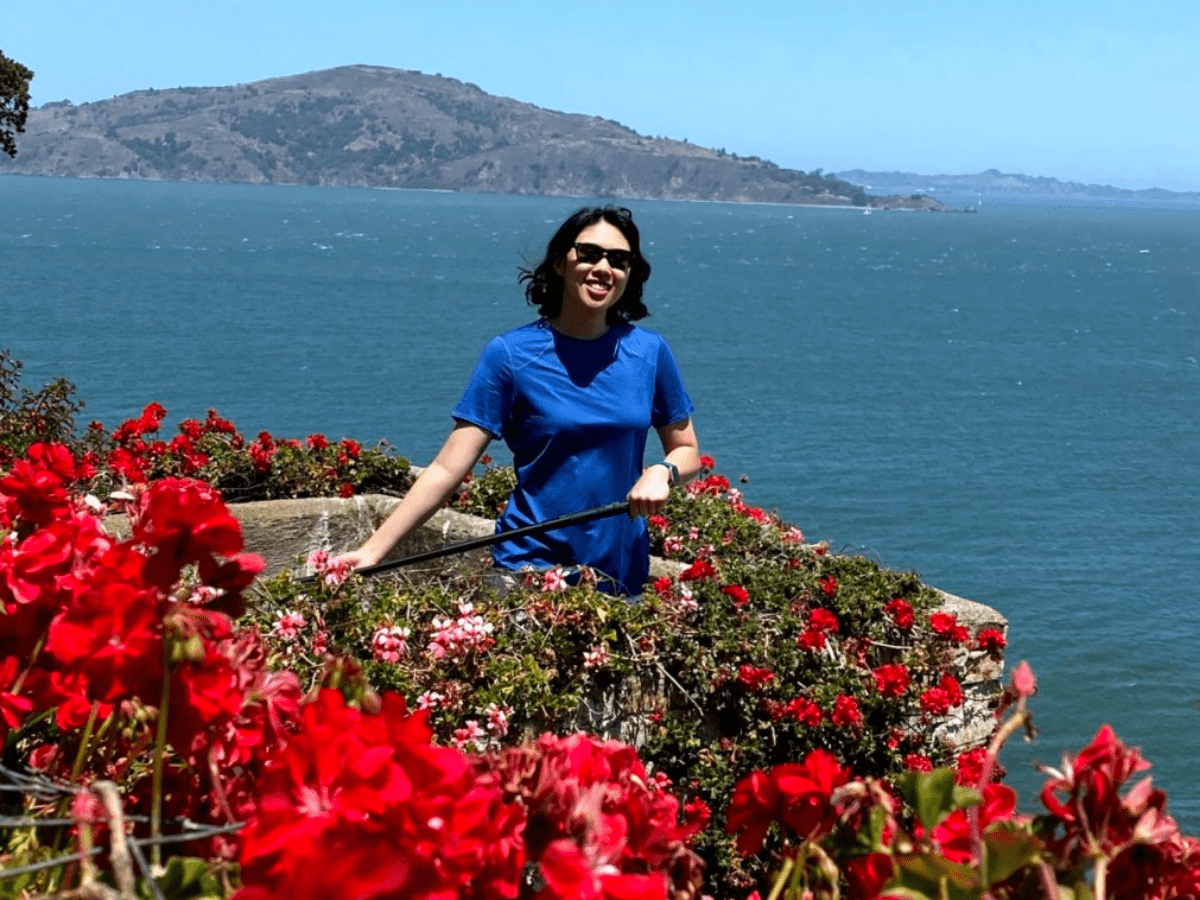 I couldn't agree more.
My cousin wanted to give me a treat: a thrilling induction into the queer community.
Weeks later, when my trip in San Francisco was approaching its end, my cousin bought me a ticket to attend my first drag show and queer disco dance party for ages 21+. YES! I couldn't get enough of SF's queerness!
And I was surrounded by it at the gay nightclub venue, the OASIS. Both the drag show stars (one of them was Tina's friend and mentor) and the partygoers wore flamboyant clothes. We showed off our freedom of expression and identities well into the early morning as we danced to high-octane music. The heat from all the people added to the energy, and the sweat from my nonstop dancing proved how much I was having fun.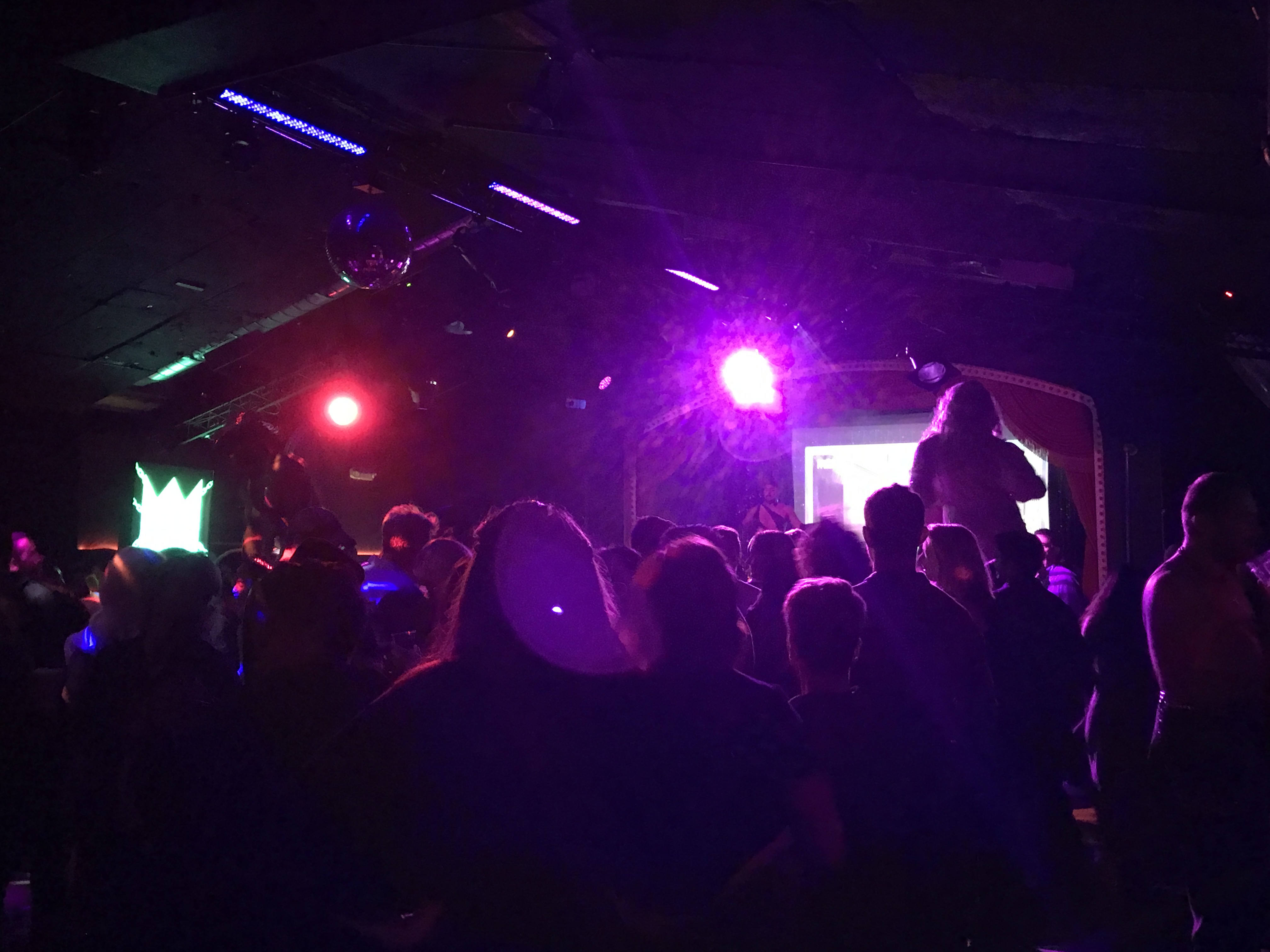 This was more than just a party. It was a celebration of a community where any queer person could belong and gender constructs didn't.
As people emptied out of the nightclub into the seemingly permanent fog of SF, I felt a blissful, bittersweet reminder that my time in the Bay Area was ending.
But SF's proud queer community left an influence on me that I will take long after leaving the city: the revelation that my identity felt limited by "she/her" pronouns. I have never fit well into society's female gender roles. And I certainly didn't see SF's people comply to them. Meanwhile, I realized that being described with gender-neutral words was so comfortable to me because my expression of identity has always been fluid, especially leaking into the tomboy realm.
In SF, I found a part of myself. I found my she/they pronouns.
---
Share on Pinterest!