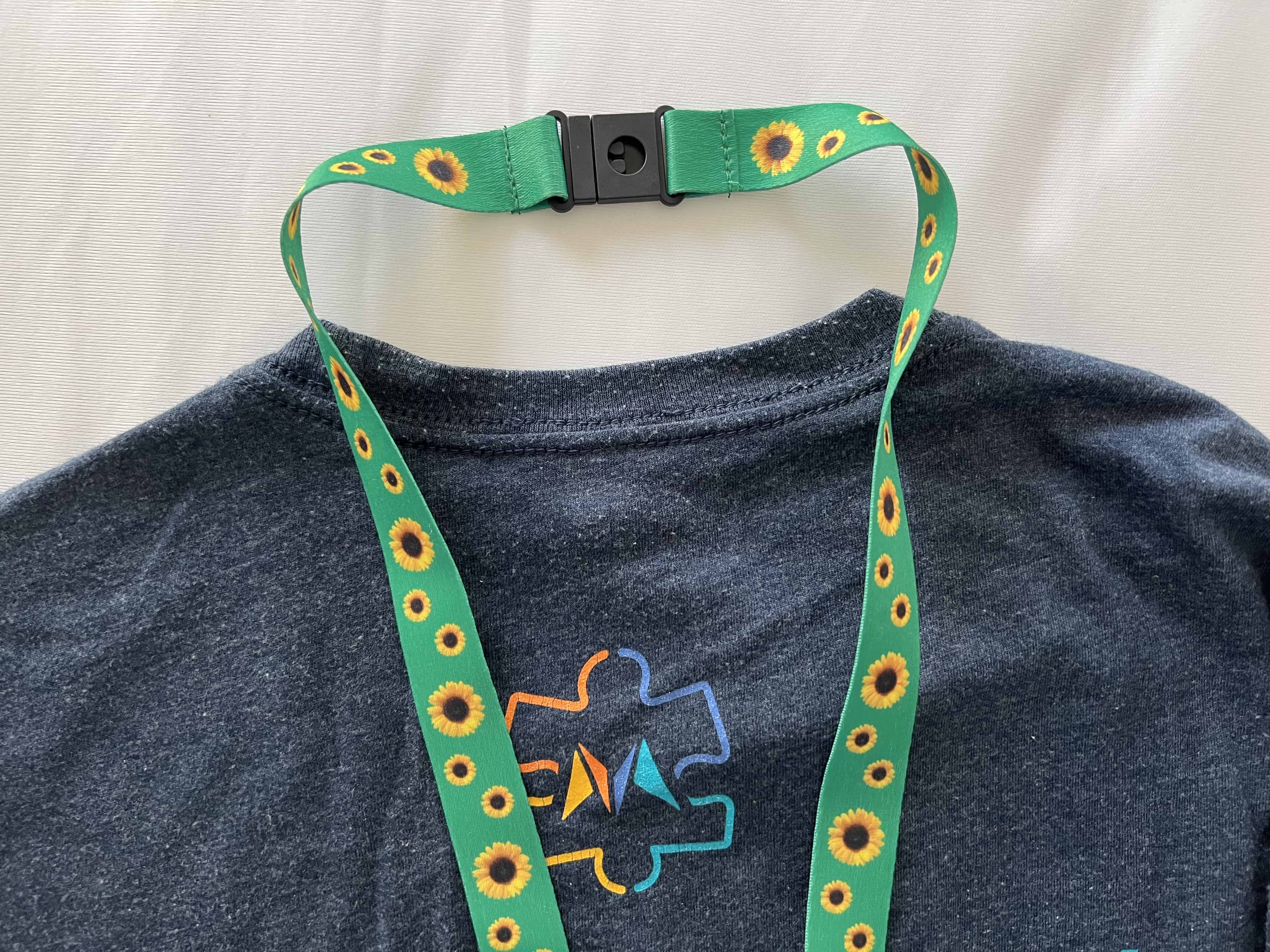 Posted: July 22, 2023
Wouldn't it be nice if folks with autism could be more supported in their everyday lives? That's what the Hidden Disabilities Sunflower Lanyard program is working toward worldwide!
Whether an autistic person has sensory sensitivities or difficulties with social interactions, wearing this lanyard can help them navigate public places. Staff at recognized public places are trained to help folks wearing the lanyard.
I, too, have the Sunflower Lanyard, but not because I'm autistic. That's why I've asked my autistic British friend about her experience with the lanyard. She recently traveled internationally through several Sunflower airports. I've also done lots of research to gather any resources for autistic folks interested in this lanyard.
I recognize everyone's autism is different. This lanyard is one possible means of support for people on the spectrum.
What is the meaning of this lanyard for autistic people?
This lanyard is meant for anyone with hidden disabilities, including autistic people on the spectrum, who need extra support in a public place where the lanyard is recognized. But the wearer doesn't have to tell the staff that they have autism. The staff are trained to recognize that the person has a hidden disability. If the person needs help, the staff can provide accommodations, patience, and understanding.
The lanyard is a great representation of accessibility. It helps folks with autism feel more acknowledged. If they need support, but others don't understand that because they can't see it, that can be annoying! So the lanyard is a subtle message to staff that patience and any help are appreciated.
To learn how the lanyard is used in everyday life, visit my complete guide about its use and worldwide coverage.
Can I get the lanyard for free?
It's free if you can find it at a recognized business.
In my experience, it's easiest to get a free lanyard at a recognized airport if you're traveling through one.
Otherwise, you can buy it from the official Hidden Disabilities store for a small fee. My autistic friend also bought a personalized autism card that she attached to her lanyard. Her card shows her picture, a short explainer about her condition, and an emergency contact.
Although there are many businesses that recognize the lanyard, some locations may or may not have them in stock. In the United Kingdom, my local Sainsbury's and Asda supermarkets in Grantham did not have any lanyards to give out, even though these supermarkets recognize the lanyard.
Once you get the lanyard, you can keep it for life!
Where is the lanyard recognized?
It depends on where you live, visit, or travel through.
The goal is to make it widespread in everyday life. Though it isn't found everywhere around the world yet, the Sunflower is spreading fast.
Here are some ways you can find recognized places:
Search the worldwide map on the official site
Google search "Sunflower lanyard" + [the place]
Follow the official Instagram page for the latest news
I highly recommend wearing it while you're traveling through recognized airports and airlines. After all, airports can be crowded places with sensory overload. There are hundreds of airports and a few airlines that recognize the lanyard. My autistic friend traveled through several American and British airports with the lanyard. Even on an airline that didn't officially support the lanyard, she and her family member got to sit together on that flight by asking the flight crew.
Certain cities and countries recognize the lanyard. The first city in the United States to recognize the lanyard is my hometown Mesa, Arizona. In 2023, the government of Brazil put the Sunflower into law to be nationally recognized.
Certain public institutions recognize the lanyard. For example, the staff of public trains in Sydney and Melbourne, Australia, are Sunflower-trained. In the UK, so do the staff of supermarkets like Asda and Sainsbury's.
Even major sporting events have recognized the lanyard. In 2023, the Sunflower was supported at the Special Olympics World Games in Berlin and the FIFA World Cup in Australia and New Zealand.
To learn more about the Sunflower Lanyard's use in everyday life, visit my guide on its meaning.
***
The Sunflower Lanyard is helping our world become more and more supportive of people on the spectrum. Though the lanyard isn't recognized everywhere, there are many places that already do. Each year, the list of recognized institutions grows.
If anything, it's nice knowing that you and your autism can carry on in many public places where there is support.
Sources
Brazil passes law about the Sunflower. Hidden Disabilities Sunflower Scheme Limited, n.d., https://hdsunflower.com/insights/post/brazil-passes-law. Accessed 22 July 2023.
FIFA Women's World Cup 2023™. Hidden Disabilities Sunflower Scheme Limited, n.d., https://hdsunflower.com/us/insights/post/fifa-womens-world-cup-2023. Accessed 22 July 2023.
Two firsts and inclusion for all – the Special Olympics World Games 2023 starts here. Hidden Disabilities Sunflower Scheme Limited, n.d., https://hdsunflower.com/us/insights/post/special-olympics-world-games-2023. Accessed 22 July 2023.
Visit Mesa Hidden Disabilities Sunflower Program. Visit Mesa, n.d., https://www.visitmesa.com/travel-accessibility/hidden-disabilities-sunflower-program/. Accessed 22 July 2023.