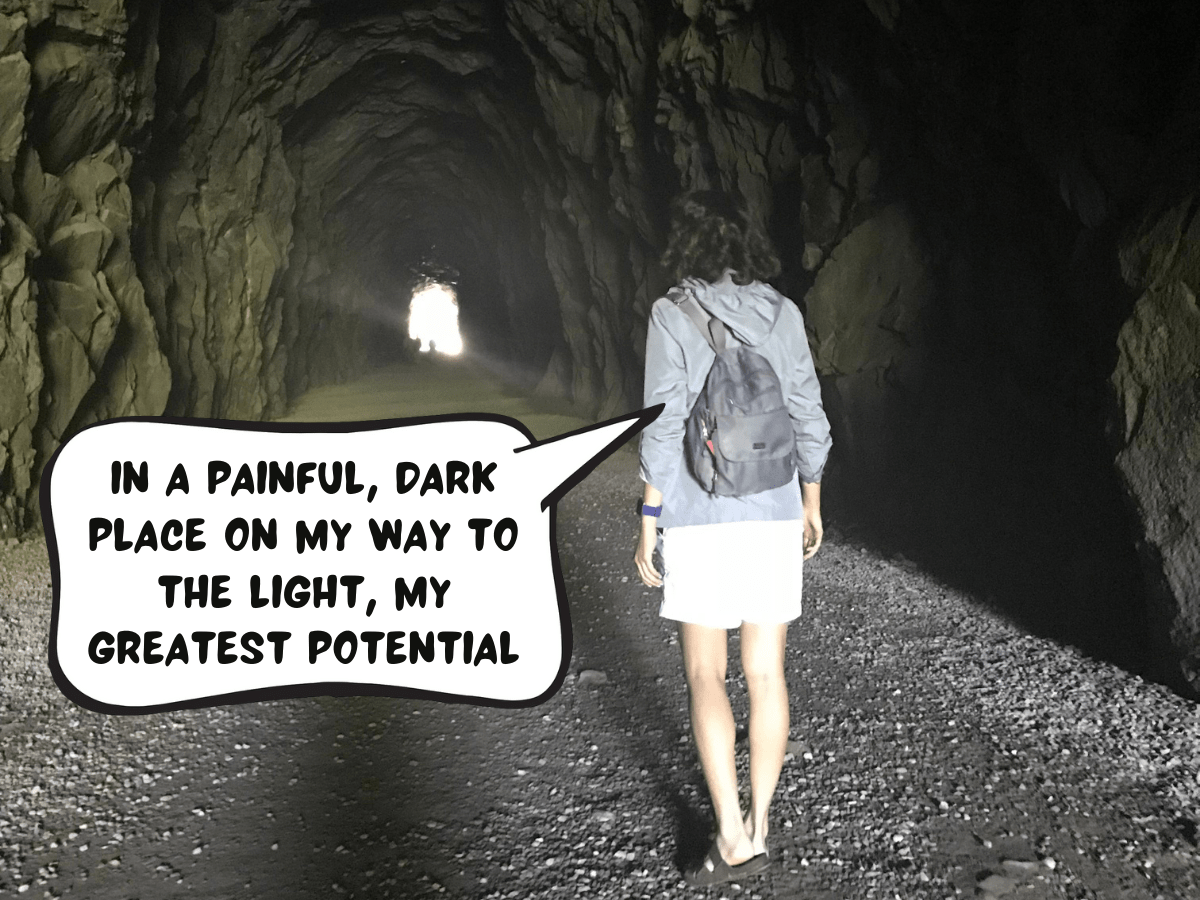 Posted: April 5, 2021
The stigma surrounding mental illnesses can go fuck itself.
It perpetuates the false and hurtful belief that people who have mental illnesses are weak, or have a deficiency that makes them less capable than average people.
Your mental illness doesn't make you a weakling. All that's happened is that certain circumstances in your brain biology (as well as the conditions in your life) have influenced specific tendencies in your thoughts, emotions, and resulting behaviors.
I understand that despite the reassuring reality, you may feel weak anyway. But consider how the stigma in our society has been built upon people's harmful misunderstandings about mental health. It is so easy to absorb that stigma. In turn, you might start thinking that all of society believes that you are weak.
Despite how you feel, you aren't weak at all. For the same day, you have to work harder than the typical person to maintain your quality of life. That makes you stronger than them!
I want to dismantle the stigma surrounding mental health by diving into the strengths that come from having a mental illness, especially if you understand that they affect but not determine you.
Here are five reasons why having a mental illness builds your strength:
1. You get comfortable with reaching out
Lots of people are afraid to seek help from others. After all, according to experts, our brain psychology wants us to deal with problems on our own. Some people think that they would be bothering others if they asked for help. Some also feel shame, believing that others would see them as inferior. This was the main reason why I kept my OCD symptoms a secret for years.
But an untreated mental health problem can cause additional emotional pain and suffering. Eventually, the ongoing turmoil in your mind pushes you to seek professional mental health services, which yields empowering results that help you live life with more clarity and freedom. With this experience under your belt, you become more comfortable with seeking help in other areas of your life.
For me, it was during my Canada trip when I felt pushed to stop hiding my symptoms and get professional help. I hated how my OCD distracted me from Canada's stunning mountainsides and sparkling turquoise lakes. I didn't want to travel like this any longer, so I made a few visits to an OCD therapist who taught me how to cope with OCD.
Having a mental illness can also make you feel so lonely, as if you have been chosen to suffer more than anyone else. Because you can't stand these feelings of isolation, you may also start trusting a few people around you who can listen to and empathize with you when you open up about your mental health. In turn, you might have inspired them to open up about theirs, as well. You've earned the ultimate reward — your friendships are strengthened!
I started small. The first friend I opened up to about my mental health issues was a college student whom I met in Canada and trust very much. After I blabbed on and on about my OCD, she empathized with me, eventually becoming a closer friend. Our discussions about mental health only solidified our friendship!
That's why I am so open about my mental health problems these days. I couldn't care less about the people who may judge me because their numbers are so small compared to the friends who've supported me over the years. But I only know that most people are accepting of my mental health issues because I learned to get comfortable with reaching out.
2. You can cope well with our modern society
My therapist keeps emphasizing how the rapid modernization of our society can harm our mental health.
The reason why the world today has so many people experiencing anxiety, depression, and other mental health conditions is that we still have our ancestors' prehistoric caveman brains. They have not evolved quickly enough for us to cope with our complicated modern society.
Our brains are so well-equipped to alert us of danger — probably too well-equipped since the alert can become an ongoing detriment. Our brains are supposed to make us feel anxious and pump us up into survival mode when a bear in the forest is getting ready to attack and kill you.
But these days, our "bears" are everywhere, even if they don't kill you. It might be the presentation you have to give at a conference or a plane you have to catch in a few hours. The ever-present feeling of danger from things that don't actually kill makes our minds work overtime, eventually causing mental health problems in some people.
But when those people get mental health treatment, they are learning how to recognize and counter their brains' natural reactions to our modern "bears." So, the next time they are giving a presentation or are late for a flight, they can use therapeutic techniques to deal with the inevitable waves of anxiety.
Our old brains might be trying to protect us, but really, it's today's therapeutic techniques that are keeping us alive and ensuring our survival.
3. You see the world's issues as small
Overcoming your own mind is the most difficult challenge. It requires persistent dedication and energy to move through the symptoms of your mental health issues. After a while, the severity of our world's issues seems to shrink. Nothing could hurt you more than the untreated emotions, thoughts, and feelings resulting from your mental health problem.
But we can exercise our freedom to choose. For starters, therapy can help straighten our minds' messes. When we fulfill our responsibility to manage our mental health, our interactions with the world feel different. While we won't be able to solve all its issues, we can learn how to properly respond to them so that they can't control our mental health.
When the coronavirus pandemic forced us to physical distance and abandon our typical lifestyles, I adapted to the new life without much complaining or worrying. After living through the agony of my own imperfect mental health, I felt like I could deal with anything, including this new pandemic lifestyle.
But I witnessed so many people who were struggling to tolerate it. I almost felt like they were overreacting to the pandemic because it's something that we can live through and emerge out of, even though I, too, believe it's a grave matter that we need to suppress as much as possible.
My mental health is a priority above all worldly concerns. It warrants so much attention, concentration, and practice that only I can fulfill, no one else. I can always work on my response to the world's issues for the sake of my mental health.
4. Coping with a mental illness is the best resilience-builder
Having an untreated mental illness is like being trapped inside New Zealand's Waitomo Glowworm Caves — but without the glowworms. But the darkest place lies the greatest potential for positive change. As much as we hate how the darkness hurts us, the pain pushes us to work on improving our mental health.
As Batman's father said to his young son who fell in a dark well, "Why do we fall? So that we can learn to pick ourselves up."
People who have a mental health condition must learn how to deal with it, or else, the emotional suffering and poor quality of life continue. A mental illness forces people to face the tough therapeutic work towards coping with their mental illness, which builds their resilience.
I've learned that people with treated OCD can tolerate life's inevitable uncertainties even better than typical people. As someone who had undergone treatment for OCD, I've learned to accept the uncertain nature of travel. Schedules are prone to change in an instant. I sometimes know almost zilch about the new place I am visiting. But my treatment of OCD has helped me learn how to accept my fate of not knowing everything while I travel.
People who don't have a mental illness would only build resilience by their own terms, which means they aren't as prepared to cope with life's anxious situations and uncertainty.
The rise of anti-Asian hate crimes since the pandemic have perturbed fellow Asians more than me, even though I have severe mental health issues. I only realized that when I learned about people's crying spells lasting for hours or their fear of racial slurs when out in public.
Don't get me wrong, it was still an emotional blow to me, as a Vietnamese American. However, I harnessed my upset into courage as quickly as I could. Hopefully, other Asians who are recovering from their hurt feelings can follow suit.
I will be forever grateful for the resilience I've built over the years from my therapy, which have helped me deal with lots of life's difficulties. But the work never stops. For as long as life throws challenges in my way — until the day I die — I will keep practicing my resilience.
I have to start with myself before I can deal with the world. By understanding my own imperfect brain and experiencing the fulfilling work through therapy, I am becoming a master of the self. Only then can I be resilient when the world is being difficult.
My resilience has also come from the fact that I have to deal with more painful thoughts, emotions, and feelings than typical people, and still manage to have a life! The extra effort I have to exert to make it through the same day as a typical person toughens me up.
5. You can be proud of yourself for making it this far
Anytime you need inspiration, reflect on your mental health journey and be proud of your accomplishments. You couldn't have made it to where you are today without them.
If you could deal with your mental health problems, then you've validated your ability to deal with any challenge in the future. You adopt a "Bring it on!" attitude.
When I remember all the mental health struggles I've toiled through and emerged out of, like when I coped with airport security triggering my OCD, I tell myself, "Fuck, yeah! I did all that! I am on top of the world!"
When you are facing setbacks with your mental health, remember that the therapeutic techniques you've used before are still with you, even if they have been dormant during the setbacks. You can wake them up and use them to your disposal.
You are not your mental illness. You are always more than it. Now that's something you ought to be proud of.
***
The stigma surrounding mental illnesses is dangerous. Not only does it assume weakness but people can internalize it.
However, when someone takes care of their imperfect mental health, it proves that the stigma is utter bullshit.
The hero I look up to the most isn't Superman, Elon Musk, or even my parents (although I appreciate the hardships they've been through for my well-being)! It would be anyone who has a mental illness and learned how to lead a fulfilling life anyway. I admire them for being so damn strong in the face of tough emotional challenges.
Their experiences, though painful, have pushed them to seek ways to cope. Their strength may have very well made them stronger in everyday situations than typical people.
---
Share on Pinterest!