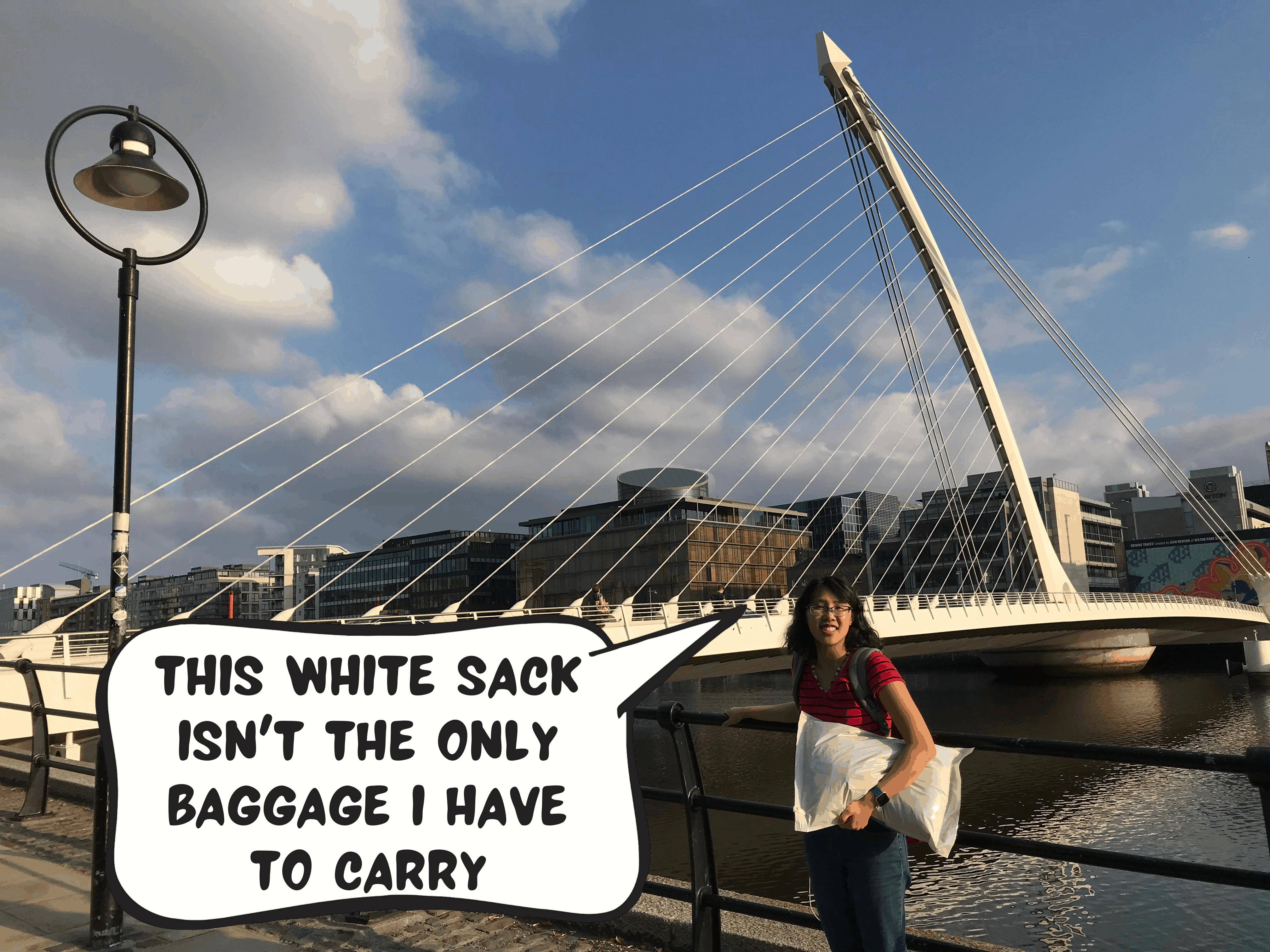 Updated: May 3, 2021 | Originally Posted: February 3, 2021
While you're running through your travel packing list, you'll often have questions. Yo, what should I bring? Am I packing too much shit?
For travelers with a chronic mental illness called obsessive compulsive disorder (OCD), they don't have a choice. Because you can't leave OCD at home, it's unwanted baggage that has to come along on every single trip.
OCD affects as many as 3 million adults in the United States, according to the IOCDF — that's millions of potential travelers! And this statistic doesn't even take into account the millions more living in other parts of the world.
OCD creates unwanted thoughts, exaggerated lies aiming to make you anxious. Reacting with a compulsive behavior will only lead to more repetitions of it and provoke additional anxiety.
As daunting as travel may be, doing it with OCD presents extra challenges.
But I've discovered that it's still possible to travel in harmony with OCD. As long as I am aware of its extra challenges and take proactive steps, I can enjoy my travels and minimize OCD's distractions.
And you can too!
Here's everything you need to know about traveling with OCD:
1. Seek professional help BEFORE traveling
When you travel to other places, do not expect the medical professionals there to help you with mental health issues. The worldwide stigma and lack of education about mental illnesses are issues that still need addressing.
So, before you travel, visit a therapist, who can teach you treatment techniques to deal with the OCD, including cognitive behavioral therapy (CBT), exposure and response prevention (ERP), or acceptance and commitment therapy (ACT).
Before your trip, you could also inform your therapist where you'll be traveling. Raise any concerns you have, especially if you have specific fears, such as of flying or contamination. They could give you travel-specific advice!
Ideally, by the time you begin your trip, you are able to treat your OCD thoughts by yourself.
To learn more about seeking mental health services before — and during! — your trip, here is a comprehensive guide with tips and resources.
2. Manage your medications
If you have prescribed medications for your OCD, make sure you bring enough doses to last the entire trip, plus a backup supply. Refilling your medication on the road may be difficult, depending on the medication itself and the destination you're visiting.
Before your trip, research on the internet if the place you're planning to visit deems your medication as illegal. You can enter the medication name and the country in your search query. For example, "can I bring Xanax into Japan?"
Answers may be found on community forum websites such as Reddit and TripAdvisor. Also try the country's government website for medication rules and contact information if you still need your questions answered.
Most importantly, plan your medication with your doctor and pharmacist, who can help you get the supply you need and understand the medication regulations in your destination country.
Once you're on the road with your medication, set up a reminder on your phone that will notify you when it's time to take it. Make sure you are taking it at a consistent time. That way, you can develop a habitual, reliable routine.
Here is an in-depth guide on safely bringing mental health medications on your international trips.
3. Plan your trip, but don't overdo it
Planning your trip eases the surprise factor that comes with travel (OCD hates surprises)! Research logistics and fun things to do in your future destination. Have a packing list and gather items before your trip.
But it is so important, especially for travelers with OCD, to not go overboard with the planning. Not wanting to leave any uncertainties unanswered, I used to make super meticulous, detailed plans. Once the trip began, I felt the pressure to stick with them.
All that took the fun out of the pre-trip planning and my travels. Chained to OCD's rigidity, I felt like I had to take a perfect trip.
But with travel, certainty and perfectionism is impossible. You'll always have some uncertainties that lie ahead for you to solve.
Plus, travel provides plenty of serendipitous moments. Uncertainty doesn't always have to be fearful — it can be fulfilling and positive.
4. Buy travel insurance

Having travel insurance will tamper down your worries. Typically, it will cover costly scenarios such as physical injuries and stolen gear.

But because travel insurance companies are not required by the U.S. law to cover mental health problems, only a few select policies are ideal for the traveler with a mental illness. My favorite travel insurance companies for folks like us are InsureMyTrip and World Nomads.
For more information you must know about purchasing the right plan, click here.
5. Learn the cultural customs of the country
Make sure that your pre-trip research includes the foreign country's cultural customs. Not only will you reduce any OCD worries about right versus wrong behavior, you will be a traveler who respects people and their way of life.
In your Google search, enter the name of the country and keywords related to culture, etiquette, and customs for travelers to follow. For example, "traveling to United Arab Emirates cultural customs."
6. Equip yourself with airport survival gear
Because airport security is one of my strongest OCD fears, I am always looking for items that will help ease my airport travel stress. Whether or not the airport triggers your OCD, why not grab the following stress-reducing gear?
The Hidden Disabilities Sunflower Lanyard. Not enough people with OCD, or other hidden disabilities for that matter, are aware of this welcoming accommodation. When you wear it at specific airports, the staff will understand that you have a hidden disability and give you more time, patience, and help (if you ask for it). It's a quiet yet easy way to communicate to the airport staff that you have a hidden disability without letting anybody else around you know. Read my guide on how to obtain this free lanyard and where it's recognized.
Global Entry. For only $20 a year, you can expedite your entry into the United States, skip long lines, and save yourself from a lot of stress. To learn more about getting your Global Entry membership, click here.
7. Travel to nearby destinations first
After receiving treatment techniques from your therapist, you've learned to tolerate your annoying OCD thoughts in the same common settings of your hometown's everyday life.
But if you change your environment by traveling to a new destination, you can't fall back on the comfort of your old environment with which you've gained practice. It may be more difficult to apply the same treatments to OCD when you are in new places than in familiar ones.
The solution begins with remembering this important factor from your therapy: you should take small, incremental steps while practicing your treatment.
By exposing yourself to situations that induce OCD thoughts minor in severity, you learn over time to tolerate them. Once you've had success, it is easier to tackle more severe thoughts.
So, treat travel the same way!
The first few times you travel, visit slightly unfamiliar places. Travel within your own country and visit its different cities and states.
You're exposing yourself to environmental changes that are significant, but not extreme and overwhelming. Slowly and surely, you learn to get comfortable with treating your OCD thoughts in new environments.
My first travels were within the United States. Despite not being overseas, I still encountered a variety of cultures while practicing therapeutic treatments on OCD in different environments. My later international travels simply built on the foundation that I already laid during my US travels.
Travel does not mean you have to take long, faraway trips. Start with small trips in a destination that balances between the familiar and unfamiliar.
8. Be prepared for new OCD thought content
OCD hates uncertainty, but travel is full of it. Therefore, OCD can act like an overprotective mom during your travels, working overtime.
The experiences unique to travel could be new stimuli triggering new OCD thoughts. For example, when I experienced a life of living off the items in my backpack, a new OCD thought worried about misplacing and losing my cash in the hotel room. Although it was a new OCD thought coming in as an unpleasant surprise, I still relabeled it as OCD and didn't let it bully me into rechecking the hotel room several times for nonexistent missing cash.
Don't discriminate OCD thought content between old and new. Don't be passive towards the latter. Despite the new stimuli and resulting OCD thoughts during your travels, they are all coming from the same old mental illness. Do your best to treat them all the same!
It helps to observe the most common triggers during your trips so you can expect them instead of getting caught in a surprise. Knowing ahead of time that museum exhibits, my possessions, and airport security are my prevalent triggers makes me more aware of the OCD thoughts that arise from them. This allows me to move pass them much more quickly.
To inspire you to embrace uncertainty while you travel, see the 4 amazing reasons travel helps you overcome OCD's perfectionism.
9. Know if your OCD is more severe with busy or slow plans
Everybody's OCD differs in severity, thought content, and frequency.
In terms of travel, according to Pulse TMS, some people experience more OCD symptoms when they have busy, overwhelming travel plans. For others, including myself, slow plans' moments of stillness or boringness worsen their OCD.
During your travels, learn whether busy or slow plans make your OCD more severe. Try both paces and see what happens.
By learning which pace induces more OCD, you can travel with extra awareness and readiness so that you are quicker to recognize the surprises of oncoming OCD thoughts. It also clarifies what you might expect out of your OCD as you travel.
If you'd like, plan your travels at the pace that is less OCD-inducing.
For me, I would rather plan my trip depending on my travel goals, regardless of its pace (although it doesn't hurt to be aware that my OCD is more severe with slow plans).
10. Don't use travel as a distraction from your mental heath
It's easy to distract yourself in your travel plans, especially if they are fast-paced and exciting.
But never use travel to excuse yourself from your mental health responsibility. It can't get rid of your mental illness, even if you try to forget about it and escape through travel.
Whenever OCD thoughts come, recognize and treat them as soon as you can.
Trust me — you do not want to be ill-prepared when inevitable OCD thoughts come.
All at once, I was trying new foods, visiting new places, taking photographs, and entering journal entries while visiting Western Europe. While there's nothing wrong with constant plans, the problem was that I let them distract me from taking care of my mental health.
For a while, I gave permission for my OCD to recheck my closed backpack zippers many times while I was in Paris's pickpocket hotspots. In hindsight, my complacency frustrated me! So, days later, I was quicker to recognize the zipper OCD thought and reduce the amount of checks.
Despite how terrible setbacks can feel, allow yourself to accept that they happened. They can inspire you be more aware of OCD thoughts the next time around. Plus, you will always have your treatment techniques to use anytime, anywhere.
11. Know who to talk to for support
When you are overwhelmed and need to talk about your OCD to feel better, realize you are never alone, even while you're traveling.
At the same time, I wouldn't fully depend on any of these people, even if they mean well. You are the only one who can take care of your mental health. You understand your mental illness, its symptoms, and the ways to treat them better than anybody else. Nobody can do the treatment work for you.
12. Maintain a healthy sleep routine
Jet lag and time zone differences can often disrupt your sleep routine. And if you're not careful with your scheduling, you may cut down the hours you're sleeping each night.
When you don't have a consistent and healthy sleep schedule, your OCD could increase in frequency or severity, according to the Anxiety and Depression Association of America. I'm no exception. When I'm sleepy, I seem to experience more OCD thoughts.
To practice a healthy sleep routine, try the following solutions:
Don't fill every empty gap in your schedule with activities and places. You'll burn out, and worst of all, neglect time at the beginning and end of the day for sleep.
Try slow travel, a form of travel in which you invest more time and effort into one or a few places. In turn, you can afford more sleeping time.
Plan a flight stopover before your farthest destination to minimize jet leg. This will help your body gradually acclimate to the changing time zones. Plus, why not visit another travel destination??! I spent four fun days in Hawaii before flying to Australia, a notorious jet lag destination. Throughout my week Down Under, I experienced restful sleep and zero jet lag!
Consider travel destinations where you'd fly from the north or south. That way, the jet lag is minor, if there's any. For instance, if you are from the United States, there are plenty of enriching destinations to the north (Canada) or south (Latin America) which are often overlooked!
13. Practice mindfulness
Staying rooted with your travels helps you dismiss incoming OCD thoughts for all the beauty in the world.
Steer your conscious mind into the present moment. That way, your mind won't wander around too much and you can enjoy your travels to the fullest.
Do this by taking advantage of your senses. Pay more attention to the sights outside your bus ride, enjoy the smells of new places, and feel the cobblestone street rubbing against your walking feet.
In my experience, mindfulness also gears me up to catch OCD thoughts quickly, allowing me to dismiss them and return to my present travels with the least amount of time.
---
Want to start incorporating mindfulness into your trips? Get your FREE guide!
---
14. Journal daily
Don't limit yourself to journaling about your travel experiences, as fun as that may be. Be sure to write about your mental health, including any emotions, symptoms, frustrations, and successes. Writing is a wonderful, healthy way to process and let out all that happens in your mind.
If you'd like tips on journaling about mental health while traveling, click here.
15. Eat healthy foods and drink enough water
When you treat your physical body right, your mental health will improve with it. Consuming healthy foods and water will leave you in a better mood and thinking more clearly, according to Mind.
Listen to what your momma said and eat your vegetables, fruits, lean meat, fish, and healthy carbs.
But please treat yourself to indulgent foods, too! However unhealthy they may be, try new local delicacies. Just keep a balanced diet, and you'll be fine!
Hydration is key too, so make sure you are drinking enough water. Bring a water filtration device such as a LifeStraw. That way, you won't have to worry about refilling and drinking unsafe water.
16. Incorporate exercise in your travels
Physical exercise is one of the most exciting mental health benefits while traveling!
When you move your body, your brain is at work, too. Beneficial neurochemicals called endorphins are released, which decrease stress and anxiety and lighten up your mood.
Exercise is usually incorporated into your travels already — how convenient and fun! Here are some examples:
Walk around the city instead of taking motorized transportation. Not only are you exercising, you can deeply observe the places you're passing by and make discoveries you couldn't do on a bus, train, or car.
Include natural escapes in your travel plans. Hike some trails and get rewarded with Mother Nature's stunning scenery.
Hit a club and show off your best dance moves! Or take it to the next level by learning local dances in a class.
17. Give yourself breaks
While you're traveling, allocate time to stay still and enjoy alone time. You've always been on the move and partaking in activities. Overworking yourself could lead to travel burnout, dinging your mental health.
To avoid mental exhaustion, hit the pause button and take a break.
Sort through your travel photos.
Listen to your favorite songs.
Aimlessly stroll around town.
Chill by the beachside.
(Here's my list of timeless books that boost emotional resilience!)
Call a friend.
Browse social media (with caution).
Watch Netflix.
Rest and relax however you want.
***
In the beginning, traveling with OCD can be intimidating. But the advice I've shared will help you be proactive with your mental health so that you and your travel goals come first, not your OCD.
Think of the travel memories and friends you'll make. They'll always overshadow and shrink OCD's grip on your life.
Because unlike OCD, they are wonderful.
---
Share this post on Pinterest, you savvy traveler.