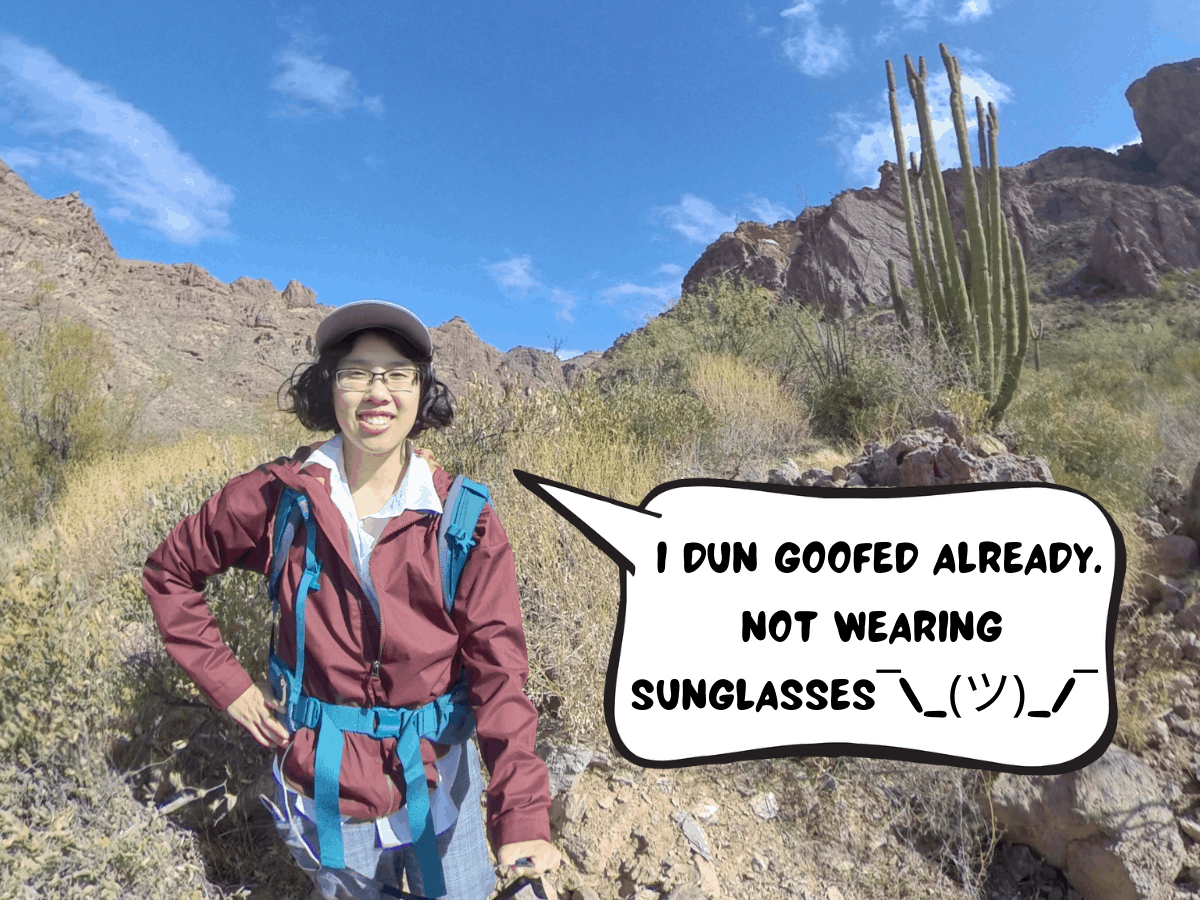 Posted: January 13, 2021
If you're thinking of trying a desert hike, don't ignore its unique challenges.
As a six-year native of Phoenix, Arizona, I've explored various desert regions and hiked around the American Southwest. I've seen people getting sick and injured firsthand. I, too, have fallen victim to the desert's dangers.
Foremost, its heat is a deceptive, ominous threat. If you don't stay hydrated and watch for warning signs, you could experience heat exhaustion, characterized by nausea, fatigue, vomiting, and cramps. It could even develop into a deadly heat stroke. Every summer I've lived in Arizona, the local TV new channels report about residents and tourists alike falling victim to heat-related illnesses or dying while hiking.
Moreover, many desert hikes have a rocky, uneven surface, making it easy to trip and injure yourself on the unforgiving terrain. Succulent plants with sharp points, such as cacti, also threaten to hurt you.
You can still have a safe and enjoyable desert hike, however. Just don't replicate others' dangerous mistakes or my own.
Don't wait until you're thirsty to drink water
Water is your best friend on a desert hike, so keep your body hydrated at all times. Even before you arrive at the trailhead, drink some water to prepare your body for the arid conditions ahead.
During your hike, make a habit of drinking water since thirst can be a warning that you are already dehydrated. The desert's low humidity and high temperatures sap your body's fluids more quickly than you think. So, drink up before the heat endangers your health. Your body is working hard for you, so give back to it with water.
How much water should you bring? Always bring more than you think you need. You'd be surprised to see how much water you can guzzle, depending on how hot it is.
It's impossible to give you hard numbers, though. It depends on:
The conditions unique to that trail. The hotter the temperature and the more difficult the trail, the more water you should bring.
Your own health. The worse your physical health and the more you weigh, the more water you should bring.
It is always wise to see if the organization responsible for the trail has a suggested amount of water. Research that ahead of time by entering the trail's name in your favorite search engine and finding its description.
If you don't find the answer, I suggest following the Arizona State Parks' rule of thumb: for each hour on your hike, bring the following:
For each hour on your hike, bring…
| | |
| --- | --- |
| Season | Quarts of water |
| October to April | 1 |
| May to September | 2 |
| Extreme weather conditions (such as heat alerts) | 3 |
Arizona State Parks also says that bringing too much water is always better than not enough!
Don't continue your hike when you don't have enough water
During a Phoenix hike one morning, I didn't bring enough water because I had underestimated the rising heat and sun exposure. As I was approaching the halfway point of the trail, I noticed that I had already drunk more than half of my water supply. To conserve my energy and water, I took the easiest way to the parking lot, walking on a paved sidewalk along a road instead of hiking the trail.
The rule of thumb is: anytime during your hike when your water level runs below half, it's a sign to stop going any further and head back to the trailhead or parking lot as soon as possible!
If you study a desert trail's conditions before hiking it and learn about a potential, natural source of water (lucky you!), make sure to bring your LifeStraw filtration bottle for safe drinking. But have with you your water supply from home in any event because you shouldn't depend on natural water being present. Many desert hikes do not have natural streams or rivers to purify and refill your water supply.
Don't drink lots of water at once
During a backpacking trip in southern Utah, I gulped down almost two liters of water in one sitting! I unknowingly jeopardized myself, potentially leading to a dangerous health condition called water intoxication.
My excessive water intake caused an imbalance in my body by lowering the sodium levels in my blood. If that wasn't enough, my brain cells swelled within the confines of my skull, causing pressure in my head. So it was no surprise that I was groggy and disoriented, hiking at a snail's pace. I also had to constantly stop hiking and pee because my poor kidneys were working overtime trying to get rid of the excess water.
My expert hiker friend told me that I had literally poisoned myself with so much water. She gave me electrolyte pills to add more sodium to my body. I refrained from drinking water for the next hour or so. By then, my stamina returned.
I was a fool who accidentally drowned myself a desert! Don't be me. Don't gulp down so much water at once. Water intoxication can be just as dangerous as a lack thereof. Some of its symptoms, like nausea and vomiting, are eerily similar to its polar opposite — heat exhaustion. But it also has unique symptoms, including druggy, confused mental states, and the need to pee often.
However, do drink reasonable amounts at regular intervals. Again, I can't give you any hard numbers since it depends on the trail conditions and your physical condition.
I follow my own rule of thumb, which I've noticed keeps me hydrated at healthy levels (feel free to tweak it according to your situation): Short breaks every 15-30 minutes, during which I drink 3-5 gulps of water.
Don't hike when it's too hot
Time your desert hike smartly.
In terms of season, try hiking in fall, winter, or spring instead of the summer when the desert experiences extreme heat.
Any day of the year, the heat peaks from late morning to the midafternoon. Especially during the summer, go out in the early morning or at night when the sun is down. I've sometimes woken up at 4:30 am for my Phoenix hikes!
Also check the weather forecast for the week. If there is a cloudy or cooler day ahead, wait until then to hike.
Don't forget sun-protective gear
Desert hikes usually don't have shade, so you'll have to be extra responsible for skin health and well-being. In the Phoenix summer, it only takes 10-15 minutes under the sun before your unprotected skin burns.
Wear sun-protective gear so you won't be the next baked specialty of the day:
Shade yourself with a hat to reduce sun exposure, preferably one with a wide brim wrapping around your head and/or a flap to cover the back of your neck.
Use polarized sunglasses with 100% UV-A and UV-B protection, which will defend your eyes from the glaring sunrays.
Wear sunblock of at least 30 SPF. Cover the exposed parts of your body.
Consider holding an umbrella over your head, slanted at an angle so that it blocks the sun. If the trail doesn't provide you with shade, bring your own! (When I do this, other hikers express their jealousy — umbrellas are that effective, and uncommon. While they may look silly, you'll be glad you brought one when you experience its cool, lovely shade in an unforgiving environment.)
Don't skip the snacks
Make sure to bring snacks, particularly on longer, more difficult desert hikes. For maximum habitual results, pair your water sips with your snack breaks. That way, you will remember to do both.
Though it seems counterintuitive, the ideal snacks are salty, so you can make up for your body's loss of sodium through sweat and exertion.
You can chow down on these during your hike:
Potato chips
Pretzels
Energy bars
Beef jerky
This is not an exhaustive list. Just bring your favorite salty snacks, even if they are junk food. No guilt allowed!
Don't wear flip-flops or sandals
Proper hiking shoes have deep tread for better traction and grip on rocky trail surfaces. Also, their tough material around your toes will protect you in case you slam your foot against a rock.
The question of ankle coverage depends on your natural balance. If you notice that you have good balance during your hikes, you don't need hiking boots that cover your ankle. But if you struggle with balance, you may want to try a pair of boots.
The greatest benefit of wearing good hiking shoes or boots is that you'll feel like a desert hiking superhero! You can traverse the trail more efficiently and confidently without worrying so much about losing your balance on the rocks or tripping on them.
Don't neglect to bring first aid supplies
Sharp points lurk everywhere, from rocks to cactus spikes to thorny trees and bushes. I once saw a boy fall straight to the ground and scrape his shin against the trail's rocks. And I myself have been cut by climbing up a rocky trail with my bare fingers.
Put large and small bandages as well as antibiotic ointment, such as Neosporin, into your backpack compartment and forget about them until they are needed.
If you cut yourself and bleed:
Pour out some of your water to clean the wound and wash away the excess blood. (Another reason to bring more water than expected)!
Apply antibiotic ointment on the wound. (Because bacterial infections suck)!
Tightly cover the wound with a bandage to keep the pressure on and protect it.
***
Don't challenge the desert by being a complacent hiker. The heat from the relentless sunlight and rough desert terrain won't give you mercy.
When you avoid these common desert hiking mistakes and become a safe and smart hiker, you will have more energy to spend enjoying the desert landscape and tranquility. Water, proper gear, and planning are the cornerstones of safe, fun desert hikes.
They will help you live another day, and experience even more desert trails!