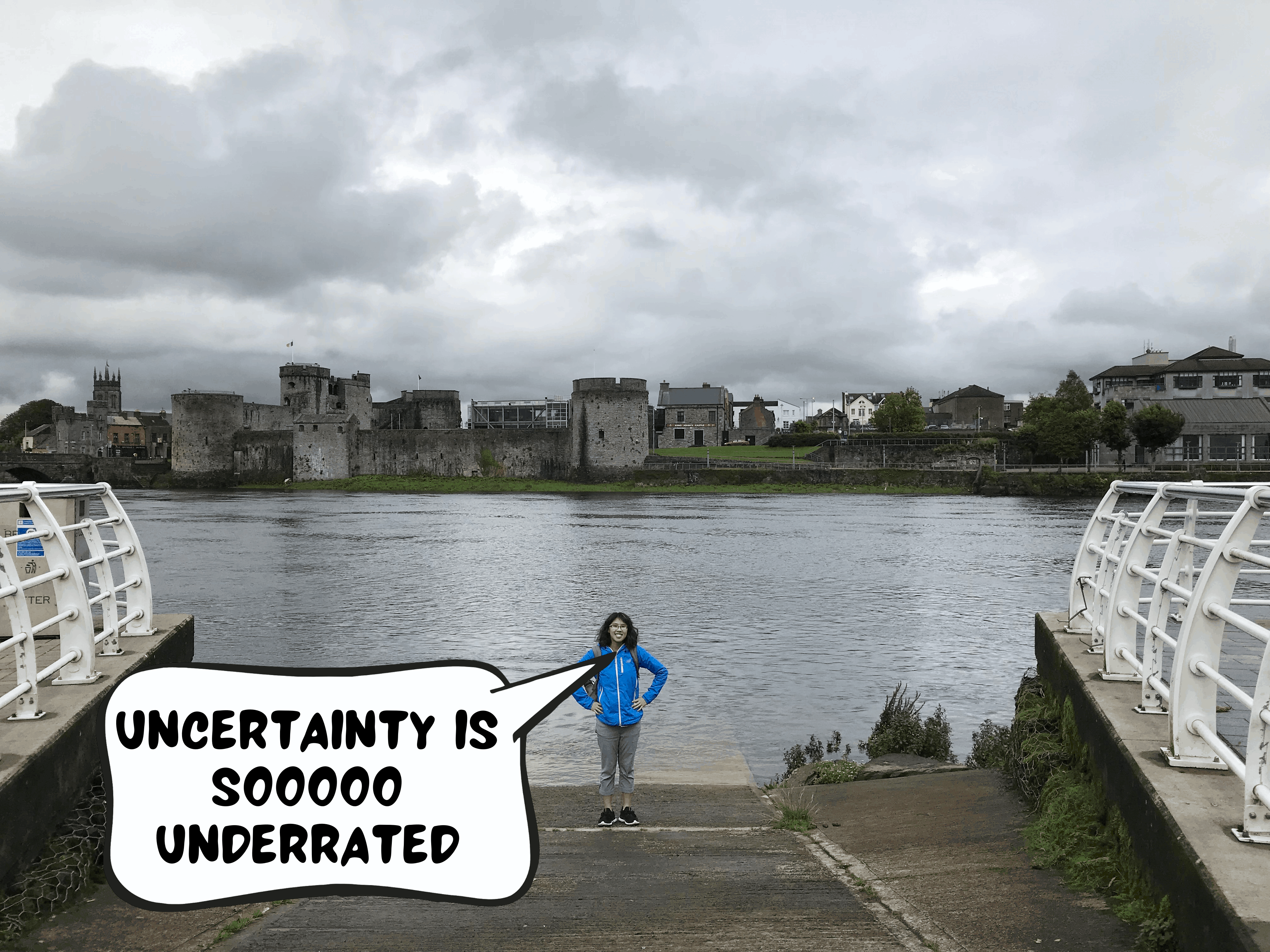 Posted: Wednesday, January 20, 2021
Travel is imperfect. It's an uncertain activity, one where your plans collide directly with reality. When you travel, you are introducing yourself to a new place and seeing where you go from there. In short, travel is full of unknowns.
OCD (obsessive compulsive disorders)'s repetitive, endless nature comes from its hate for uncertainty and imperfection. I am a traveler with this chronic mental illness, which creates obsessive, irrational thoughts and anxiety. No matter how many times I perform a compulsive behavior in reaction to the OCD thought, my OCD will never be satisfied, never feel certain enough.
A common product of OCD is perfectionism. It used to coerce me into creating finite, meticulous travel plans. It turned the fun of pre-trip research into a burden eating all my time.
But once I hit the road and exposed myself to the inevitable, uncertain bliss of travel, I learned to challenge my rigid plans and practice embracing uncertainty.
Travel also made me realize that we cannot control everything that happens in our lives. It's our OCD and its perfectionism that sends off the illusion that we are in control and fully responsible of what happens to us.
I understand how difficult it can be to ignore OCD's perfectionistic wishes. To help you overcome them, here are 4 inspiring reasons why travel is worth it:
Mistakes and confusion are fundamental to the travel experience
Regardless of your pre-trip planning, you may not feel ready, doubting your ability to travel (especially if you haven't had much experience before). I totally understand — my OCD wanted me to be the perfect traveler who did everything right.
Instead of trusting my initial, intense feelings of being the perfect traveler, I rely on action, accepting that I will make mistakes, be confused, and get lost. Because I've gotten used to these normal and healthy occurrences of travel, I am more prepared for the inevitable imperfections I'll experience throughout my life.
I traveled to Southern Utah for a multiday backpacking trip through the wilderness. Despite all the planning I did beforehand — practicing with day hikes, buying all the necessary gear, learning how to set up a tent, and leaving time in my schedule for the upcoming trip — I wasn't fully ready. I wasn't a perfect backpacker.
The more I backpacked on this trail, the more I realized my hiking ability didn't meet its extreme difficulty.
I (still!) had trouble setting up my tent.
I even struggled to flick on a BIC lighter!
And all of that was okay.
Despite my oncoming OCD feelings of inadequacy, I did my best to admit to myself that I'm an imperfect, beginner backpacker. This was easier to do in retrospect than in the moment.
Although I wasn't perfect, I still completed the entire trail, thanks to my tenacity and the help of my expert backpacking buddies. And now I'm less confused about dealing with tents and BIC lighters!
While it is always ideal to prepare for your trip, do not expect to be a perfect traveler. Allow yourself to make mistakes, be confused, get lost — and learn from them. Travel would be so mundane without these experiences.
In turn, you break yourself free from OCD's nagging perfectionism.
The most memorable travel moments are serendipitous
You can plan all you want, but it's likely you'll come across serendipity. When you get involved in happy accidents and their resulting discoveries, your travels become rich and meaningful.
I was in Dublin, Ireland, trying to find a little bar with a mural of my favorite Irish band, the Cranberries. To my disappointment, I came during heavy construction work that left the walls looking sad and blank.
Then somehow, I found myself talking with an old man having his fill at the bar counter.
"Do you know about the Cranberries mural in this bar?" I asked.
"Nope, I'm afraid not. Maybe you can try the street behind the bar? It has lots of wall art."
"I'll give it a try, thanks!"
Although the Cranberries mural wasn't there either, the serendipity of the moment overwhelmed me. Colorful graffiti of all sizes and colors lined stone walls of the narrow street.
My search for a specific mural ended with an unexpected outcome, a little-known marvel to feast my eyes on. If it wasn't for the bar's sudden construction and my curiosity, I wouldn't have ever witnessed the graffiti street, which is still one of my most vivid moments in Dublin.
Although OCD is a sordid perfectionist that hates veering off from original plans and expectations, I've proved to it that serendipity can be memorable and positive. Nothing about this mural search was "perfect" to the plan, but I still enjoyed the end result, perhaps even more than if everything turned out as planned.
If your travel plan doesn't turn out like you expected, explore different corners and seek new possibilities. Or just let the events of the day unfold, which minimizes OCD's perfectionistic influence. You may come across a happy accident. Notice that after you come home from your trip, the memorable travel stories you tend to tell your friends are serendipitous.
Serendipity is more evidence for you to travel and embrace uncertainty and imperfection.
The future always holds a question you need to solve in real time
Even if you draft detailed plans before setting off, you can never account for all the uncertainties that lie ahead on your travels.
Don't be surprised when you find yourself spending time and effort during a day of travel untangling the near future's uncertainty. The dynamics of travel warrant versatility out of you.
Unlike other activities, travel often blurs the lines between fun and logistics/practicality. As a result, figuring out the uncertain future in real time rewards you with awesome experiences!
Before starting my Vancouver, Canada, trip, I had already planned a scenic day taking the SeaBus public ferry from North Vancouver to Downtown Vancouver.
But I didn't try to think of every minute detail. That would be exhausting and perfectionistic! So, I didn't plan for which mode of transporation would take me from my suburban North Vancouver Airbnb home to the SeaBus port.
Once in Vancouver, I had to spend some time figuring out how I would get there. Luckily, not only did my Airbnb host let me borrow resident passes for the bus, my bus line had a stop in front of her house! Then, studying the bus timetables on the internet, I could determine what time I should show up at the bus stop.
Solving the uncertainty of transportation rewarded me with an easy-going, affordable bus ride and more opportunities to sightsee slowly with the company of local commuters.
You don't know everything about a new travel destination, regardless of pre-trip planning — it's likely you'll miss something, anyway. Once you've solved the inevitable uncertainties on the road, you've overcome your perfectionistic OCD by proving that you don't need to have everything preplanned to handle and enjoy your travels.
Unforeseen circumstances can change even the most meticulous travel plans
Travel is volatile. Its external circumstances are out of your control, regardless of travel itinerary. You cannot contort them to align with OCD's need for perfectionism and certainty.
Maybe your plane arrived two hours later than scheduled, a museum you've always wanted to visit suddenly closed, you realized you didn't have time to visit all your planned points-of-interest, or an emergency nearby diverted you away from your initial plan. The chance of a disruption is high.
My family and I drove an hour from Tucson, Arizona, to Kitt Peak National Observatory, where the temperatures were much colder than expected. We couldn't take the tour because we didn't have proper jackets with us. I was so upset because we spent two hours on the road to and from a destination, only to have been denied the experience.
Once I got over it, I learned how OCD can spark an incessant desire for control with everything. There was nothing I could do to fulfill that desire of experiencing Kitt Peak. I can't change the weather or teleport our jackets to the peak. Plus, we didn't have enough time during our trip to return to the observatory.
The more you travel, the more you expose yourself to these kind of circumstances. Give yourself time to learn to accept them — they are usually not as terrible as first perceived. While it sucks to not experience Kitt Peak, I need to remember that it's impossible to visit all the destinations in the world. And at least I could now spend more time resting at my Airbnb and exploring the city of Tucson.
Life cannot be perfect, especially travel. So, it's not worth using your energy to follow your OCD's perfectionistic pipe dreams.
***
Travel is not a quick fix for any mental illness, including OCD and its resulting perfectionism. Before you travel, visit a therapist to learn treatments such as cognitive behavioral therapy (CBT), exposure and response prevention (ERP), and acceptance and commitment therapy (ACT). Although they are different, they share the same cornerstone — embracing uncertainty and imperfection.
Once you've learned and used the treatment techniques to deal with oncoming OCD thoughts, travel can be a fun, effective means through which you expose yourself to uncertain, imperfect situations.
Remember that the spontaneity of travel often blossoms into the most joyful experiences and stories.
Show OCD that you can face, and even enjoy, the uncertainty and imperfections of travel, and thus, life itself.