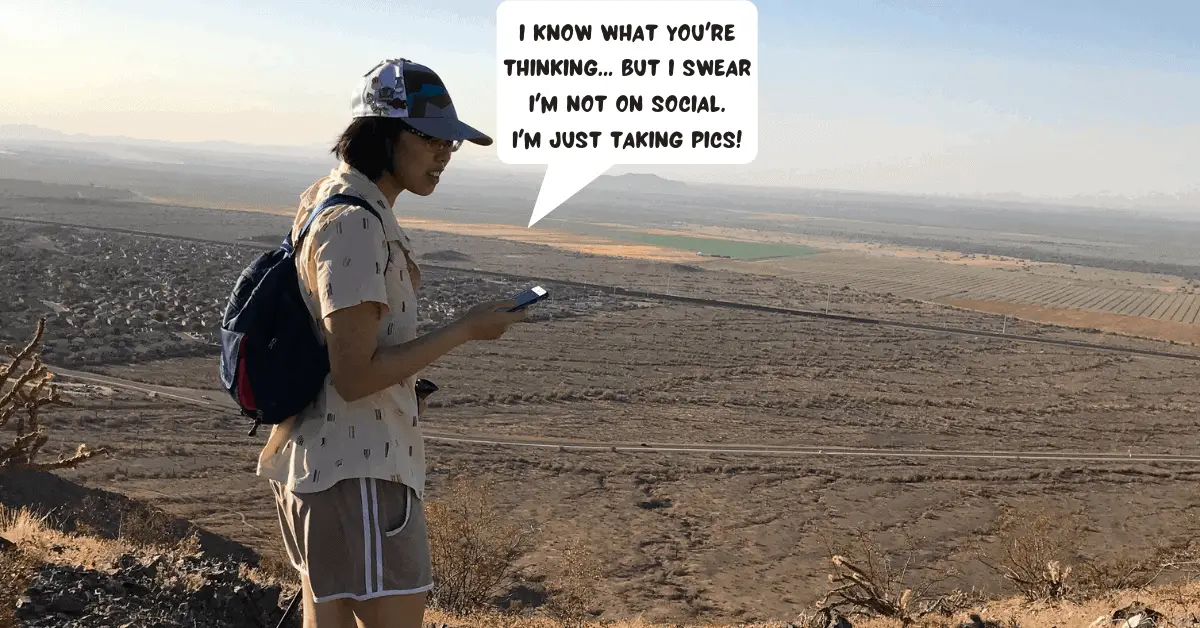 Posted: October 15, 2020
I used to spend an hour or more on Instagram each traveling day, choosing the right photo, using those default Instagram filters, and refreshing my notifications page to see who liked it.
I wish I didn't waste my precious time, but I can't regret it too much. At least it helped me realize how tempting social media is- even while traveling.
Improving my social media behavior has helped me extensively. With less attention on my social media, I can fully focus on my presence in the locale I'm visiting.
If you're struggling with your social media usage, I want to help!
By spending too much time on social media, your body is traveling in a destination, but your mind is off somewhere else.
Traveling is about basking in the sights, talking with travelers and locals, or getting as much sleep as possible… not scrolling on your phone!
Social media feed is ENDLESS. Travel experiences AREN'T.
Furthermore, it is disrespectful to the people around you and the place you happen to visit. It means that the social media content has priority over the surrounding people and place. You may not mean to be disrespectful, but it sends off that kind of vibe.
You will NEVER have that travel moment ever again. But you can ALWAYS come back to social media.
Mindfulness means being present in the moment. Let's use this to allow our mind to come back to our body and the place we're visiting!
Here are my top 12 tips to help you stay mindful and reduce your social media usage.
1. Ask others to get off their phone
When a travel companion gets on social media, you may feel obligated to just shut up and get on social media yourself to make the situation less awkward.
You don't need to be discouraged to socialize. You want to immerse yourself in the travel and interact with companions.
Make things less awkward. Gather up your courage and kindness. Ask your travel companions if they are doing something important on their phone. If not, ask them to do something with you or just start a light conversation.
Start with "If you're not doing anything important…" and add an icebreaker.
Example icebreakers:
"Do you want to come postcard shopping with me?"
"Somebody just recommended an awesome snack shop nearby here. Let's go eat!"
"What has been your favorite place on the trip, so far?"
"Where do you want to go next?"
"I've been meaning to show you the photos I took today."
You'll benefit both yourself and your travel companions.
2. Take photos on your camera app
While you're traveling, take photos and videos on your phone's camera app rather than Instagram or whatever social media.
The in-built camera on a social media app has many distracting tools, such as adding text, sketching something, tagging people in your photo, adding music, and so much more! While fun, these tools easily take attention away from your travels.
Consider using these tools and posting when you're resting at your accommodation or at home. What's more, you can easily pick the photos you want to share from your camera roll at once. This saves more time than sporadically posting one or a few photos at a time while you're out and about.
3. Limit or stop using social media filters that beautify your face
Those filters take away precious time while you're traveling. It may only seem like a few seconds, at first. But then, you're experimenting with so many possibilities.
"Does this filter make my eyes look prettier?"
"Do I need to add different color tones to my skin?"
In the process, you spend even more time making various facial expressions to match with the filter. Smile less, smile more, change the angle of your face, and the like.
Even worse, you may expect too much from other folks on social media. If you don't receive the amount of likes and comments you wish for, that takes a toll on your self-esteem.
If you like using these facial filters, just be mindful of your time.
Travel is about appreciating the realities of our world. Let's hold truth to that by sharing what's real, including our lovely faces. Do we need to share even more distortions on social media? I don't think so!!
4. See only specific posts, and nothing else
When you're on social media, try to look at only posts from accounts that matter the most to you. This may be difficult to pull off since social media posts are endless!
For me, I prioritize my best friends' content. I know their accounts off the top of my head. Either I would scroll through my timeline finding their content and mentally blocking all else or I just access their account directly in the search bar.
In this sense, I prefer Snapchat over Instagram because Snapchat is more intimate and less public. You can see all the different stories and easily select just a few to watch. Snapchat does not bombard me with an addicting timeline from countless accounts.
Remember- you don't have to know everything about everybody.
5. Use social media at a certain time of day while you're not on the go
Whenever I want to use social media while traveling, I don't get on until at night, before bed.
There's pros and cons to each part of day. At night, blue light from phone screens are a concern. So, I strictly limit myself to no more than five to ten minutes on social media. Furthermore, I may come across an upsetting post or comment. Since a full day of traveling can wear me out, I'll fall asleep anyway, no matter the emotions.
Dedicate a time of day that works for you! It doesn't have to be at night.
That way, you'll reduce the impulse to check your social media throughout the day. You'll depend on your own promise that you'll come on at a specific time!
6. Unfollow accounts you're not interested in anymore
Have you been on social media for a few years? Chances are, if you have followed lots of accounts, some of them aren't even in your attentive radar anymore.
It is not a bad thing to follow lots of accounts. After all, that IS the point of social media: fill up your feed with content you want to see! You could make lifelong online friends, maintain important networks, learn useful information, and keep up with anything you want.
However, it is normal for interests to change. Maybe there's that celebrity or brand you don't pay attention to anymore. And as we follow new accounts, we shift our attention over to them.
Realistically, we don't have time to see material from all accounts.
Quality over quantity is key. Let's pay more attention to fewer posts so we can digest and understand their content, rather than passively swipe and tap "like" buttons.
Updating your following list takes time! So, here is a simple approach: Whenever you come across a post or story of an account you do not pay attention to these days, go to their account page and unfollow.
You're not burning bridges by unfollowing them, especially if those bridges were never there or have faded with time.
7. Set a timer to be realistic
It's awesome that you want to spend less time on social media!
But let's be realistic- it is too easy to fall into its depths. The endless content entices all of us, including me!
To be consistent with our time goals, let's learn how much time we tend to spend, at first.
As soon as you come on social media, turn a timer on. Once you're done, stop the timer and see how much time you have spent.
You can use a normal timer on your phone. But if you want further understanding, use an app that can measure data about time spent, such as the length of time (duh!) and the time of day you get to it.
Many time measuring apps are out there. I use Hubstaff because it has a permanent free version and can be used on all devices.
If you've overspent your time, try to cut off a few minutes at a time, until you've gotten down to your goal.
If you're not consistent with the time of day that you visited social media, set a phone reminder at the target time so you'll remember to get on.
Tracking our time makes us accountable and clarifies our understanding of time spent.
8. Limit or turn off notifications
Notifications are bait that will reel you right in. Prime fishing season is always in when you have social media notifications on and uncontrolled!
Take back control by turning off notifications from apps that are not time-sensitive or important. If you want to go even further, turn off ALL notifications. You'll simply open up the apps whenever you want.
9. Delete your apps
Rest assured, you'll still have your social media accounts ready to use once you re-download and log in to the apps.
The world isn't going to miss you when you delete them.
10. Do not post on social media until you get home
After seeing my travel photos on social media, people ask me, "Are you currently in [insert location name]?" Many assume I am still on the road when the truth is, I came home a few weeks ago!
Don't allow social media to steal your time and attention while traveling in a special place. So put off posting until you're back home.
Coming home is a time to settle down. You can update your social profile with your life's musings and adventures. Also, having completed your whole adventure, you can write more quality text and edit photos accordingly. And spend more time replying to comments with quality, not short words or mere emojis.
11. Share travel pictures with close friends via messaging apps
You could have travel photos or stories that are best shared with close friends and family. You don't have to share everything with the whole world!
Limit the number of recipients, perhaps up to three. Any more than that, you'll spend too much time messaging back and forth with many folks!
Use dedicated messaging apps, such text or Whatsapp, to share your photos with your chosen recipients. You truly mean to share content with THEM, instead of posting them on social media, which passively reaches eyes of many people, but not all. You'll give more meaning to your photos and travel stories.
I would advise against using direct messaging (DM) on Instagram or other social media apps whenever possible. It defeats the purpose. As you're coming on for DMs, a barrage of social media posts could accidentally distract you. Sometimes, I say to myself, "Oh it's just one pretty picture!" Then, social media shows me much more content until I forget the intended message and recipient! Argh!
Remember- Not everybody needs to know what's going on with you.
12. Visit a nature destination
Okay, let's get hardcore. Do you want to STOP social media to the point that you CAN'T connect online no matter how much you want to?
Visit a nature-centric destination. The least amount of city, the better! Drive your car out of there! Ditch the internet connection and immerse yourself in nature.
Ideally, during the age of the coronavirus, you could visit local or national parks in your area. Do the research and judge your safety before heading out to a particular park.
Once you arrive, nature's sights and sounds will find a way to lull your mind back to the present moment. Trust nature.
***
Don't expect to magically pull yourself away from social media.
People often make the mistake of taking these steps without being mindful of their personal values. So, stay mindful and put in the hard work.
Repeat a mantra and remind yourself how you're benefitting yourself by limiting social media.
For example, I would remind myself that traveling entertains and educates us in ways that a social media platform can't. And we always assume we have more time than we actually have.
Although social media has its downsides, I still believe it's an awesome thing! I love to use it, for I can connect with good friends, network with like-minded folks, and learn about the world around me.
But life is all about balance.
We all have a limited amount of time to live, to breathe, to see the wonders of our world.
Social media can wait. Our travels can't.
---
P.S. The Social Dilemma, the Netflix documentary explaining the grave implications of social media, inspired me to share these insights with you. I highly recommend watching it to understand how social media addiction is deeply rooted in our society and technology companies.
Here is a trailer video:
---
Pin to save this post for later, and share it with others!