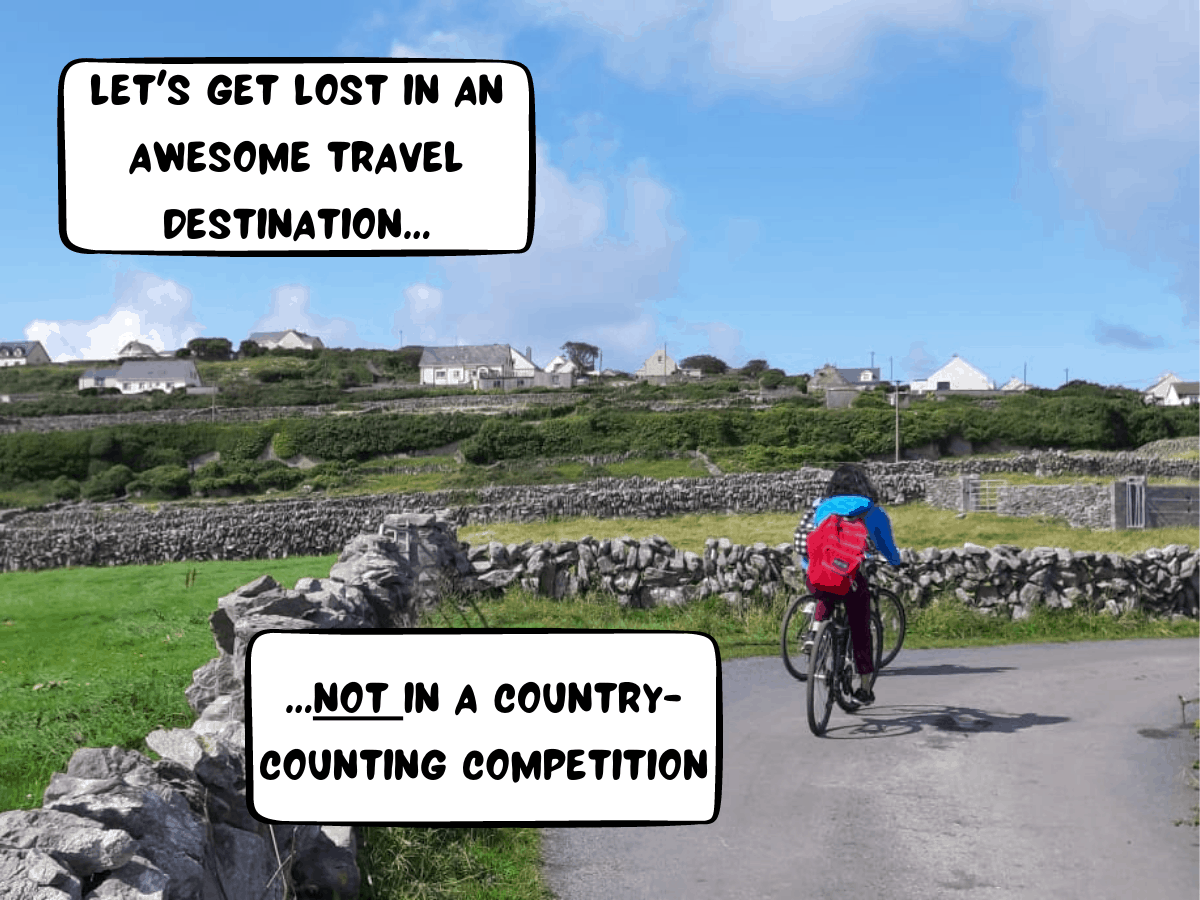 Posted: March 31, 2021
The most unoriginal icebreaker in the travel community may very well be, "How many countries have you visited?"
Oh puh-lease.
Whether you're mingling at a party, a hostel, or on a bus, a fellow traveler will probably ask you for your country count before your own name.
While it is an easy conversation starter, you run the risk of letting your country count justify your bragging rights. All you have to do is open your passport and feel validated by the stamps. Your ego runs high as you try to impress fellow travelers and look cool.
But your big country count likely makes you — and only you — feel good. While some people may admire you for it, it can also create jealousy and low self-esteem in others. They may compare their country count against yours, like a shorter sibling standing against the lined ruler marked in the wall, yearning to reach your height.
I usually play the shorter sibling role, asking myself, how could they hit so many countries? I must be incompetent. Right now, I should be traveling, not lazing around at home!
Country count talk makes me feel inadequate and ashamed of myself.
One time, as I joined a group of travelers, someone asked me, "How many countries have you visited?" The icebreaker felt more like a breakdown of my self-esteem. I didn't want to say a measly answer of "two countries." So, I said, "Canada and Australia. Could I also include Puerto Rico, the American territory?" I'm desperate, man.
And when I hear a larger number from another traveler, I tell them, "Wow, that's so cool!" But I think, I don't have that number. I must not be working hard enough.
I admit that for many years, I've had issues with self-esteem and feeling like I don't belong to a group. Being the socially left-out kid in grade school has conditioned my brain (which is already hyperactive due to my genetics) to repeat demeaning scripts to me. Unfortunately, I believe them. I can't fit in and make friends. I need to keep up with the crowd, and then I will be good enough.
So, when the country count question is brought up, it's like I am in school all over again, trying to impress people and look cool.
But no matter how much I bump up my county count (it's about 10 countries now), my brain still berates me for not doing enough. Feelings of sadness and shame wash over.
The worst part is that I am left feeling dissatisfied about all the traveling I've done in the past. And, I fail to give myself enough credit for traveling in the first place! When I could've been enjoying my trips, I am instead beating myself up for not visiting more places.
During the pandemic, I've had time to reassess my shitty feelings of low self-esteem with my therapist. Now, I recognize that I have the power to believe that my travels are enough.
It's been a work in progress to tamper down the feelings of inadequacy. One thing I do is remind myself that every traveler's situation and circumstances are different, even if someone about my age has traveled more than me.
To me, less is more when you travel. A large country count doesn't automatically make you a more interesting person. If someone took a speedy group tour with stops in 15 countries without getting to know people and places, that doesn't mean they have extensive travel experience. The quality of the stops matters more than the raw number.
While introducing yourself to other travelers, share your travel stories, interests, and expertise, not just country count. Rich experiences and backgrounds will interest and inspire other travelers.
You could begin a conversation by asking questions such as, "What is your favorite county and why? What did you do there?" and "What is your main interest? Trying new foods? Exploring lots of outdoor spaces?"
You likely remember the guy who told you that he snorkeled in Indonesian waters and skied in the French Alps, and not so much the other guy who said he visited 67 countries. Stories characterize travelers, not a mere number.
Nobody cares about how many countries you've visited. It doesn't make you cooler than the traveler next to you. Plus, when you emphasize your country count, it may make other travelers with a lower number feel inadequate and pressured to visit more countries.
So, keep that number to yourself!
Sooner or later, someone will ask for your country count. If you experience low self-esteem like me, don't believe your feelings of inadequacy. And whatever you do, don't rack up your country count just to claim you've been to so many countries. It would be a mistake to ever play the goddamn game of comparison because that would only worsen your low self-esteem.
No matter how many countries you've visited, you are always a good-enough traveler.
It's always more fun to get lost in an awesome travel destination instead of a country-counting competition, anyway.
---
Share this on Pinterest, you savvy traveler.