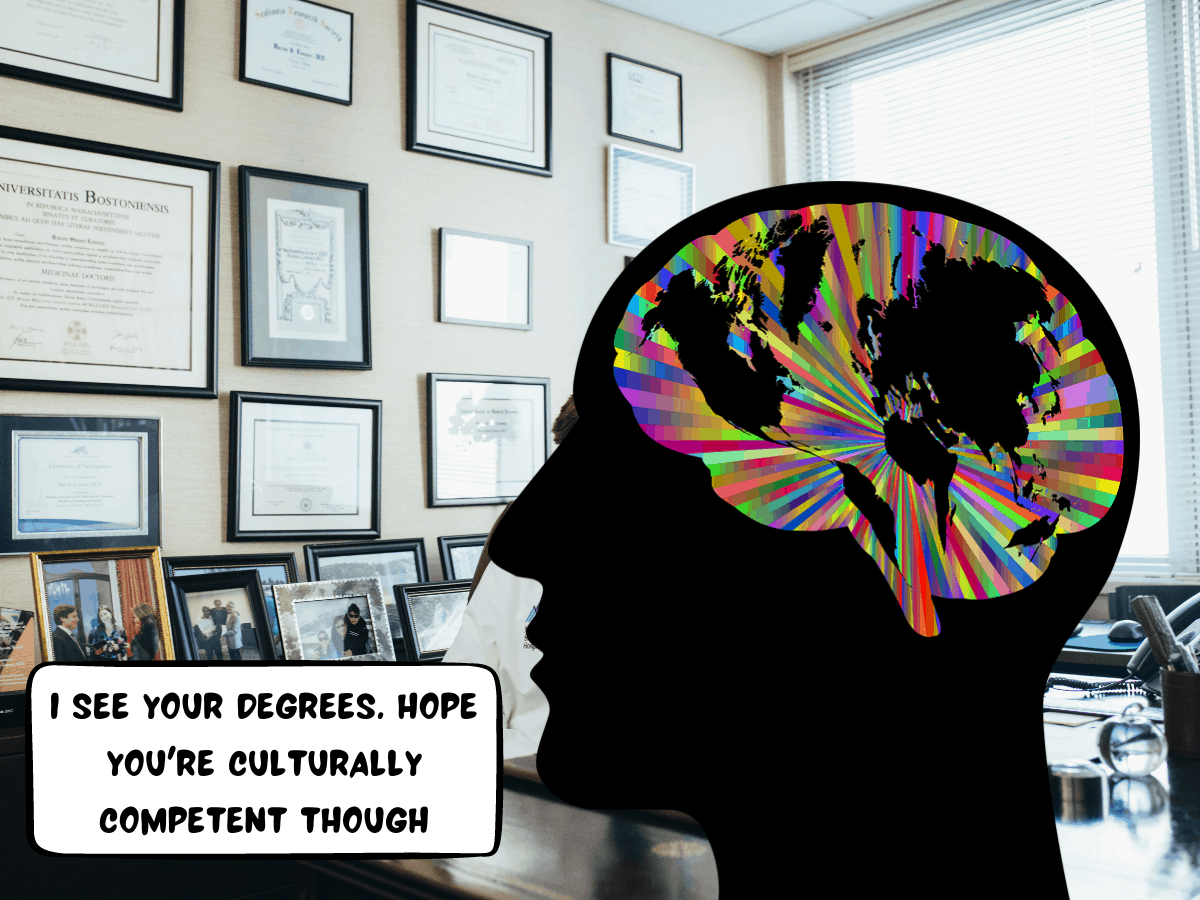 Posted: March 29, 2021
Two cushy chairs await their sitters — the therapist and their patient. The door — closed for confidentiality — seems to shrink the already small office of the therapist. It makes the therapist's degree and license, both strapped in by exquisite gold frames that hang on the wall, more noticeable.
But all those fancy-schmancy credentials still aren't enough to convince me that they are the ideal therapist for me.
I have to know if this therapist is culturally competent because I am a second-generation Vietnamese American patient with mental health issues related to the immigrant experience.
BIPOC (black, indigenous, people of color) and LGBTQIA+ patients are susceptible to unique stressors, and can potentially experience mental health issues as a result of discrimination, underprivilege, stereotypes, and the immigrant experience.
Considering the intricacy and intersectionality involved in a patient's identity and culture when diagnosing and treating mental health problems, the ideal therapist would be culturally competent.
When I was struggling with social anxiety and low self-esteem issues in 2020, my first therapist was too focused on traditional treatment. I don't remember us ever talking about how the Asian American experience might have affected me.
So, I changed to another therapist who was culturally competent. Because they understood my issues from an Asian immigrant standpoint, my recovery with them was a success!
If you are not white or straight, here are five reasons why you should find a culturally competent therapist:
1. They respect you
Especially if you have been minoritized by your identity, race, culture, background, and orientation, you should be treated with respect. A culturally competent therapist accepts you for you who are.
2. They understand you
Because a culturally competent therapist understands issues and circumstances regarding culture and identity, they don't need to ask you to explain as many things about your background. This means you can spend more time directly on the diagnosis and treatment.
It's extra beneficial if the therapist has a same or similar culture, race, and background as you. You'll be able to relate even more to them, and vice versa.
For example, although my second, culturally competent therapist was Korean American and not Vietnamese American, we both fell under the umbrella of Asian American. They could understand the Asian context of my life experiences and mental health issues. We could get straight to the treatment most relevant to me.
My first therapist never considered that my mental health problems could be related to the Asian immigrant experience even though I talked about the problematic dynamics between me and my family. I never brought up a lecture about culture and race because I had a feeling that I would have had a lot of educating to do.
3. The relationship matters more to success than the treatment
The therapeutic alliance, which is the relationship between patient and therapist, determines the success of the patient's therapy more than the treatment itself, according to this study.
A therapist who respects you and understands cultural circumstances earns your trust, which means you are more willing to open up to them about your deepest, most sensitive parts about your life problems. Also, when you wholeheartedly believe in the therapist's administered treatment, you are more likely to follow through.
4. You can receive treatment most specific and ideal for you
Real-life patients are not textbook patients. Therapeutic treatments should be flexible and tailor to the patient, especially in terms of patient background.
A culturally competent therapist considers your culture and background, which they base your treatment off of. Also, with the cultural knowledge they have, they are better equipped in talk therapy to sort situations out with you.
My second therapist was open to different courses of treatment, whether it be talk therapy or eye movement desensitization and processing (EMDR). After I shared my symptoms, they let me decide what I wanted to try, telling me, "You know yourself better than anyone else." Throughout the treatment, they also addressed racial and cultural matters associated with my mental health issues.
I don't think my first therapist reached the core of my issues because they only shared general solutions not tailored to my cultural circumstances.
5. Not all therapists are culturally competent
You cannot assume that all therapists are culturally competent because they haven't been examined on it in their education.
When you are researching for a therapist, you must make sure that they are culturally competent. They may mention it on their website or Psychology Today profile page. Some therapists also offer free consultation calls so that you can make sure their cultural understanding fits your needs.
Recommended reading: Five Ways to Efficiently Find the Right Therapist For You
***
Sometimes, it's not enough for a therapist to simply diagnose and teach therapeutic treatments straight out of the textbook.
They should understand that mental health issues can manifest through specific issues, including racism, discriminations, intergenerational trauma, stereotyping, and the like.
So, if you are not white and straight, the forefront of your research for a therapist should be cultural competency.
I understand how time-consuming the research can be. And you haven't even started the hard work in therapy yet!
But think long-term. In the next few days, weeks, or months, you will be investing your time, energy, and money into a culturally competent therapist who can really help you improve your mental health and quality of life in the long run.
When you step into their office or turn on your computer camera, you'll feel relieved and confident knowing that you are in a welcoming space where your identity matters while getting mental health treatment.
---
Share on Pinterest!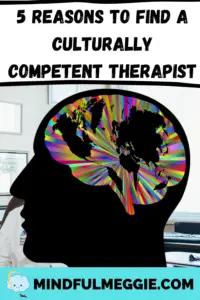 Graphic of human with world map in the mind by Gordon Johnson from Pixabay.