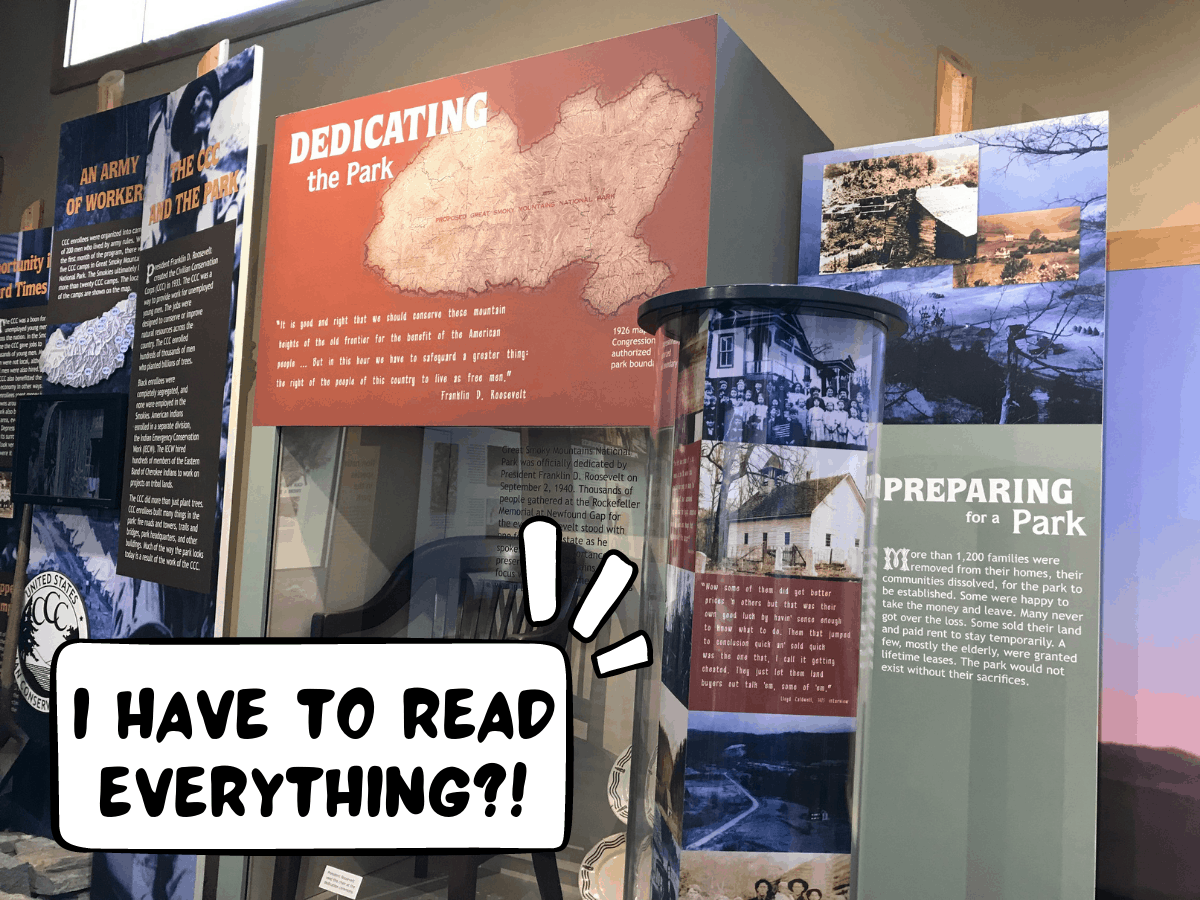 Posted: April 7, 2021
No baggage can be heavier than my mental health issues, including chronic obsessive compulsive disorder (OCD). While OCD isn't on my packing list — and I don't want it to be! — I have to lug it on all my travels.
But I can also bring the therapeutic techniques I've learned from my professional treatment of OCD. For the rest of my life and travels, it is my responsibility to use them whenever OCD strikes. I cannot let my mental struggles prevent me from fulfilling my love for travel!
It is impossible to know when and where my OCD will be triggered while traveling. However, I've noticed that there are certain symptoms seem to appear more than others.
And no, germs and flying on airplanes do not trigger my OCD. These are stereotyped myths that assume that all people with OCD have those triggers. The reality is that people experience unique symptoms.
Here are my three most common OCD symptoms while traveling and how I treat each of them:
1. Information in museum exhibits
As an informed traveler, I love stopping by museums where I can educate myself about the history and culture of the place I am visiting. Unfortunately, my OCD can kick in when it tells me, Meggie, you will never be here again, so you'd better take advantage of this chance to learn every single detail. You need to make the most of your time and money here!
My OCD would hate it if I missed out on any information. So, it pressures me to read every single sentence in the exhibits, especially in small museums where reading everything is doable.
Sadly, this throws out the real reason why I'm in the museum — to expand my knowledge during my trips. When OCD interferes, I begin reading out of anxiety. Even if I think the information in front of me is boring or tedious, my OCD wants me to read it.
My dad noticed my obsessive reading behavior when I hung around a museum area after my family had moved on already, asking me, "Will this information be helpful to you, later on? Will you even remember it?" From his witty insight, I've learned that it's okay to skip some information and focus on the material that interests me the most. After all, it's impossible to know and remember everything.
2. Losing possessions
My OCD gets so worked up over the chance of my possessions getting lost. And travel is full of such chances!
The simple act of pulling out my money wallet to pay for something is enough to get my OCD flaring. It tells me, What if you accidentally dropped it here and you didn't notice? You can never get back a lost wad of cash! At one point, my OCD was so severe, I stared at the money wallet inside my backpack long enough for my new friend to notice.
Strolling around hot pickpocket areas can also trigger my OCD. During my first few days in Paris, I rechecked my closed backpack zippers more than I should've. Even though I saw them shut, my repetitive OCD thoughts kept barging in. Meggie, are you really sure that you zipped your pockets closed? Imagine what would've happened if you didn't! You might lose your valuables, including your cash and passport! Wouldn't you hate losing your money or having to waste your time at the US embassy getting a new passport? In this bout of anxiety, I never felt sure that the zippers were closed.
While it is always wise to scan your hotel room to make sure that you didn't leave anything behind, my OCD takes it too far. I may stare at a specific area for a few seconds longer than usual, making sure it is empty. And I could recheck the entire room several times before leaving.
To deal with this OCD symptom, when it is logical to check for any possessions left behind or those closed zippers, I have to try restricting my amount of checks to one or two. Afterward, despite the OCD thoughts continuing to make me anxious about losing my stuff, I must embrace the uncertainty of it all. Maybe I would leave an item behind on accident. Or maybe my zippers have been open the whole time. I'm not going to check again because I know this is OCD's lying voice.
Also, I've come to accept that an inevitable part of traveling is that you are going to lose some stuff. It happens to the best of us, even if we hate it.
Recommended reading:
3. Airport security
Security tenses up the airport environment since everyone has to be scrutinized and treated as a suspect. It passes on that fear to lots of people, even those without mental health problems. Plus, the crowds, waiting time, and screening at the security lines can stress people out.
But my OCD, in conjunction with my social anxiety, exacerbates that fear. I feel like a criminal on the INTERPOL wanted list. Whether an officer is analyzing my ID, scanning my baggage, or asking me a simple question, my OCD is worried that they will find a reason to make me a suspect and eventually imprison me with no way out. The main fear driving my OCD is that my records and reputation would be tainted forever, thus preventing me from having a future to look forward to.
Besides accepting the uncertain and hectic nature of airport security, I've also relied on an epiphany I had during the 2018 Hawaii false missile alert situation — it was just my luck that I was caught in that chaos before my flight back to the mainland United States. When I noticed a brawny Hawaiian security guard being emotional with his loved one on the phone, I knew that underneath their menacing presence was a real human being with love.
And witnessing love will always defeat the lies of my OCD.
Recommended reading:
***
Which of these OCD triggers surprised you the most? Maybe the museum reading? It goes to show how OCD varies from patient to patient.
My therapeutic techniques help me overcome my OCD thoughts during my travels. I see my OCD triggers as practice runs in which I can hone my ability and resilience to deal with them.
Although certain situations — whether I am in a small museum, an airport, or on Parisian streets — during my travels awaken my OCD and cause anxiety, nothing can be worse than letting my mental illness force me to stay home, rest my arms against the rough windowsill, and gaze outside at the distance, failing my desire to travel.
I am ready to carry OCD in all corners of the globe, no matter how heavy it feels in my own mind.
---
Share on Pinterest!