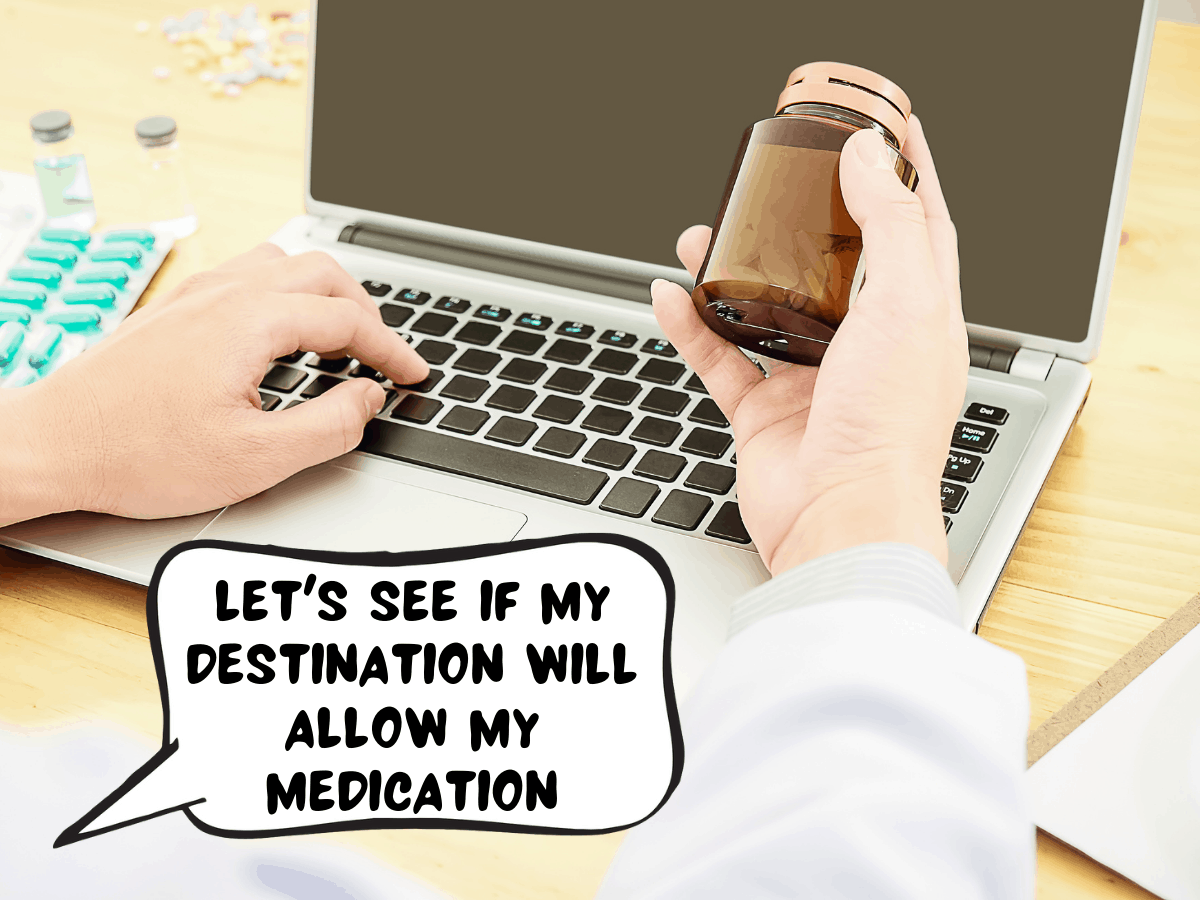 Posted: May 3, 2021
Trip planning isn't only about marking your must-see destinations in your itinerary. It also involves the super practical preparations.
That includes managing your mental health medications before and during your international trips.
Although they are your important regimen, it's not like all countries will allow you to bring just any medication brand and supply amount.
That's why it's your responsibility to be a traveler who has researched your mental health medication in your destination. And when your trip starts, you'll have to transport the medication safely and stick to your routine.
I understand how complicated the rules about mental health medications can be. And the overwhelmed feelings don't end when you travel to and within your destination country. You have to pack it safely, pass through customs, and possibly get refills from an unfamiliar pharmacy. All you want to do is be the innocent traveler who wants to explore new places and cultures!
But I've done lots of background research to clear the confusion and simply the sea of information. I even asked my cousin Annette, who is a pharmacist specializing in psychiatry, to review my research and add any other important tips.
As long as you read my guide, do some research on your own, and plan ahead with your medical professionals, you can bring your mental health medications abroad.
In this post, I'll make sense of the complex rules, recommend how to work with your doctors and pharmacists at home and abroad, safely pack your medication, and get refills in your destination country.
What are the Regulations on Controlled Substances?
You need to consider the type and amount of your mental health medication as you plan your trip.
Many countries have their own set of regulations on a type of medication called "controlled substances." Some medications that treat mental illnesses and health conditions are considered controlled substances for their addictive quality and common abusive use.
Although you are thinking of a bucket-list country you really want to visit, you have to research how they regulate certain controlled substances. Your research may even determine how comfortable you feel to visit a particular country.
The Most Common Considerations
Is my medication legal?

If it's illegal, don't attempt to bring it. Some countries outright ban specific medications, even if you presented official documentation from a doctor. For example, Japan has illegalized Adderall, Dexedrine, and Vyvanse, which are used to treat attention deficit disorder and attention-deficit/hyperactivity disorder (ADD/ADHD).

If it's legal, how much supply am I allowed to bring in? (Usually, a country allows up to 30-90 days of supply).

If you plan to stay longer than your limited supply allows, then you may need to change your plans or plan for refills while abroad.

Can I get refills in that country?

After all, your medication could get lost or go bad (it becomes a different smell and color). Or travel plans change, leaving you in the country longer than expected.

Do I have to obtain a license or permit that allows my medication to legally pass through their border, especially if I am bringing in more supply than is allowed?
Do the regulations change depending on the country I am departing from?
I have not included all the possible regulations, so make sure to do your research!
Researching the Regulations on Your Own
It's important to cross-check the information you find because it may be vague, outdated, or even contradict with the customs officers' own regulations, especially if you use the first two directories listed below. Also keep in mind that not all countries release their regulations to the public.
Here are some resources where you can find out how your destination country regulates your medication:
Visit the website of or contact your destination country's embassy, consulate, national drug administration, or Ministry of Health.
This research is a starting point. To be sure of the regulations in your destination country and manage your medication accordingly, it's crucial that you work with your doctor and pharmacist.
Visiting Your Medical Professionals Before Traveling
Ideally, you should schedule a visit with your doctor and pharmacist one month before your trip so you can get your refills, paperwork, and important travel information from them in time. Plus, the more recent the paperwork is, the more validity it has in your destination country.
On these visits with your doctor and pharmacist, be transparent and honest. Share your medical and mental health history with them, including your prescribed medications and any episodes of substance abuse.
Because they have inside knowledge, ask your doctor and pharmacist the following:
Does your destination country regulate your medication as a controlled substance? Is it refillable over there?
Is it safe to take your regular medication with any traveler's medications or vaccinations (like anti-malaria pills or the Yellow Fever vaccine)? Will there be any drug interactions?
If for some reason, it's not possible to bring your medication into that country or you can't get refills over there, ask for alternative medications.
Ask them how you to take your medication when the time zones change. Depending on their evaluation, they may recommend taking it at either a gradual or immediate transition to the new time zone.
Ask your pharmacist about how you can safely store your medication and what environmental conditions could damage it. If you will be bringing a temperature-sensitive medication to a place with extreme temperatures, ask them for an insulated container or pouch that can protect it.
Then, follow this course of action with them:
Ask them to write you official notes explaining your mental illness and prescription. When you are traveling, you can show these documents as proof that you need the medication.

Have them translated into the destination country's local language, especially if the medication is a controlled substance.
Keep electronic and paper copies (it's always important to have backups)!

If your prescription bottle doesn't have its label on for some reason, ask your pharmacist to print out a new one. The label matters because it officially shows that this is your medication and that you're not randomly bringing it in.
Get their contact information in case you need help with your medication for any reason while traveling.
Ask for their help in finding a qualified local doctor and pharmacy location who can communicate in your language. You could ask these locals about refills, regulations of controlled substances, and alternative medications. If you need medical assistance or refills while abroad, this may very be your local medical team.

You could also ask the local embassy for referrals.
Managing Supply and Refills
Having a legal controlled substance is one thing, but getting more supply is a complicated matter in and of itself!
Your destination country may limit how much supply you import, potentially impacting your backup supply. It's important to have extra supply no matter what, considering how medications can get lost, stolen, damaged, or not last long enough throughout your trip.
Alas, getting refills in your destination country may not be so straightforward. Are refills of your medication available at all? If so, does that country have a high or low supply of it? Is it administered in different doses or known under another name? Is there a rule where a local medical professional has to test you before you are allowed to get refills?
When handling supply and refills, follow these steps:
Ask both your at-home and destination's doctor and pharmacist about getting refills for your medication in the destination country.

If your country does not have refills available, you could ask them for an alternative medication.

Ask your at-home doctor and pharmacist for more supply than you need because your medications could get lost, damaged, or not last long enough during your trip. Your backup supply should last you from one week to double the necessary amount while complying with the destination country's restricted amount you are allowed to import.

Even if you have refills left on your prescription, you might have to ask your doctor to prescribe a large quantity so you can get it refilled in time.

If your destination country limits the amount you can import but also has refills available at a local pharmacy, bring the legal amount, then get local refills.
Traveling with Your Medication
Now that you're done with the research and preparation, it's go-time!
Let's review the documents, in both paper and electronic copies, that you should bring:
Information about the regulations that you've researched in the local language. Because the customs officers may not have received training and education on your medication's legality, showing this information will make your entry easier for everyone and proves how willing you are to follow regulations.
An official note written by your doctor or pharmacist about your prescription and mental health issue in the local language. You can show this documentation to customs officials and local doctors and pharmacists.
In some cases, your license or permit that allows the medication to be brought into the country.
Contact information, including phone numbers, of your prescribing doctor and pharmacist, in case you need to contact them for any assistance with your medication.
Passing through Customs
While entering the country, keep your prescribed medication inside its original container with the label, which makes it obvious to customs officials that you are legitimately bringing it into their country. Again, if you are missing the label, ask your at-home pharmacist before your trip to make a new one for you.
You shouldn't place your medication into any other container, even pill organizers, for they may make customs suspicious. If you'd like to organize your medication into a different container, bring it empty and wait until after you've passed through customs to fill it.
Never mail your medication into another country, which is illegal in some cases. Customs may confiscate it, the mail carrier might lose it, or transport might damage it.
Storing Your Medication
Don't keep all your supply in one place. By spreading it around in different parts of your baggage or leaving some in your hotel room while you're out exploring, you will always have some supply in case you lose the other or it goes bad.
Keep some of your medication with you at all times, like inside your backpack and carry-on luggage. That way, when it's time to take it, you'll always have it instead of having that "D'oh, I left it in my room!" moment.
While traveling through the airport, don't pack any supply in your checked baggage because it could get lost, delayed, or stolen. Also, the frigid temperatures inside the airplane cargo hold can damage your medication. If it has to be checked in for whatever reason, make sure that you have an insulated container or pouch that can protect it from the cold, which you can ask your pharmacist about before starting your trip.
Make sure to follow your medication's specific storage instructions and be aware of the environmental conditions that could damage it by reading your prescription information sheet or asking your pharmacist before your trip. Besides extreme temperatures, some medications could also lose their potency under certain humidity levels and direct light. While it depends on the exact medication, typically, you should keep your supply in a dry and cool place without exposure to sunlight or other extreme conditions.
On the days you're out and about, keep a day's supply with you and a little extra. Leave the rest of your supply in a room at ambient temperature — bonus if there's air conditioning! Before booking a room at an accommodation, ask the staff if they can provide safe storage conditions for your medication. Whatever you do, do not leave it in a car or enclosed space where the heat can build up quickly and damage your medication.
Taking Your Medication
Considering how travel can easily throw off schedules, it's important to stick to a routine when taking your medication. I would recommend setting a repeating reminder on your phone to notify you when it's time to take it. Follow your doctor or pharmacist's guidelines and recommendations about adapting your routine to the different time zone.
Unless approved by a medical professional, do not change the dosage, stop taking it altogether, or try a new medication.
Getting Refills
Just because your at-home doctor is your prescriber doesn't mean they have the written authority to get you refills in the country you're visiting. Depending on the pharmaceutical and controlled substance regulations in the destination country, you may have to meet a local doctor or a doctor licensed in that county to prescribe you the refills. In some cases, the prescription can't be from a general doctor, but from a medical specialist or hospital. Show all your medical documents to them.
Get your refills only from established, licensed pharmacies, such as major ones in the big city or ones associated with university hospitals. At big institutions, the pharmaceutical staff may be able to communicate in your language, too! If you haven't gotten referrals for a pharmacy from your at-home doctor or pharmacist, ask a local doctor who can speak your language, the front desk staff at your accommodation, or someone at the official tourist board office.
Never, never, never go to a random store on the street advertising cheap medication, an unlicensed pharmacist, or order off the internet — fake, counterfeit medication can endanger your health! There could be nasty, dangerous stuff in there, such as antifreeze and rat poison. Or a lack of or too much of an ingredient. Nobody would want to pay for that!!
When obtaining your supply at a reputable pharmacy, ask if you can talk directly with the pharmacist, who can ideally communicate in your language. While presenting your medical documents with them, also share any concerns or questions that they can address. Also check that your new supply is your actual medication, is in the right amount, it hasn't expired yet, and the seal is intact.
If your medication was lost, stolen, or damaged, contact your travel insurance company. Depending on the policy, they may cover it.
After Your Trip
Besides blabbing all about your amazing trip with your at-home medical professionals, also tell them about any medical services offered and medication changes while traveling, including any refills, new medications prescribed to you, and days that you missed the routine.
***
That was a lot to learn. Congratulations for making it this far!
Part of your mental health self-care while traveling is to get acquainted with the rules and following the necessary steps to ensuring that you will have a safe supply of your mental health medication. Remember that you have your medical team to help you.
I don't think that your imperfect mental health nor your medication should discourage you from traveling to different countries. By taking the right steps and making plans, you're a well-prepared, rock star of an international traveler!
Join the many travelers who've had success bringing their mental health medications abroad.
P.S. For even more detailed information, check out this PDF from the International Association for Medical Assistance to Travelers. It helped a lot with my research and has a convenient checklist you can follow!
---
Share on Pinterest!