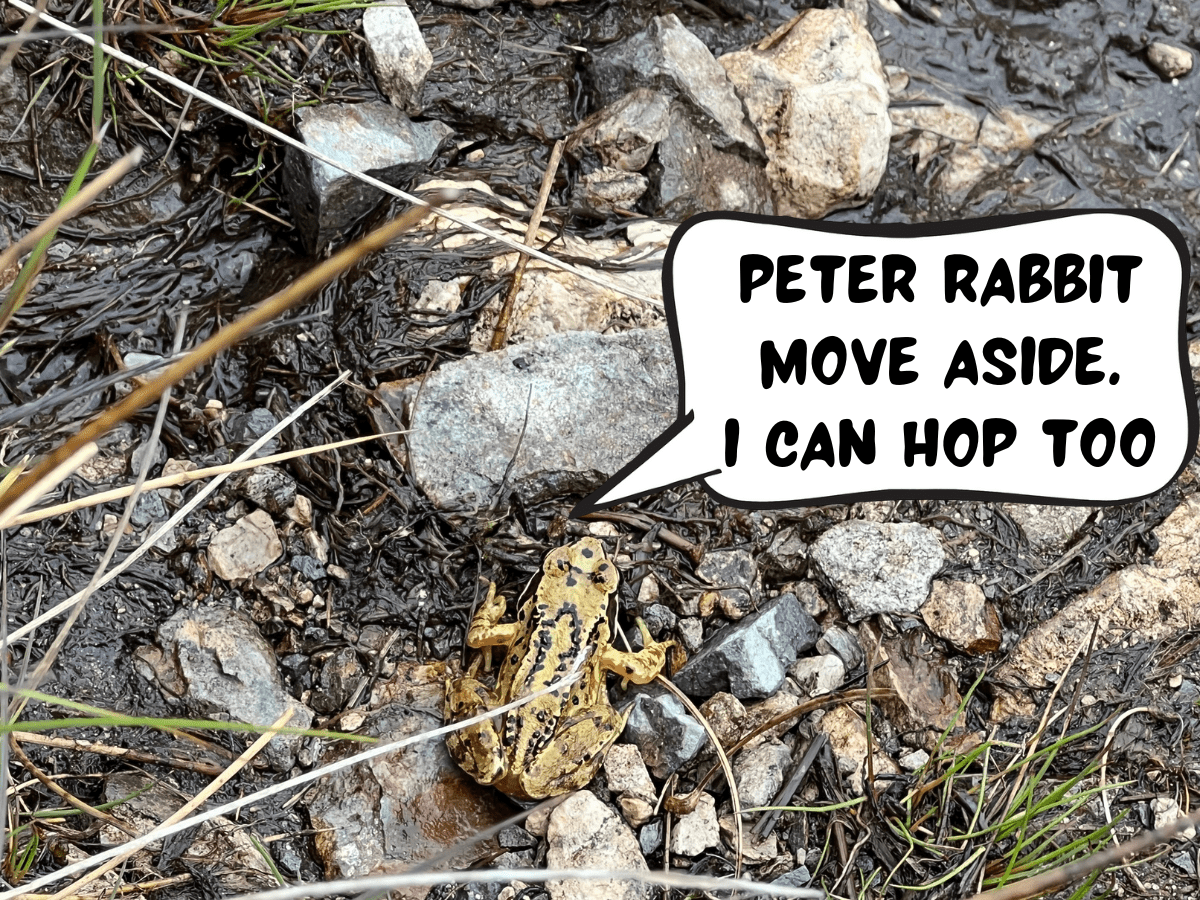 Posted: June 25, 2022
Plop!
Something yellow, something smooth, hopped onto the mud-ridden trail.
FROG.
My eyes glimmered at the sight of it as my mind screamed, CUTE! So adorable. It's my froggy friend!
I leaned over, admiring everything about the frog: its bobbling cheeks, slick skin, sunshiny coloration against specks of black. I felt humbled to share a moment with a living thing that was more equipped to live in the Lake District than me. The landscape's muddy shallows, sweeping lakes, and thick grass made an ideal home for this frog.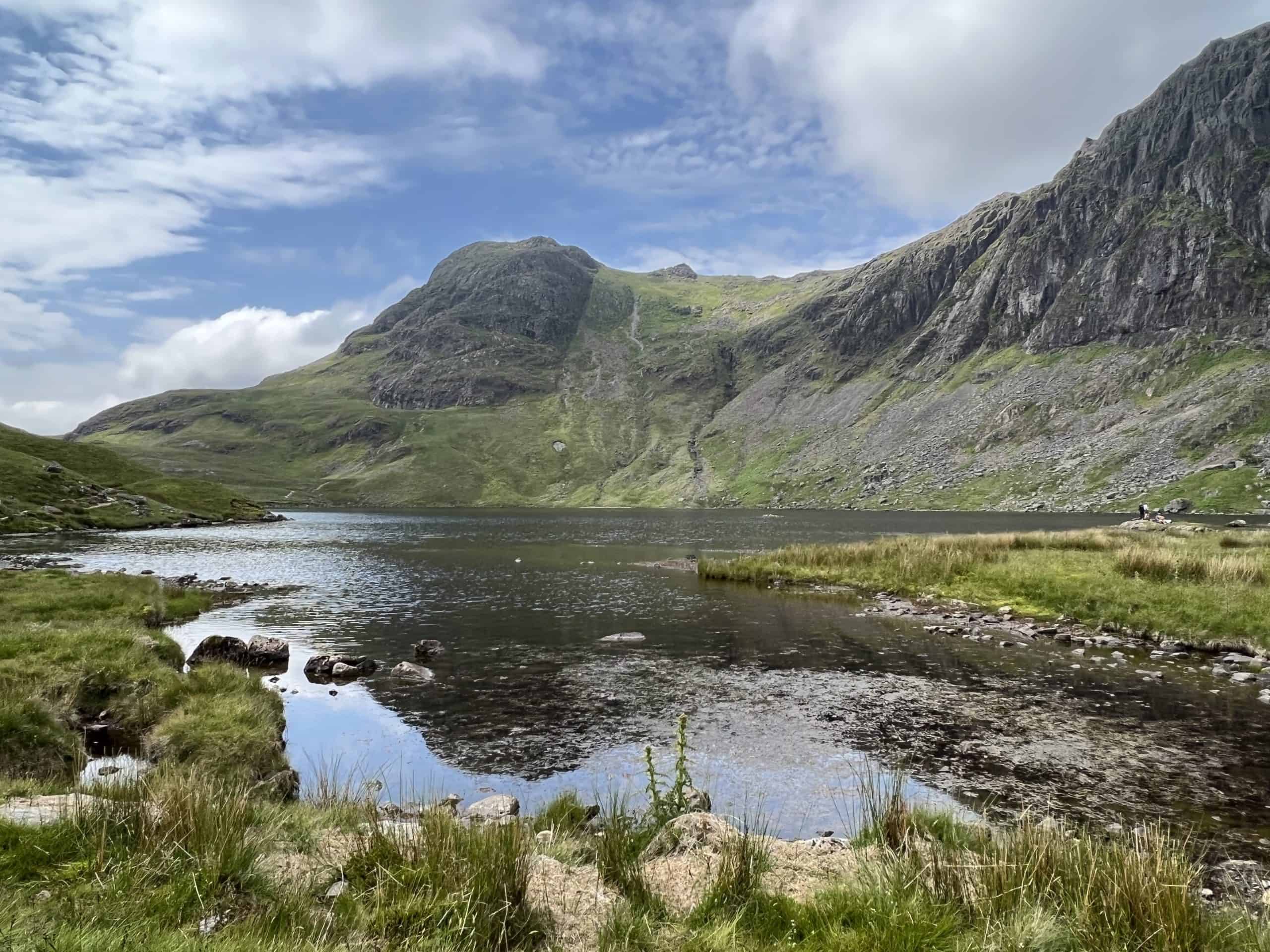 Soon, a fly buzzed around my chest. Although I shooed it away, I didn't complain about it.
The fly was a living being in this ecosystem, just like the frog. Why should it have deserved less?
Some animals have unfavorable, negative labels. Supposedly, bugs, spiders, and snakes are creepy critters. EWW. Gross. That includes flies.
But who is assigning those labels?
A lot of the human race.
According to the English Romantic-era poet, Samuel Taylor Coleridge, people shouldn't be projecting labels from our human emotions onto the natural world. Nature is nature, and it is to be respected and awed at. That's all.
In Lyrical Ballads, which contains select poems from Coleridge and his friend, William Wordsworth, Coleridge in "The Nightingale" criticized the historically melancholy representation of the bird:
And hark! the Nightingale begins its song,
"Most musical, most melancholy" Bird!
A melancholy Bird? O idle thought!
In nature there is nothing melancholy.
—But some night-wandering Man, whose heart was pierc'd
With the remembrance of a grievous wrong,
Or slow distemper or neglected love,
A person who is having a bad day shouldn't be a selfish sod by assigning their emotions ("slow distemper or neglected love") to the nightingale's song. Coleridge speaks the truth of nature that "there is nothing melancholy," untainted by egotistical human emotions. Any melancholy thought on a natural world's living being would be doing a disservice to it. In this case, a nightingale was simply doing what it should be doing: singing.
And the fly I met was doing its thing too: humming in the air, surrounding other animals and humans.
Hey, the Lake District was the fly's home. It had the right to exist there.
I had no right to project any of my annoyed emotions about my life onto the little fly.
I used to, though.
When I was young, selfish sod, I used to blame any fly for angering me. I thought the fly was a disgusting little thing. But very likely, I was trying to make myself feel better by placing the burdens and anxieties of my life onto a scapegoat, the fly in front of my face.
Maybe I'm no longer projecting my insecurities onto a fly. But can I take it a step further and appreciate it? Coleridge lit the way with his nightingale:
My Friend, and my Friend's Sister! we have learnt
A different lore: we may not thus profane
Nature's sweet voices always full of love
And joyance! 'Tis the merry Nightingale
Can I find "sweet voices always full of love" in every animal? I could do that easily with a frog's croak. But a fly's buzz would be tougher.
Well, the fly's wings were beating so fast, I seemed blind to them. And its buzzing created a simple song that no other animal could accomplish in such a monotone fashion.
If I considered the fly in the grand scheme of the Lake District, then all the land was a concert with many lovely voices joining in harmony. The croaking frogs. The bleating sheep. The buzzing flies.
Was this how wonderful the simple life could be in the countryside?
According to Wordsworth in the Preface to Lyrical Ballads, poems about that kind of life are authentically simple
because in that situation the passions of men are incorporated with the beautiful and permanent forms of nature.
Several poems from Wordsworth and Coleridge that praise the natural world made it into their selection of Lyrical Ballads. They aimed to share the feelings of joy we all share when we spend a day outside.
From the exemplary guidance I have received from these two Romantic-era poets, coupled with my walk through the Lake District, I have become a bit more tuned into the natural world. When I hear the song of a bird, frog, or fly, I know it is just one voice in a melody of many.
As a human being, I am being equalized back to the animals with which we share our land. Because I am just a humble visitor in the Lake District, an audience member catching a seat for the show.
And when I leave the Lake District, those frogs and flies and fowl keep on singing, those "beautiful and permanent forms of nature."
(But okay, I still think the frog is the cutest animal in the concert.)
Thank you to the following generous donors for supporting my study abroad trip through a fundraiser:
Co Minh and Bac Tuan, Janda, Yvonne, Kristina Vorwald, Arianna Samaniego, Tina Kashiwagi, Bac Ngoc & Bac Tuong, Krystal Ramirez, Bac Chi, Melanie, Co Tuyet Anh, Co Be, Co Lan & Co Dao, Co Hang, Annette, Kayla & Brendan, Bac Dung, John Cao, Mike & Jennifer Rumbaugh, Chu Thi and Aunt Janet, Uncle Gordon, Bac Khanh & Bac Thoa, Co Hang Cao, Elizabeth (Liz) & Thai, Jennifer Chapman, Mira Nguyen, Jada Ach, Chu Hao, Ba Gai, Ba Be, Christopher Nguyen, Ba Dung, Steve, Sophia, Maria Martell, Leanna Hall, Heather MacDonald, Mommy, Avagail Lozano, Annie Sisson, Jeff Goins, Unbound Merino.