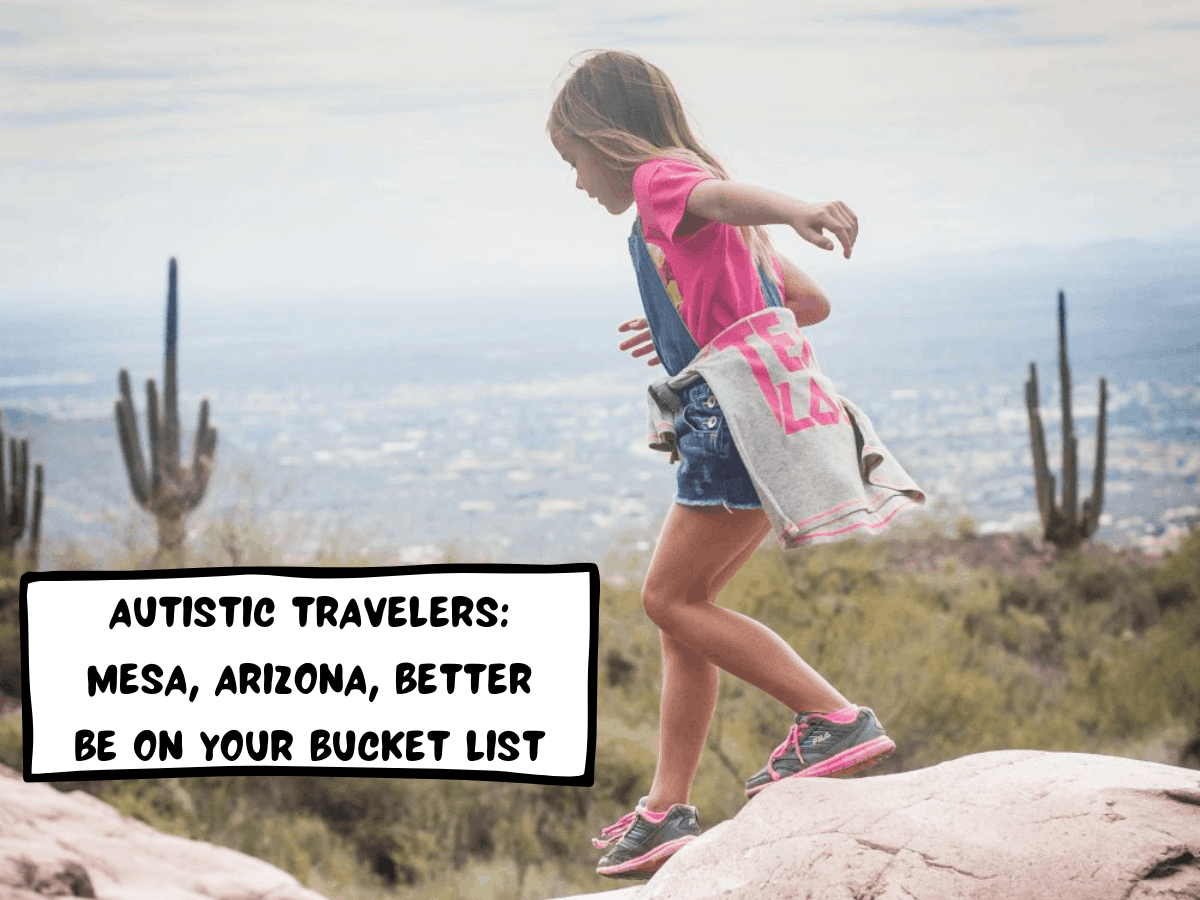 Posted: February 10, 2021
Have you ever noticed that while you're traveling, your senses come alive with new smells, sounds, tastes, sights, and even touches? They define the places you're visiting and enrich your travels.
But traveling with autism spectrum disorder (ASD) can be a challenge as many autistic people are sensitive to sensory stimuli.
There's a lack of autistic services and knowledge for autistic travelers. Hospitality workers at travel destinations may not know how to accommodate autistic people.
As a result of this inaccessibility, nearly nine out of ten families with autism don't even travel, according to autismtravel.com. They cannot be sure of the destination's ability to serve them.
But one travel destination is changing the face of autistic travel: the city of Mesa, Arizona. As the world's first Autism Certified City, as "a destination mindful of all your senses," Mesa is ready to serve autistic travelers with kindness and understanding.
As a proud resident of Mesa for six years, I know that my city's people and experiences will leave a friendly impression and enduring memories.
History of the Autism Certified City program
Marc J. Garcia, the president and CEO of Mesa's tourism board, Visit Mesa, learned that his 14-month-old son was diagnosed with a severe form of autism. As a travel lover and now the parent of an autistic child, Garcia's vision was to have travel destinations inclusive for autistic people by adopting training for public-facing staff.
Garcia got in touch with the International Board of Credentialing and Continuing Education Standards (IBCCES), which trains individuals and organizations to accommodate people with cognitive disorders, including ASD.
Between the IBCCES and Visit Mesa, they started a new certification that will change the face of inclusive travel forever — the Autism Certified City Certification.
What is an Autism Certified City?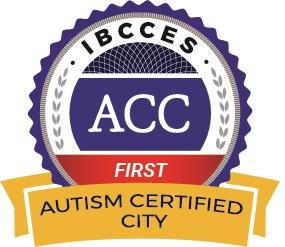 The IBCCES has trained and certified employees in the city's institutions across many fields besides tourism, including government, education, and healthcare, to learn appropriate accommodations for autism.
For instance, the City of Mesa has made sure that their police and fire departments and chamber of commerce were included in the training. Even some non-profits and health and wellness institutions across Mesa got training.
Under training, employees learn about encouraging empathy and serving the autistic visitor's potential needs. Employees at some institutions, such as the fire and police departments, may receive additional training that is tailored to their job's scenarios. After training, employees must pass an exam.
These institutions that help a city get the Autism Certified City designation are known as Certified Autism Centers.
What is a Certified Autism Center?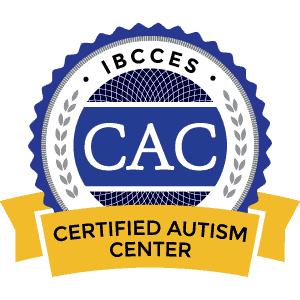 If 80% of the public-facing employees at the institution have been trained and certified, the institution itself receives the Certified Autism Center designation.
The IBCCES can help institutions write sensory guides so autistic visitors can plan in advance if their sensitivities can handle the sensory experiences there. The IBCCES can also conduct an onsite inspection and suggest creating experiences and areas that can accommodate autistic people.
After two years, the certification must be renewed.
Certified Autism Centers for Travelers
Here are the types of Centers in the City of Mesa within the travel and hospitality industry:
All parks, recreation, and community facilities
All museums
Some non-museum attractions
Some hotels
Some restaurants
Community resources such as libraries and tourist board offices
Their employees are aware of ASD's symptoms, behaviors, and sensory sensitivities. They also know how to communicate with autistic people.
Furthermore, depending on the center, they may offer experiences and areas tailored to autistic people.
For example, if an autistic visitor goes to the Odysea Aquarium, they can look for employees that have a seahorse decal above their shirt pocket, which indicates that they've undergone the autism training. The biggest aquarium in the American Southwest also has a quiet room for autistic people to escape the large crowds whenever needed.
How to plan your Mesa trip
1. Find out which places in Mesa are Certified Autism Centers
The following resources list attractions, hotels, and restaurants that are certified to accommodate autistic travelers:
If there's a place you want to visit but it isn't included in any of these lists, see if they are an Autism Center by doing a quick Google search, visiting their website, or asking them via email or phone.
2. Learn about the sensory impacts at each Certified Autism Center
After the IBCCES has performed an onsite review of the Center and recommended onsite changes or additions to accommodate autistic visitors, the Center and the IBCCES may have worked together to write sensory guides.
These sensory guides let you know the sensory experiences and their levels of impact on the five senses you can expect from each area/activity inside the Center.
You can easily plan your trip tailored to your unique sensory sensitivity. Participate in the areas/activities that are okay for your senses. Skip the ones that you think will be overwhelming.
To access all IBCCES-approved sensory guides in Mesa, visit this directory.
Now that you have downloaded these sensory guides, let's learn how to evaluate them with this example from the Arizona Museum of Natural History's Meteorite Gallery: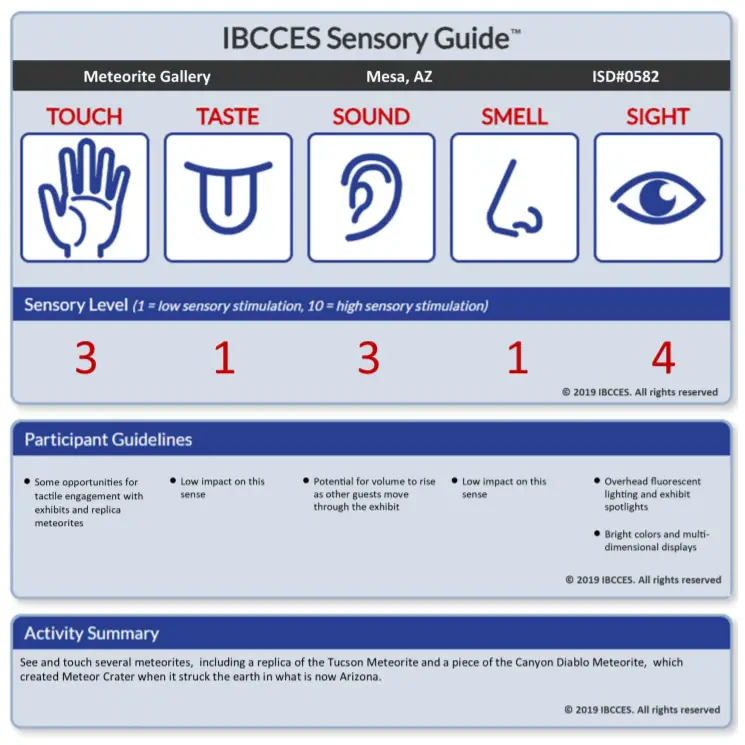 The impacts on touch, taste, sound, smell, and sight are detailed with a numeric sensory level and a written description of the stimuli. All five senses have an impact rating on a scale from 1 to 10 (1 being the least impact, 10 being the highest).
For example, the Meteorite Gallery has a sensory level of 4 on sight, which means there will be some degree of impact. You can expect displays with bright colors and spotlights. If you think this is too intense for your sight sensitivity, go back to your sensory guide and find other areas in the museum with a lower impact.
At the bottom of the page, you will also find a summary of the Meteorite Gallery experience. It says that this area of the museum features Arizona's meteorite history where you can interact with meteorite replicas.
Not all Certified Autism Centers in Mesa have IBCCES-style sensory guides. If you want to know more details about the sensory experiences and accommodations at an Autism Certified attraction, hotel, or restaurant, research their website. For example, a quick Google search led me to Odysea Aquarium's sensory guide.
If this information cannot be found on their website, contact them by phone or email. Ask them about their autistic accommodations and sensory expectations.
3. Include Mesa's geocaching tour in your itinerary
An exciting outdoor activity that will get your feet moving and hone your detective skills, geocaching is a treasure hunt for the modern world. Instead of using a worn treasure map to find your rewards, you'll use a GPS or mobile app. And the rewards are not necessarily shiny gold coins but containers called geocaches.
Visit Mesa has worked with Geocaching HQ to create a geocaching tour tailored for autistic people, called the Autism Travel GeoTour. Its geocaches can be found at Certified Autism Centers across Mesa.
Here's how you can get started with geocaching:
Download the free Geocaching app (with location services enabled), where you can access the geocache locations of the Autism Travel GeoTour.
On your physical search for the geocaches, be attentive for anything that seems out of place or disguised. Also, don't bother looking in the ground — these geocaches are not supposed to be buried.
Record all your geocache findings in the app.
Once you've found five geocaches, you can obtain a special prize at the Mesa Visitor Center. (During COVID-19, email info(at)visitmesa(dot)com with your mailing address and phone number).
4. Consider hiring a certified travel agent
If you would like more guidance, services, and support as you are planning your trip, hire a Certified Autism Travel Professional (CATP), a travel agent who was trained by the IBCCES.
You can access the CATP directory here.
5. Apply for the Compassion Cacti Lanyard
The moment you touch down, you will already experience the welcome by wearing the Compassion Cacti Lanyard. This is part of a program at Phoenix Sky Harbor International Airport that makes airport travel less stressful and more understanding for people with hidden disabilities, including autism.
If you need assistance and accommodation, simply approach an airport employee, who will see your lanyard and recognize you have a disability.
To learn more about the program and how to obtain a free lanyard before your trip begins, read my lanyard guide.
6. Obtain the IBCCES Accessibility Card
If you have autism, you can obtain this free IBCCES card, which helps communicate that you have a disorder/disability to the staff at a Certified Autism Center.
In Mesa, this card is completely optional. You don't need it to receive autistic accommodations and services.
Also note that not all centers recognize the card but can still accommodate autistic people, regardless.
The online application for the accessibility card can be accessed here.
***
Travel destinations can overwhelm autistic people due to their sensory sensitivities. Considering that 32 million people with autism travel, according to the IBCCES, travel destinations should ensure that their hospitality workers can create an accessible experience for them.
Fortunately, the tourist board in Mesa, Arizona, is leading the way with the Certified Autism City program. With a city like Mesa, autistic people have unprecedented choice and freedom in their travel planning, knowing that the staff at many attractions can accommodate them.
Not only can the Certified Autism City designation increase visitation and revenue in the city, but also some much-needed empathy and inclusivity. Travel businesses and autistic travelers win!
---
Share this to Pinterest, you savvy traveler.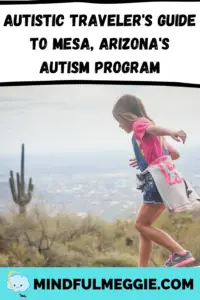 Featured image credit: Autism Travel