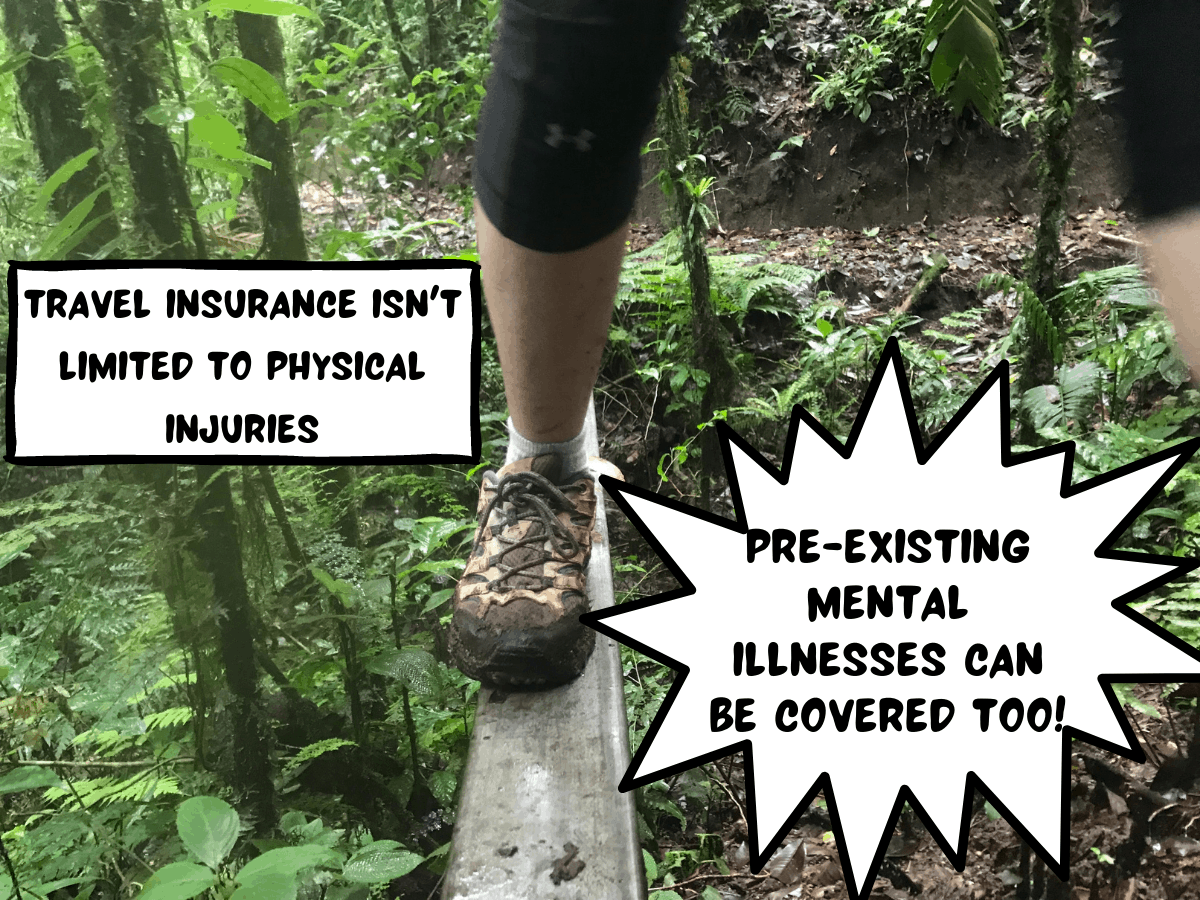 Posted: March 3, 2021
As a traveler who has OCD and social anxiety, I understand how important it is to make mental health considerations while traveling. That includes travel insurance.
Although travel insurance policies are known for their emergency medical coverage for physical injuries, they usually exclude pre-existing conditions, including mental health illnesses.
It's a complex topic with a lot of variables and room for miscommunication. To help you find the best insurance plan for your budget and mental health, here is an overview of travel insurance taking mental health — and any pre-existing mental illnesses or health conditions — into consideration.
Why most travel insurance policies do not cover mental health
In the United States, the Affordable Care Act and Mental Health Parity Act do not require travel insurance companies to cover mental health issues. It's up to the company to decide.
Most companies won't cover mental health issues because they are common and usually pre-existing. Plus, they would be an additional risk in the policy. To keep their prices low, companies limit their medical coverage to emergency physical injuries.
Some travelers have purchased insurance without reading their policy. They assumed that they were covered for trip changes and cancellations due to pre-existing mental health problems, only to be denied and lose a lot of money.
True story: Before their trip began, an insured traveler had suddenly experienced a severe bout of depression and couldn't see themselves endure five weeks of travel, even after trying therapy and medication at home. So, the trip was canceled. Unfortunately, the insurance company denied their case.
Another true story: An insured traveler had to cancel their trip to take care of a family member who was changing their depression medication per doctor's advice. (The doctor didn't write an official written statement). Their insurance company also didn't cover their trip cancellation.
You should also not assume that physical symptoms caused by mental health conditions will be covered. For example, if you get an anxiety attack while you're traveling and want to go home early, your insurance likely won't cover you.
Should you consider mental illnesses while looking for a travel insurance plan?
While you should always have travel insurance that covers the basics like stolen gear and canceled flights, you'll need to determine if you want to buy a more specific plan that takes your mental illness into consideration.
How light or severe is your mental health condition?
Have you already managed it through therapy or medication?
Do you think you will successfully manage the symptoms on your own before and during your travels?
After making these considerations, if you think you can get by without insurance specific to your mental condition, then buy the basic travel insurance plan.
But if you would like to fall back on insurance based on your mental illness, then there are options.
Tips on finding the right insurance policy for you
Know your mental illness and symptoms well so you'll know what you want out of an insurance policy. Do you want hospitalization for a mental illness to be covered? Or a generous cancellation policy?
Because every policy is different, it is so important that you research several travel insurers and their policies. As tedious as it is, carefully reading the fine print and understanding their exclusions will prevent you from buying the wrong plan and wasting money!
To speed up your policy research, use the find function (Ctrl + f on PC, Command + f on Mac) to search for keywords such as "mental," "pre-existing," and "psychiatric."
Even then, the policies may vaguely word their agreements and exclusions. So, go through their support line and ask the travel insurer directly if your mental illness and its specific conditions and needs will be covered.
Recommended travel insurance companies
The winner: InsureMyTrip

InsureMyTrip is an aggregator that offers plans from many third-party travel insurers. Some of their Comprehensive plans offer two benefits:
1. Cancel for Any Reason (CFAR) is an add-on purchase that will allow you to cancel your trip for any reason, regardless of your policy's fine print. You will get a certain percentage (usually 75%) of your money back from nonrefundable purchases you've already made.
You must buy your travel insurance plan and the CFAR add-on within 10-21 days (length depends on policy) of your first purchase towards a trip.
If you want to cancel your trip, let your travel insurer know and make cancellations with the travel suppliers two days (or three, for some insurers) before the trip departure date. Any closer to the date, you can only cancel based on your policy's inclusions.
2. The Pre-Existing Condition Waiver is a free benefit you can apply for if you have a "stable" pre-existing condition, including a mental illness. The "stable" qualification means that your medical history doesn't have any recent records during the Lookback Period (depending on the policy, 60 to 180 days before you bought the plan) related to the condition, including new treatments, change in prescriptions, or awaiting test results.
Let's say a traveler who was approved for the waiver suddenly needed medical attention that was related to their pre-existing condition. Because the pre-existing label will be disregarded, they will be covered. Per the waiver, their insurer is not allowed do a deep dive in their recent medical history for any minute reason to deny coverage.
When you make the first purchase towards your trip, buy a Comprehensive plan that comes with the waiver option within 10-21 days (again, length depends on policy). If you buy the plan too far ahead of the policy's time frame, the waiver won't be available anymore!
You will not qualify for the waiver if:
You have plans for treatment or surgery in the future
Your condition is not "stable" on the day you buy insurance
A medical professional or the insurer has reason to believe you are medically unfit to travel
Some Comprehensive plans also allow the waiver to apply to a nontraveling family member. Details differ between plans though, so read the policy carefully.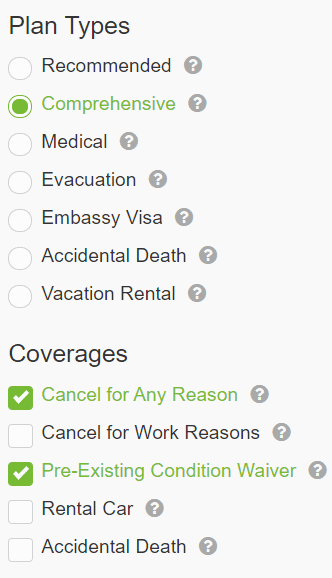 On the InsureMyTrip website, after you enter your trip details and come across a list of plans and their free online quotes, use the filters shown below.
Under Plan Types, you must pick "Comprehensive."
Under Coverages, you can pick "Cancel for Any Reason," "Pre-Existing Condition Waiver," or both!
The runner up: World Nomads

World Nomads is a reputable travel insurance company with affordable prices. Their plans cover many emergencies, including but not limited to medical/dental emergencies and lost baggage.
While their Standard and Explorer plans do not cover pre-existing conditions, World Nomads still stands out because their policy for both plans clearly spell out that you will be covered if you must be hospitalized for reasons related to your mental illness. (To clarify, visits with a therapist don't count).
So, if emergency hospitalization due to a mental health condition is a priority for you, consider World Nomads! You can get an instant, free quote:
***
As a travel blogger with mental health struggles, my job is to reduce the barriers for fellow travelers who also have them.
Although travel insurance companies usually exclude mental health and pre-existing conditions in their policies, there are options out there with mental health in mind.
To avoid any confusion or wasted money for a plan that doesn't fit your needs, make sure you spend time researching policies before you buy a plan. Contact the travel insurer if you have any questions.
Keep all your trip and medical records in an electronic database, like a folder in your email, for easy access in case you have to make a claim.
The money you invest in a travel insurance plan is so worth it. Although accidents and emergencies are rare, they can happen. And your mental health is a priority, especially if you have a condition. No risk taking!
Consider travel insurance, whether it be from InsureMyTrip or World Nomads, a self-care tool for taking care of your mental health. You deserve to travel with less stress about the "what-if's."
---
Save this to Pinterest, you savvy traveler.