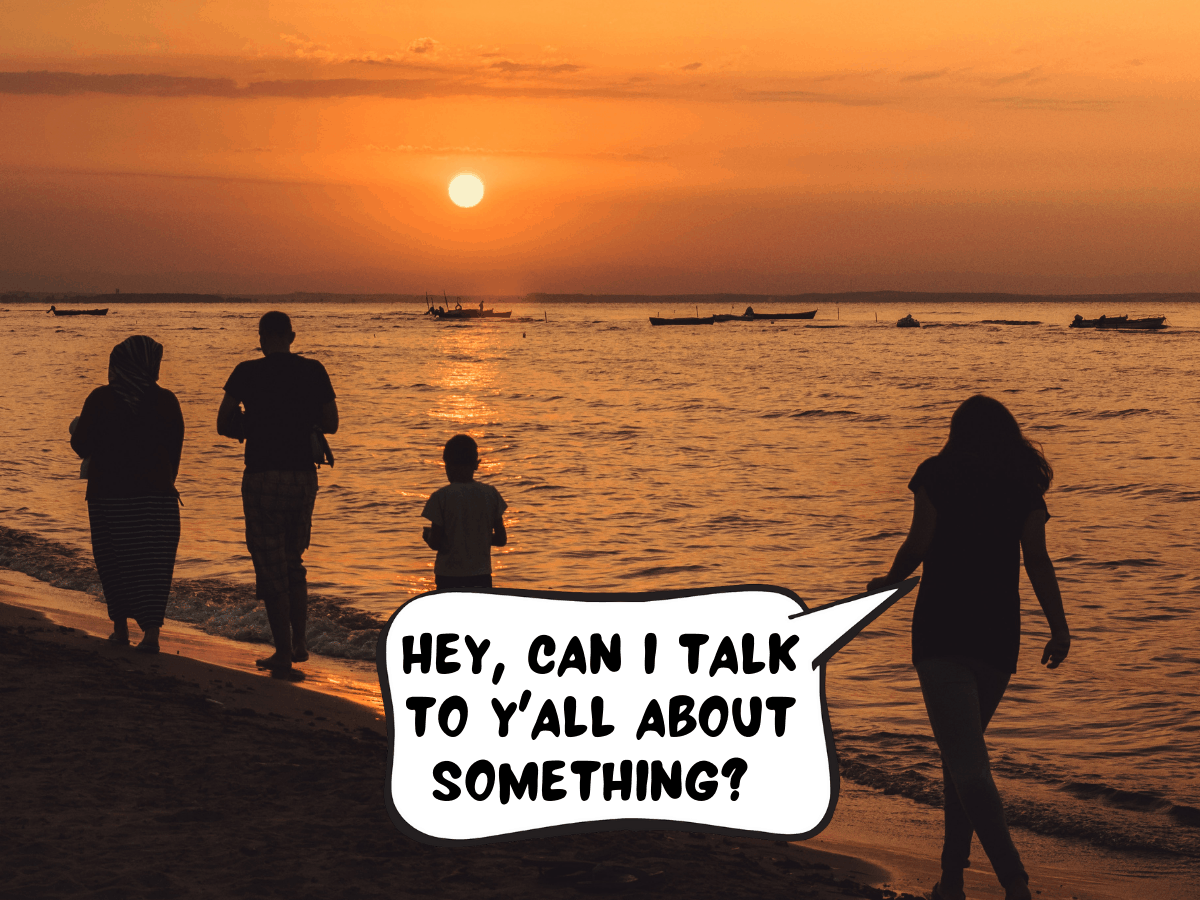 Posted: April 28, 2021
Of all the questions I've received from friends and readers, the most common is, "How were you able to tell your family about your mental health problems?"
Really, I think they mean to ask, "How in tarnation can I get through to my family about my mental health problems? I want them to understand and love me!"
I get how scary it is to open up to your loved ones, considering how prevalent the stigma surrounding mental health is in our society. Not only are you admitting that your mental health is imperfect, but you're opening yourself up to their harsh judgement.
While that can be intimidating, nothing is worse than letting your mental health conditions isolate you from others. Mental health conditions thrive off your silence, building distance between you and other people, which makes it even harder to reach out.
For almost a decade, I constantly hid my mental health symptoms from everybody in my life. Unfortunately, not only did the symptoms seem to worsen, but my own mind fabricated some kind of wall between me and my loved ones. I felt more and more miserable with each painful attempt to stay silent.
As my mental health deteriorated, I realized that my fear of opening up was preventing me from taking any chances of improvement. I needed my loved ones' support to carry me through this pain and eventually ask for professional mental health services.
I've learned that my fear of opening up was complete nonsense that my brain wanted me to believe. In reality, opening up provides all kinds of benefits.
When I told my parents about my mental struggles over the years, I was relieved to see how accepting, loving, and encouraging they were, despite their lack of knowledge about mental health. They provided emotional ("I'm here for you") and practical support ("Since you don't have a driver's license, I can drive for you") during my recovery with a therapist.
The support that I've received from my family has inspired me to keep persevering with my mental health treatment. (Because of my visit with a psychiatrist, I finally had a name for my mental problems — OCD, obsessive compulsive disorder). My painful, unnecessary loneliness and isolation from having OCD have subsided, making me feel even more connected to the people in my life.
And I believe you, too, can open up and earn these rewards.
I get how scary it is to tell your family and friends, but you need to have faith in the positive possibilities. Trying to open up is always better than never taking action, remaining stuck in a dangerous pattern of assuming the worst.
And if you have hesitations because your loved ones come from a culture that disregards or misunderstands mental health, I've seen people overcome this. As an Asian person, I recognize the importance of cultural competency, which is why I've addressed it throughout this guide, as well.
Based on actual successes that I and other people have attained, here are some tips to overcome the initial fear of reaching out and ease your opening-up about your mental illness:
1. Start with Acceptance
How can you tell your loved ones about your mental struggles if you can't accept them yourself? Despite how difficult and unfair it feels to have a mental illness, it's time to stop shielding yourself from reality and start accepting that it exists in your life. Remember that mental health problems never mean you are at fault or you have a character flaw.
I kept hiding my mental health problems because I denied to myself that I had any. But once I admitted to myself that I was under tremendous mental suffering and accepted its presence, then I could unload my own internal pressure. I'd rather spend my time and energy on improving my mental health and letting my loved ones know than denying and avoiding my mental pain.
2. Educate Yourself
Part of embracing that reality is to learn facts about mental health, including the science of the brain, why people experience symptoms, and potential treatments with professional mental health specialists.
Because society falsely stigmatizes mental health problems as signs of weakness, people often have a wrong and negative understanding of them. So, the scientific facts about mental health and its illnesses can help break down harmful misconceptions that your family and friends may have believed in.
Prepare some facts to teach to your loved ones, who may have never been educated about mental health. Facts will make them more likely to listen to you when you start sharing your own mental health problems.
If you can't research information about your mental illness since you were never officially diagnosed and have no name for it, like I did, that's okay. Simply learn what you can about mental health. Anything helps. I didn't know that I had OCD when I told my parents about my painful symptoms, but at least I could tell them how important a professional mental health specialist would be in treating my mental health problems.
Also teach yourself how you can be culturally competent with your loved ones. Some cultures may have traditional beliefs that deny or belittle mental health. By understanding these cultural misunderstandings about mental health, you can address these things in your talk with your loved ones and provide the truth about mental health. At the very least, cultural competency helps you tailor your talk accordingly.
As a real example of mental health perceptions in culture, many Asian people, especially the older generation, believe that people who have mental health problems simply need to snap out of them and toughen up. Really though, it's the professional mental health services that will be the sustainable solution.
3. Decide Whom You Will Talk To
You are going to have different people in mind for different reasons. Don't worry about the number of people who should know, just the people who matter the most to you. Decide whom you are going to open up to by gauging how supportive and understanding they would be. Also consider if telling them will strengthen or weaken your relationship.
Perhaps you'd like to tell your parents because you live with them and depend on their health insurance — and obviously, most of us come to our parents when we need help! They were the first whom I opened up to.
Maybe you have a specific friend whom you trust more than others. When I considered letting friends know about my mental health problems, I didn't want to try it on just any ol' friend, but someone who could really understand and listen to me. I decided on a friendly Canadian girl named Val, and our friendship has grown ever since!
You might also be trying to find a person or two whom you would regularly go to when you need to talk out your hardships. Only a few select people in your life deserve your utmost trust in this matter, particularly those who can empathize with you, even if they don't share your mental health problems. They would be able to say something like, "I don't know exactly what you've gone through but I understand your struggle. You aren't alone."
Choosing people aren't hard-and-fast decisions, however. If one person doesn't seem to understand you well, try speaking to someone else.
4. Open Up in a Peaceful Place
Opening up about your mental illness is a heavy conversation. Speak to your loved ones in a comfortable place at a convenient time, such as the family living room on a late Saturday afternoon when everyone is lazing around. That way, you'll be feeling more relaxed to start talking and your loved ones will be more willing to listen.
The most important factor is time. Leave plenty of it since you'll be describing and teaching about mental health, while your loved ones will likely ask you a flurry of questions. This weighty conversation with my parents nearly swallowed our whole afternoon!
It's futile to talk about your mental health problems in hectic environments. For example, if you try to explain while your family is rushing through their morning routine and getting ready for work, they aren't going to give you the time and attention necessary to try listening to you.
5. Prepare for Anticipatory Anxiety
Despite all your preliminary readiness, you may still feel nervous when it's time to open up. There's nothing wrong with you. That's normal. You know that this conversation is a point of no return. You're about to let people on the outside know about your internal mental struggles.
So, get a step ahead of any anticipatory anxiety by accepting that it may happen, and that's okay with you. That way, you won't be caught up in surprise when the nerves start trickling in.
More importantly, remind yourself the first hurdle is always the hardest. After you jump over it that one temporary time, you are on your way to collecting your rewards, including familial support and getting used to opening up to other loved ones in your life.
6. Control the Conversation
The key to a successful mental health conversation is to leave the other person comfortable while you share your situation in an accessible way. This makes them more willing to listen to you. Here are some ways to do this:
Speak calmly and slowly.
Do not overload your loved ones with too much information. Be patient, explaining bit by bit.
Leave them time to process what you've said.
Answer their questions as best as you can.
If possible, speak in the language that they know best.
Your opening up may still overwhelm your loved ones, anyway. Their confusion may make them start blabbing out things that anger you or don't make any sense. If you react with your own heated emotions, the conversation is only going to backfire on everybody.
So, regardless of any strong statements or expressed emotions, remain calm. Even if you feel upset, angry, or sad, showering the other person with your emotions and making accusations will only create more division. Take deep breaths and speak slowly. You must control the direction of the conversation because it's likely that your loved ones wouldn't be able to.
When opening up, speak about the following:
Specific, personal examples of your mental health struggles and symptoms. That way, your loved ones won't generalize and make excuses about what they might really be. When I spoke with my parents, I even gave them a tour of the house where I struggled mentally. For instance, as I took them into the kitchen, I told them about the anxiety I felt just by standing in this room, how my brain wanted me to check the kitchen pots for bleach.
Practical and scientific knowledge about mental health. These are much-needed facts that balance the emotional weight of your mental health stories. Also, they help break the prevalent, false stigma about mental health.
Ways they can help and support you, based on your end goals of opening up. By ending the conversation with these, you all can move forward with practical next steps. Perhaps you'd like them to help you find a professional mental health specialist and schedule an appointment. An additional end goal could be as simple as asking for their emotional support and understanding when you need them.
7. Consider Family Therapy
Especially if your mental health problems are related to your relationship and dynamics with your family, you can try inviting your family members to visit a family therapist with you. Also, they may be more comfortable to learn about your mental health problems in this kind of environment, when a professional is in the room.
Also consider family therapy based on your culture. For example, many Asians favor the family and community's needs and involvement over the individual's. Family therapy embraces these traditional Asian values.
Recommending reading:
8. Take Your Loved Ones to a Community Center
Again, it's all about having your loved ones feel comfortable when learning about mental health. Try finding a community center in your area that offers mental health education to the public. The more relevant the center is to your family and culture, the better.
For example, a community center may be tailored to people of a certain race and ethnicity. It's possible that they have staff who can educate about mental health in the language that your loved ones are the most familiar with.
9. Visit a Support Group
Support groups that welcome people with certain mental health conditions can also be an ideal place where your family can learn more about mental health conditions from professional facilitators, doctors, and diagnosed individuals.
In the greater Phoenix area, I used to attend a support group for people who have OCD and related disorders. Simply by talking about their lived experiences with OCD, the group leaders and the diagnosed attendees taught my parents loads of information about the disorder.
10. If All Else Fails…
If you cannot get through to your loved ones, don't worry about them. You can't depend on your family and friends to treat your mental illness, anyway. That's always your responsibility.
On your own, go find a mental health specialist, like a psychiatrist and therapist. Although the point of your appointments is to improve your mental health, you can also ask your specialists for their advice on opening up about your mental health problems with friends and family.
***
Because mental illnesses thrive on silence and isolation, being open helped me get my life back from my mental health problems. Since then, I've never reached the high stress levels that I accumulated in the past when I was silent. Now I feel freer and happier than ever.
The fear you feel when you open up to friends and family for the first time is more than worth it. On the other side, you'll emerge as the victorious one who refused to let your mental health problems bully you into staying quiet.
Plus, opening up to friends reveals them for who they are. Are they being genuine? An ally? If they aren't, leave them behind.
Although now I am fully public about my OCD, social anxiety, and intergenerational trauma, I couldn't have done it if I didn't start small with my parents and Canadian friend.
You, too, can take that scary but temporary first step with one or a few people you trust. You don't have to share your mental health with the whole world, or your whole family, for that matter.
I promise that it is better to try talking to a loved one than to exhaust yourself into hiding your mental struggles indefinitely.
---
Share on Pinterest!