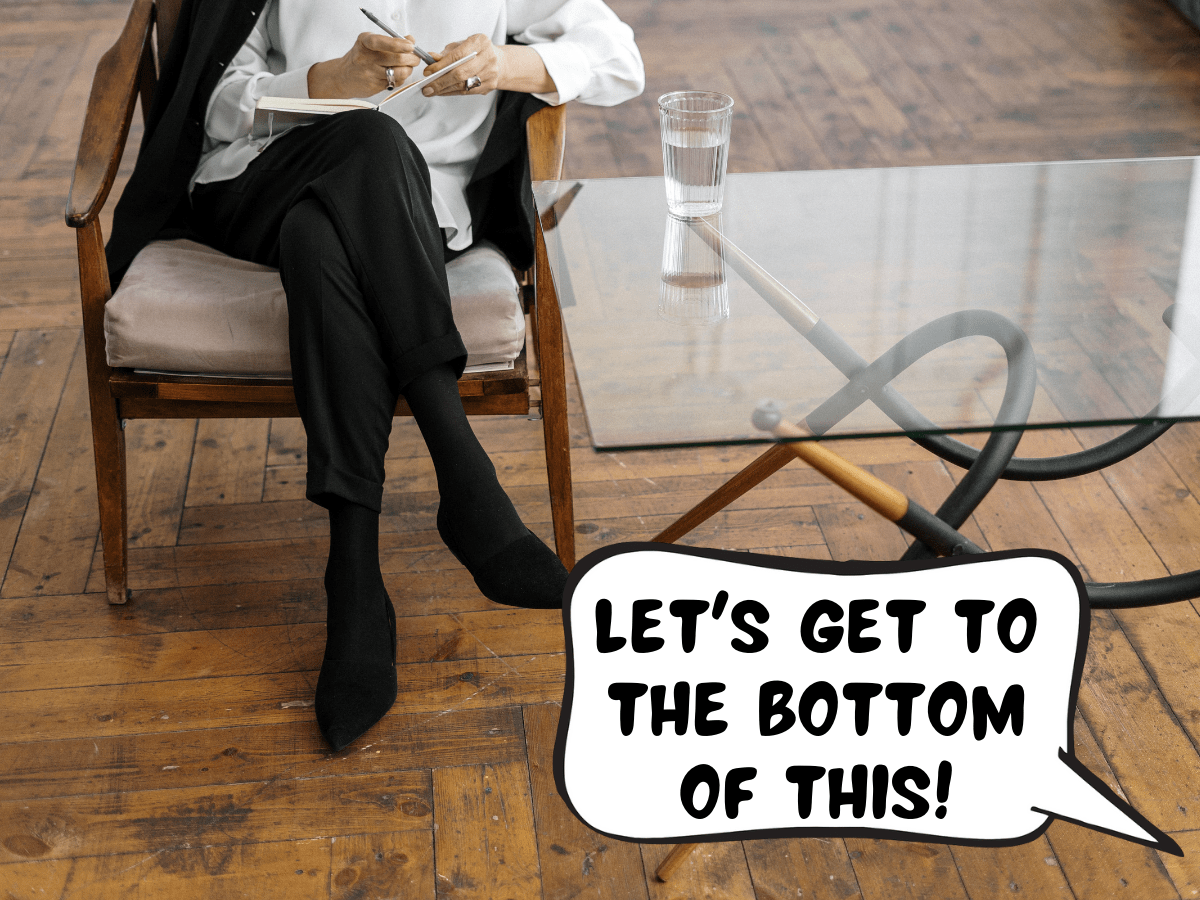 Posted: May 14, 2021
Why is it so daunting to pick up the phone, schedule an appointment with a therapist, and talk to them about your mental health problems?
While you've been going through mental health struggles and emotional pain, consider your hesitations — even excuses — that you've used as reassurance. Perhaps you've been telling yourself, I don't need to see a therapist because X, Y, and Z.
I understand how difficult it is to be open about your mental health. For years, I kept hesitating to seek mental health services, even though my brain made me anxious for no good reason. I thought that I was okay, anyway. All I needed to do was toughen up. But really, I wanted to avoid sharing my heavy thoughts and emotions that I've kept to myself for so long.
But my hesitations only left my mental illness untreated and worsening by the moment. When my mental suffering broke me down, I overcame my excuses and finally sought a therapist. Only then did I understand how to treat obsessive compulsive disorder (OCD) and live with it for life. No longer do I worry about visiting therapists because they can change lives.
Therapy works, people.
Your hesitations and excuses are only a barrier, denying you from your potential to improve your mental health.
By investing your time, effort, and money into therapist visits, you'll get long-term benefits that'll make you wonder, Why was I scared, in the first place? I'm so glad to have sought mental health treatment! Depending on your mental health condition and course of treatment, you'll be happier, reduce your anxiety, and see life more clearly than most.
Don't spend another day, month, year, and decade with declining mental health when you can visit a therapist who can teach you how to improve it. It's the momentum that leads to a more fulfilling quality of life.
Here are 7 ways to overcome your hesitations that are stopping you from seeing a therapist, which include helpful resources and debunked myths:
1. Realize that you can't solve some of your problems alone
You could be downplaying your mental health problems, thinking that they aren't so bad. Each day, you try to get by, even though you're still suffering emotionally or facing extreme anxiety. Perhaps even unknowingly, you are also blaming your mental health issues on things that aren't the cause.
But you shouldn't underestimate your mental struggles because they can worsen your quality of life down the road. Mental health problems are legitimate, not secondary issues to cast aside and get to later.
During those years when I kept my struggles to myself, I attributed them to normal, awkward teenage phases instead of a mental health condition. Sometimes, I suspected that I did have something amiss in my mind, but kept pushing it aside. But this only left my mental illness untreated, getting more severe as time went by.
My clumsy attempts to get by were a waste of my time and heading me down the wrong direction. For a while, thinking that my so-called "teenage phases" simply meant I needed a change in mindset, I kept inspirational life quotes about worrying less on my desk so I could see them daily. But reminding myself of these quotes did nothing to improve my mental health. (Quotes can't treat mental illnesses)!
It was a mistake to believe that I could take care of my mental struggles by myself. I didn't know how to treat them properly — I was naïve to try embracing inspirational quotes, of all things. It was only when I sought a therapist did I learn how to cope with my imperfect mental health and make a life for myself.
Your therapist knows how to treat your mental health problems. It's their life's mission to help people navigate emotional issues. They are licensed professionals who've studied therapeutic treatments and mental health issues. Make use of their knowledge and empathy for your mental health's sake!
Go see a therapist even if your symptoms are minor. That way, it'll be easier to treat them. Why wait until they get so bad, you can't bare them anymore? Your treatment would only be more of an uphill climb.
2. Don't fret about your therapist judging you
Even if you think that your emotions, thoughts, and feelings are silly and far-fetched, know that a therapist won't see them that way. They are symptoms of a mental health problem, that's all. Therapists know that they have nothing to do with your character, so they won't judge you.
You might still be worried that a therapist can't possibly understand you. It's true that they haven't gone through your same situation, but they will still empathize with you. It's their mission, and how they make a living. They will listen to everything you have to say, then offer their observations, sage advice, and suggested course of treatment.
When you do visit a therapist, let them know if you are concerned about their judgement. You can work together to navigate around your fear.
3. Share as much as you can with your therapist
Again, don't feel ashamed about your mental health struggles, even if you believe they are ridiculous. You are not your struggles. You are separate from them.
Be open with your therapist and let them get to know you as a person, not just about your struggles. The more they understand you, the more likely they can find the root of the problem and teach you proper therapeutic techniques.
Don't waste your time and money by concealing your baggage, even if you are feeling shame. You won't go far with therapy if your therapist doesn't know enough about you and your mental health problems.
If you are scared, start small. You don't have to tell your therapist everything in the first few appointments. Take time to trust them and for them to get to know you.
The first time you talk is really hard. But it gets easier the more you talk to them and feel that trust building up. Notice that your shameful feelings will subside.
Others enter therapy with a "Let's get to the bottom of this" attitude and share as much as they can. That's fine, too.
No matter how much you share, admit to yourself that you may feel vulnerable. And praise yourself for stepping up and talking with a therapist. You should be so proud of your commitment to improve your mental health.
Remember that nothing between you and your therapist will leak out irresponsibly. The Health Insurance Portability and Accountability Act (HIPAA) protects your privacy and confidentiality during therapy.
4. Don't let your family discourage you
Maybe your family is against you seeing a therapist because they don't understand enough about mental health issues and the benefits of therapy services. Try teaching them about both and convince them that you really need therapy, if they are willing to listen and learn.
Even if you have gotten into arguments with your family before, try not to lash out with emotion with them this time. Your heated emotions may make them react with more emotions that lead nowhere. You are responsible for maintaining a reasonable conversation, not your family. They will be more willing to listen to you if you stay calm, at least on the outside.
Recommending reading: How to Open Up About Your Mental Illness to Family and Friends
If your family still doesn't believe in mental health services, remember that your mental health is your responsibility, not your family's. They can't treat your mental health, only a therapist can.
Go see a therapist no matter what your family says. You cannot abide to your family's beliefs if they prevent you from starting your journey to improved mental health.
5. Make time to see a therapist
No matter how busy you are, visit a therapist. Even if you stuck your packed schedule underneath my nose in exasperation, I know you have time for appointments.
Without improving your mental health, there's a chance that you're wallowing in your untreated problems, which steal your time and energy from the things really want to do. It's also possible that getting things done requires extra time and energy out of you because of the painful memories, thoughts, emotions, and feelings bogging you down.
Instead of dragging through the day, invest your time wisely with therapist visits. By learning how to cope with your mental health problems, you'll use more of your time for the things that matter the most to you.
Don't delay. If you use excuses such as, "I have to finish school first," then you'll spend more of your life suffering from your mental health symptoms. The sooner you get your treatment, the more time you'll have to enjoy your life.
Visiting a therapist doesn't take as much time as you would think:
Your appointments take up a scant amount of your schedule, depending on your mental health concern. For example, when I sought treatment for my social anxiety and intergenerational trauma, I spent only 45 minutes with my therapist every week for three months.
Lots of therapists are now providing virtual appointments due to the COVID-19 pandemic, which means you don't have to spend time driving back and forth from the therapist's office.
Online therapist platforms save your time and provide flexibility. Using BetterHelp or Talkspace, you can video call, phone call, or message a therapist.
Usually, when we schedule events with others and place them in our calendar, we are serving others more than our individual needs.
But that's not the case with therapist visits. Don't say you don't have enough time because they are for you, and only you.
6. Explore how you can pay nothing or a small amount
Money is a legitimate, practical concern. A therapist visit could cost anywhere from $65 to a whopping $250 an hour!
If you are worried about paying for your therapist visits, explore the following services in your area that are free or low-cost:
Government-funded social services
Services conducted by university students
Non-profit organizations. For example, Open Path Psychotherapy Collective matches you to low-cost services, particularly if you don't have health insurance or yours doesn't cover mental health services.
If you need a referral to a free or low-cost therapist service, you can ask the National Alliance on Mental Illness by calling their helpline at 1-800-950-6264 or emailing them at info@nami.org.
If you have benefits through your employer, here are some options to look into:
Your Employee Assistance Program may allow you a certain number of free visits to a therapist within their system. After you've used up your free visits, you may be eligible for lower fees for future visits.
Some therapists may accept your private health insurance company, which can cover some of the cost of your visit.
Here are even more options:
Think like a traveler bargaining at an open-air marketplace! Let your therapist know about your budget and ask them how they can lower their fees. Show them that you are flexible. For instance, perhaps their cheapest price is paid by cash.
If you cannot work because your mental health condition is severe, you could receive disability benefits and therefore have Medicare cover you, even if you are younger than 65.
If you are a university student, see if your school offers counseling services.
If you are an active-duty military service member or a veteran, click here to explore even more free and affordable options.
7. Don't worry if your previous therapist visits didn't help you
If you didn't get the help you needed in the past, it's irrelevant. Move on and focus on the therapist visits ahead of you.
Here are some possible reasons as to why you didn't get any better with your previous therapist:
Not all therapists can help you. So many are out there, and only a few of them can form a meaningful therapeutic relationship with you. (It helps to be specific when finding a therapist)! Sometimes, you'll need to test the waters and try one therapist after another.
Your previous therapist wasn't culturally competent. (It also helps to find a therapist who understands how culture may have affected your mental health).
You weren't sharing enough information about your mental health with your therapist, which meant they couldn't help you accordingly.
You were relying too much on your therapist. Your mental health is your responsibility, not your therapist's. They can guide and teach you, but you are the only one who can improve your mental health. You must invest the hard work and effort, something that your therapist can't do for you, no matter how reputable, empathetic, knowledgeable, and kind they are.
Solve any of these concerns so that next time you visit a therapist, you can maximize your potential for quality treatment.
***
I've addressed common misunderstandings and provided you actionable steps towards seeking a therapist. By now, I hope you have at least partially moved past your hesitations.
Maybe you still feel scared. Or you don't believe that therapy can help you.
But therapy has helped lots of people with a variety of mental illnesses, each with a different story and unique struggle. If you are willing to feel vulnerable, understand how to overcome these hesitations, and take the initiative to improve your mental health, you can improve your mental health and learn how to treat any diagnosed illnesses with your therapist.
I know you are eyeing your phone. So go make the next move. Find your ideal therapist, then give them a call.
---
Share on Pinterest!