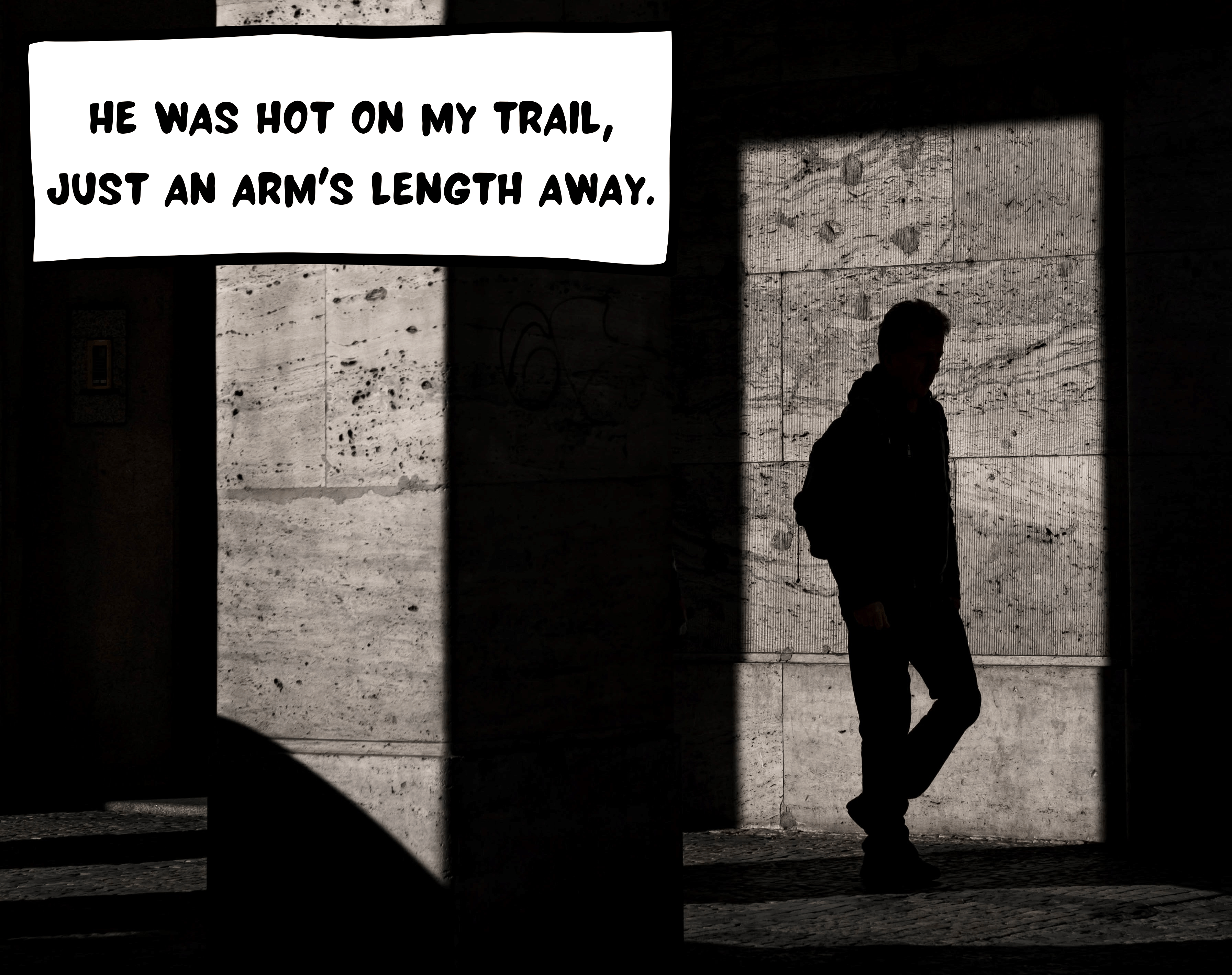 Posted: October 28, 2020
He was hot on my trail, just an arm's length away. He wouldn't stop stalking me.
As my heart pounded with fear, I thought to myself, Holy shit. One wrong move and I'd be in deep trouble.
***
The Floridian afternoon was slowly dying to make way for the night as my free airport shuttle arrived at my hotel. There, I noticed a police car parked outside.
Well, what have we here? I thought.
As I was checking in the hotel, a cop stood behind the desk with the clerk.
What kind of funny business was this?
I didn't give it a second thought as I left for my room. I pressed the button to call the elevator down. I soon learned that this hotel had a notoriously slow elevator- I waited for about three minutes! No wonder most guests gave up and took the stairs.
Although that elevator was a pain in the ass, little did I know that soon, it would be my savior.
After settling into my room on the third floor, I returned to the front desk to ask the clerk some questions about fun places I could visit in the area.
As mundane as this event was, the trouble began here.
When I approached the front desk, the cop wasn't there anymore. Instead, a skinny, tall man with a Lilo and Stitch ballcap and a pink tank top was hanging around the lobby. Let's call him Strange Stitch.
His aimless and lonesome presence in the lobby annoyed the two desk clerks. They kept probing him with demanding questions such as, "Do you even have a hotel room? Are you a guest?" He never responded. Apparently, Strange Stitch didn't belong here.
Then, the clerks turned to me as I started asking questions about my fun day out in Fort Lauderdale tomorrow. Unfortunately, our conversation distracted the clerks from Strange Stitch, who slipped out of their sight and started hanging out near the elevator.
After thanking the clerks, I made my way back to my room. Since I didn't want to waste time with that slow elevator, I took the stairs with another hotel guest who had just returned from dinner. He was in front of me.
As soon as I passed by Strange Stitch nearby the elevator door, he started following me from behind. Although he didn't present any real danger or imminent threat, I became wary of him.
All three of us were in a line going upstairs. From front to back, it was the hotel guest, me, and Strange Stitch. Too bad the guest in front of me turned down the hall to the second floor.
Aw man! I thought. Don't leave me alone with this creepy guy!
When I reached the third floor and made my way down the hallway, Strange Stitch was on my tail, following uncomfortably close behind me at only an arm's length away.
At this point, I could confirm that HE WAS STALKING ME.
My fight-or-flight response, the inner physiological survival instinct we all share, kicked in. A surge of energy shot like lightning throughout my muscles, including my heart. I knew that I had to quickly pull off street smart moves to get out of this mess, which caused a flurry of survivalist thoughts in my mind.
As I came closer to my hotel room, I thought, I need to get as far away from my room as possible. It's the LAST place I should be. I can't let him know where I was staying. Otherwise, I might be trapped with no escape.
I walked right past my room without stopping.
I need to get to the lobby AS SOON AS POSSIBLE. I'll be out of danger and back into safe company.
Is there a second stairwell on the other side of the hotel? Hmm… I don't want to take the chance that there'll be a dead end.
It's settled then. I'll take the elevator in the middle of the hallway. It goes straight down to the lobby.
In this moment, I failed to remember how slow the elevator was. Argh!
As soon as I stopped at the elevator, I hoped that Strange Stitch would continue walking somewhere else. But nope. He stopped right behind me. He was a stalker, a copycat of my every move.
In my pocket, I uncapped the lid of a pen with my right hand. All this time, I kept that hand in my pocket, always grasping the pen. My only weapon that I could protect myself with. I would lunge at his face with it if he touched me.
After I pressed the down button, I needed to kill time between now and the moment the elevator arrived. I directly confronted him by probing him with questions and putting on my angry face. I couldn't back down and show weakness, especially as a solo female.
My voice came out uneven and heavy as I croaked out, "Are you following me? Do you have a room?" I tried to be as loud and firm as possible, even though I was nervous inside.
Strange Stitch was unsure of himself. He kept staring down at the floor and barely stuttering, "I don't know." He nervously shifted one of his hands in a pant pocket. As a result, I could see the top of his red boxers.
Only then did I notice that he held a soda can in his other hand. What even? Either he wanted to attack me with a soda can or he simply wasn't prepared to physically attack me. I think it was the latter.
All this time, I always kept firm eye contact on Strange Stitch. I didn't want to turn away, to show any sign of submission. So, I depended on my hearing to detect the elevator coming.
From the moment I pushed the elevator button, the elevator didn't take long to come up and open its door. In my time of need, that slow elevator came quickly, as if it knew I was in trouble.
The elevator invited me to come in to safety, but I didn't do it straightaway. Strange Stitch could've jumped right in with me.
So, I continued to stall the stalker with the same probing questions, keeping him in limbo. He was always a hesitant man through his shaky behavior and mumblings. He never seemed to know what to do next. The more I probed, the more confident I got.
When I heard the doors closing, I turned around and only then did I see the elevator for the first time during this situation. I jumped right in while it was closing with perfect timing. I didn't want to be too early (he could have jumped in with me) or too late (the door could accidentally slam on me and open up again).
The doors fully closed and the elevator took me down to safety. Finally, I was out of reach from Strange Stitch. He didn't even try to come in after me.
My lingering shock from the scary experience strained my voice. An elephant seemed to sit on my chest, weighing down on my words. I could speak at a normal volume, but the pace of my voice was unsteady and heavy. I did my best to tell the hotel clerks at the front desk what had just happened. They understood me perfectly and responded, "That guy?? Him again!"
My hotel shuttle driver escorted me to my room. We never saw Strange Stitch on our walk.
I tried expressing my concern and asking Jose for details about the entire situation, but he refused to reveal any information.
When I entered my room safe and sound, my OCD finally kicked in for the first time that night. (I suppose my fight-or-flight response with Strange Stitch didn't let my OCD interfere.)
My mental illness forced me to recheck the door locks several times. I kept staring at them to make sure they were truly locked. Logically and in reality, they've always been locked with no need to recheck. But my OCD doesn't understand logic.
I even placed a small, empty paper cup on the ground next to the door. If the door had ever been opened at night, even slightly ajar, the cup would've knocked down. I don't know if this was OCD playing at me, but at that point, I just wanted to follow the motto, "Better safe than sorry."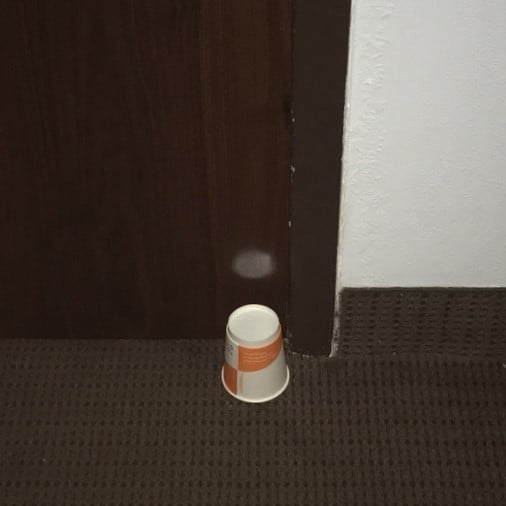 Nobody in the whole world, except for the hotel staff, knew what had happened to me. That would soon change as I called my parents to tell them. They were scared but knew that they couldn't help their child all the time. They were proud of me for my street smart moves and getting out safely. I'm just glad they didn't freak out like some overprotective parents would!
My shock lasted for a few hours that night. Just before heading to bed, I called the front desk since I didn't feel fully safe until the police handled Strange Stitch. The clerk told me that the cop found him and escorted him off the property.
Although I was relieved, I was confused as to why the police took so much time to nab the guy. I didn't even see any police presence during my entire situation with Strange Stitch. Where were the cops this whole time?
I would never know the answers and that's okay. All that mattered was my safety.
When I finally thought about dinner late that night, all restaurants in the area were closed. Frankly, I was still shook from my experience and didn't want to go out in the dark and drag my sorry ass to the nearest Walmart deli. So, I had a simple dinner of Costa Rican coconut cracker snacks.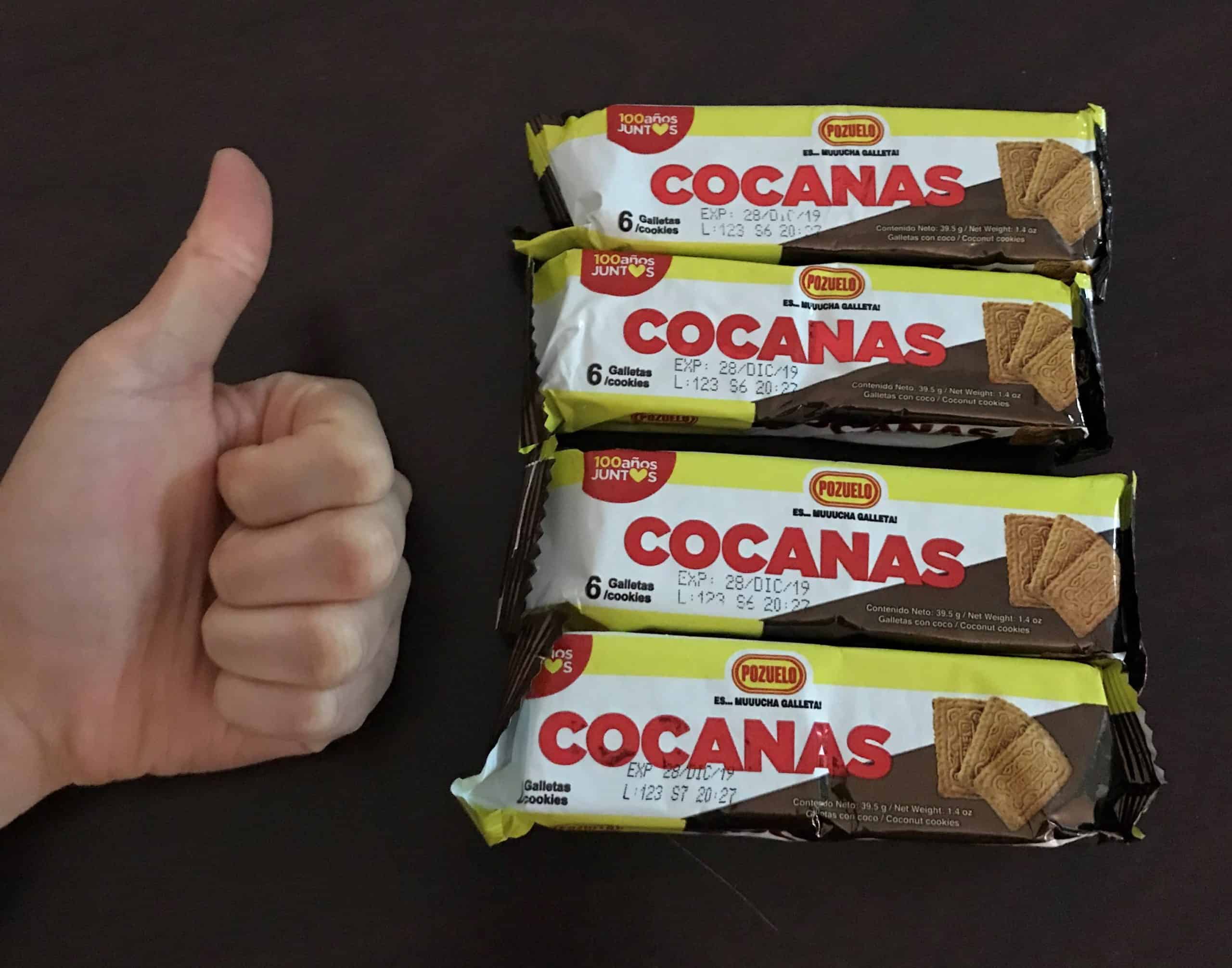 ***
I spent three weeks studying abroad in Costa Rica, and at times, I wandered around places by myself. Yet, I experienced no stalker danger until coming home to the United States. Gee, thanks for the warm welcome!
I had a one-day flight layover in Fort Lauderdale, Florida, which presented my first experience as a solo female traveler. Unfortunately, it began with stalker danger inside a well-lit hotel in the US. OF ALL PLACES.
At least the rest of my time in Fort Lauderdale was fun and safe. I spent the next day alone, exploring mangrove forests in brackish seas and sandy beaches with bright, blue water.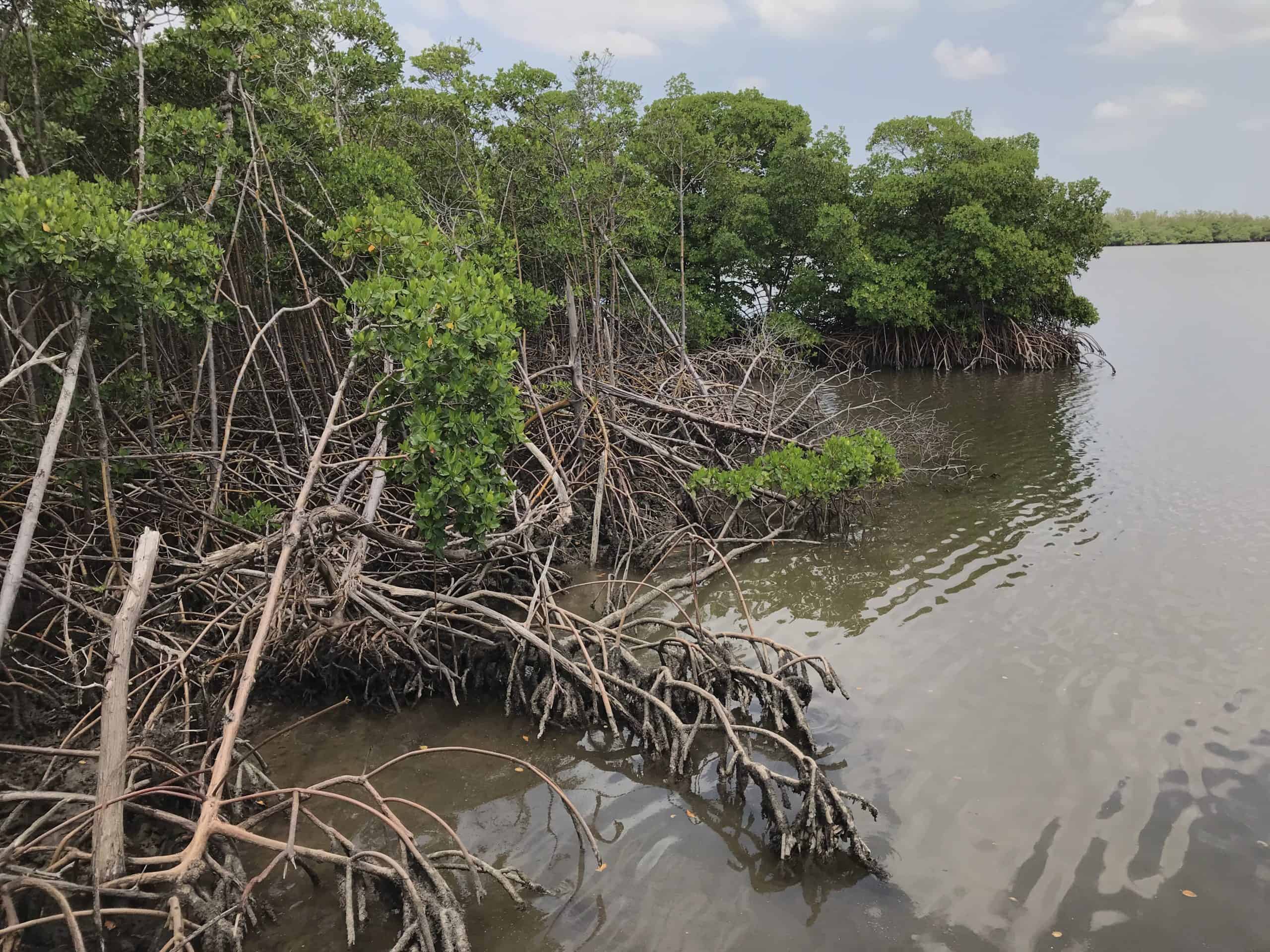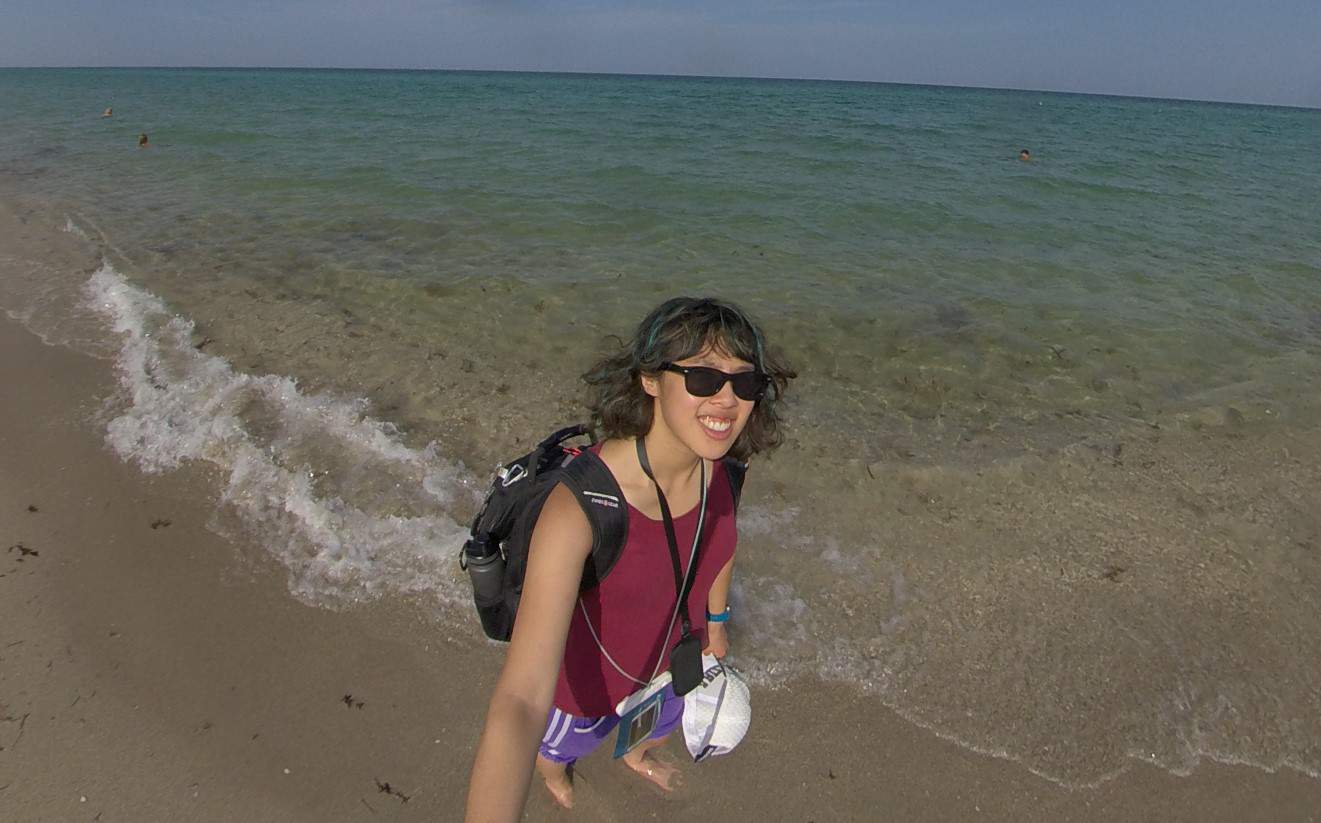 I mean no discouragement with solo female travel. In fact, I totally enjoyed the freedom of traveling anywhere I wanted to and having places all to myself.
We just have to be vigilant in every country, including our own. When danger comes, there's no room for feminine politeness. Stand up for yourself, show who's boss, and get out of the situation. You are entitled to your own safety and survival. Let's ensure we'll live to tomorrow and enjoy ourselves in the places we're visiting.
---
Pin to save this post for later, and share it with others!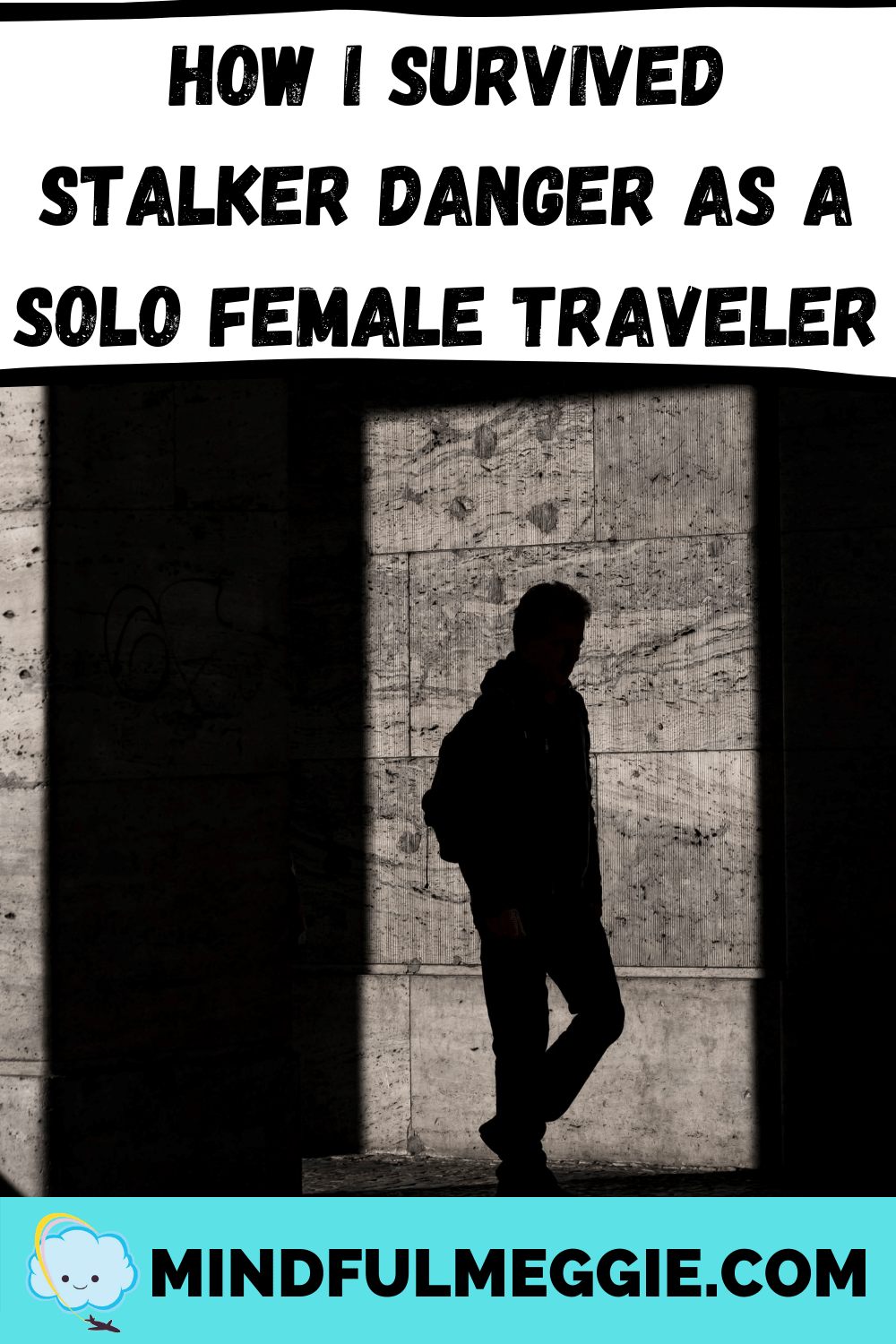 Featured image by Rene Böhmer on Unsplash