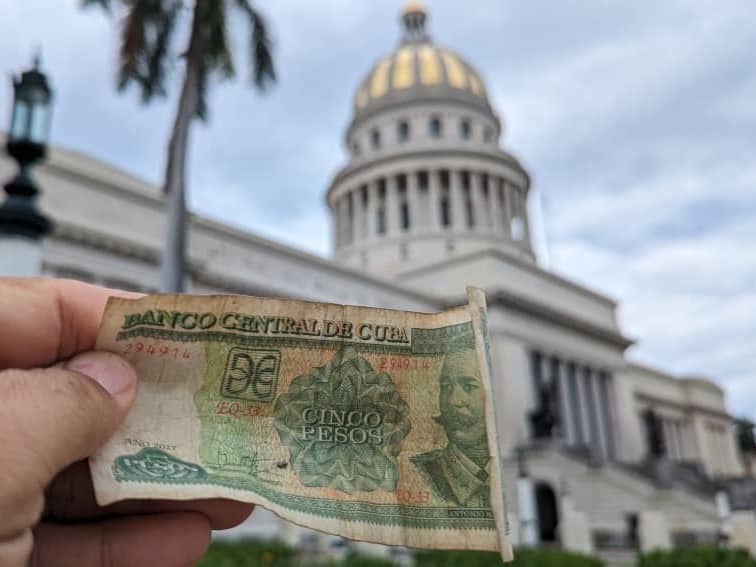 Posted: October 6, 2023
To ensure that you'll have a good trip in Cuba with less stress, bring lots of cash! Cuba is a cash-heavy country. You'll pay for taxis, restaurants, and souvenirs in cash.
American citizens, in particular, need to bring lots of cash. It's the only way you can spend money in Cuba! Your debit and credit cards issued in the US will not work. This means you can't withdraw from ATMs or pay for things with cards.
Running out of cash is a common anxiety for travelers in Cuba, especially for Americans. That's why I will list common expenses so you know how much cash to bring. I tracked every dollar I spent in Cuba so I can give you an estimate. That way, you can enjoy your trip without worrying about being low on cash!
What is Cuba's currency?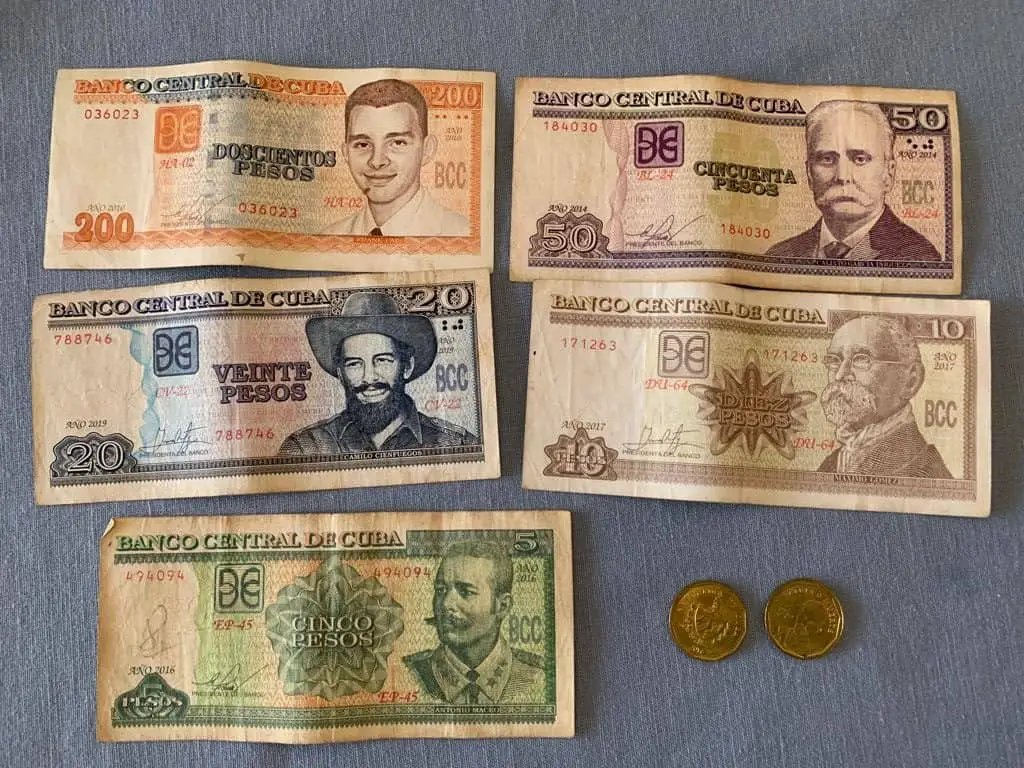 Cuba's official currency is the Cuban National Peso (CUP). All the cash you will get from exchanges will be in pesos.
You should spend all your pesos before leaving Cuba. They are in an economic crisis right now, so they really need their bills. Plus, under Cuban law, it's illegal to take pesos outside Cuba.
You might have heard of Cuba's other currency, the Cuban Convertible Peso (CUC). This currency isn't used anymore. If books or online articles give money advice on the CUC, they are out of date.
What other currencies does Cuba use?
You can bring US dollars or Euros into Cuba. Restaurants, souvenir stores, and guesthouses will take US dollars and Euros as payment. Even the bathroom cleaners asking for tips will take USD or Euros. However, shops in the street and little convenience stores may still take only Cuban pesos. So, you should exchange some of your cash to pesos.
How do you exchange your cash to pesos?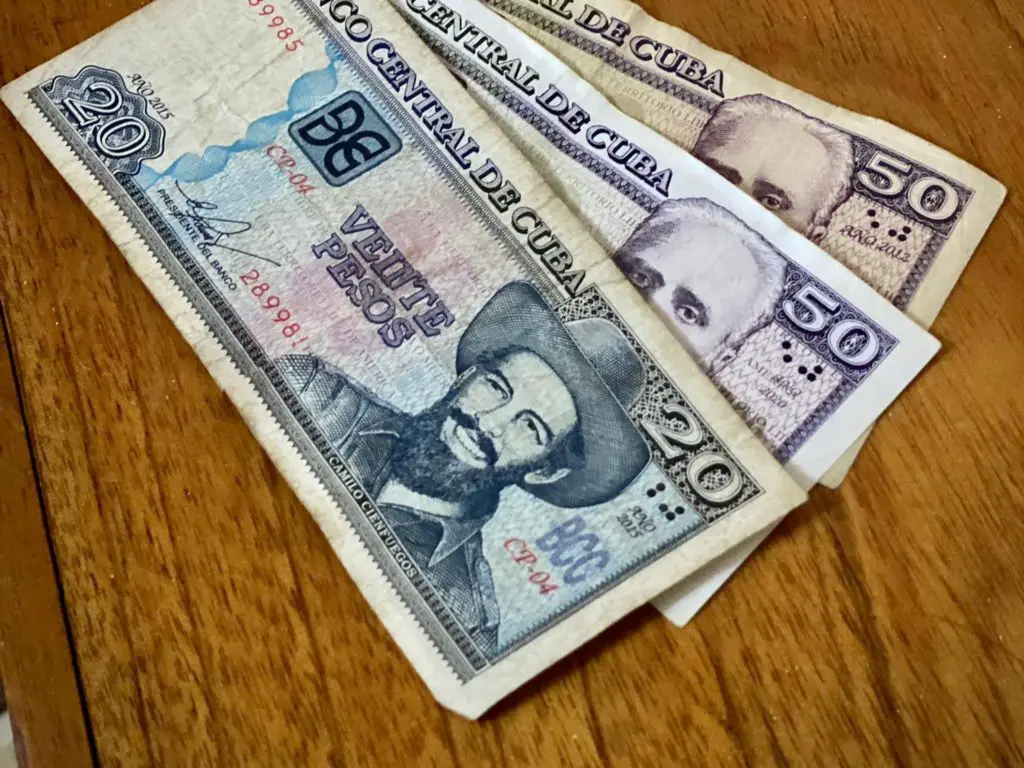 This is an insider's tip unique to Cuba: exchange at restaurants, especially in tourist areas or in bigger cities. I've even seen restaurant workers advertise their exchange rate outside their restaurants to bring in tourists!
Before agreeing to exchange, ask the restaurant worker for the rate. A good rate is if you're getting at least 200 pesos per 1 USD or Euro.
Why restaurants? Many of them cater to tourists, so they're more willing to take your USD or Euros.
Don't exchange money on the street. It is illegal to do so, and you may get a bad exchange rate. Scammers might even run off with your cash!
Don't exchange anywhere else, not even in the exchange houses or the bank. Last I heard from my tour group, someone was offered only 120 pesos when it should have been at least 200.
How much cash should I bring to Cuba?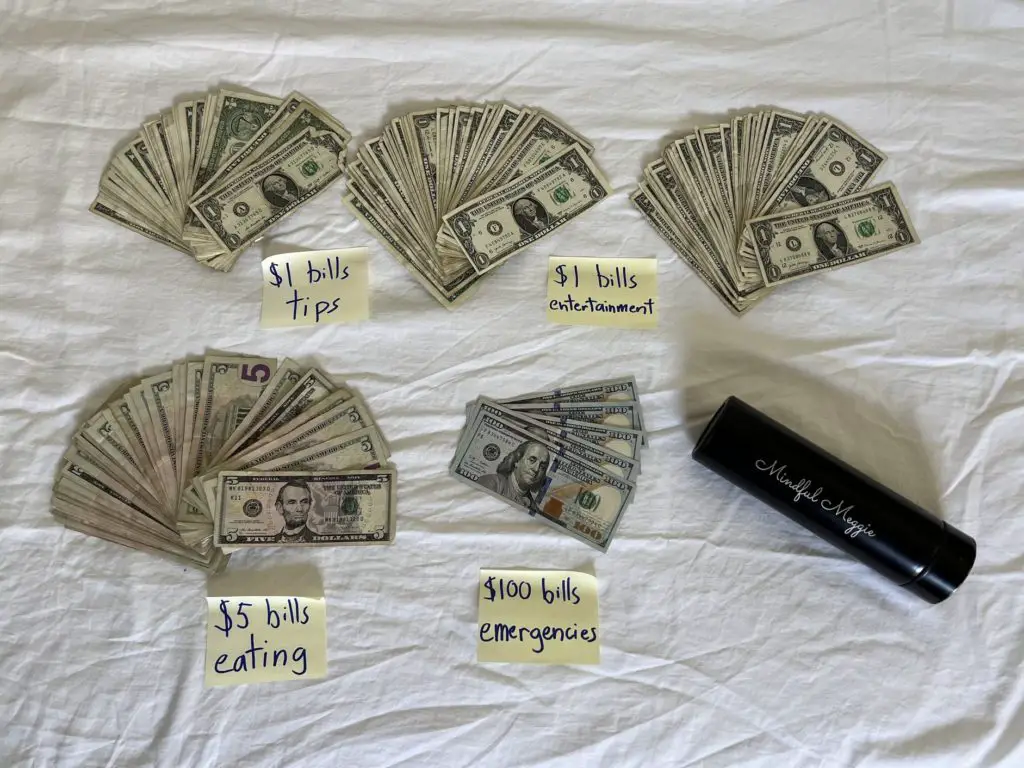 It depends on how long you're staying, your spending habits, and whether you took a tour.
If you're taking a tour, bring $50 USD a day for spending in cash.
If you're traveling independently, bring $100 USD a day.
Finally, bring $500 USD in emergency cash.
That is a lot of money, but many travelers, especially Americans, are stressed about running out of cash. So, bring more cash than you think you need.
My Cost Breakdown
I stayed for nine days, spent a mid-range budget, and took a tour.
I brought a total of $1,130 USD in cash. $500 was emergency cash, $630 was for daily expenses. Of the daily expenses, I spent $302 total, which was $43 a day.
On a mid-range budget, I paid for meager expenses in cash, like souvenirs, tips, drinks, and some restaurant bills. I brought small bills, and you should too. You can ask your bank to withdraw cash in $1 and $5 dollar bills.
But I paid $1,968 USD for a tour with my credit card, which took care of my major expenses (guesthouse accommodation, bus travel, and most meals) before I even set foot in Cuba. That way, I wouldn't have to worry about spending lots of cash in Cuba. It's one of the main reasons I recommend taking a tour in Cuba instead of traveling independently.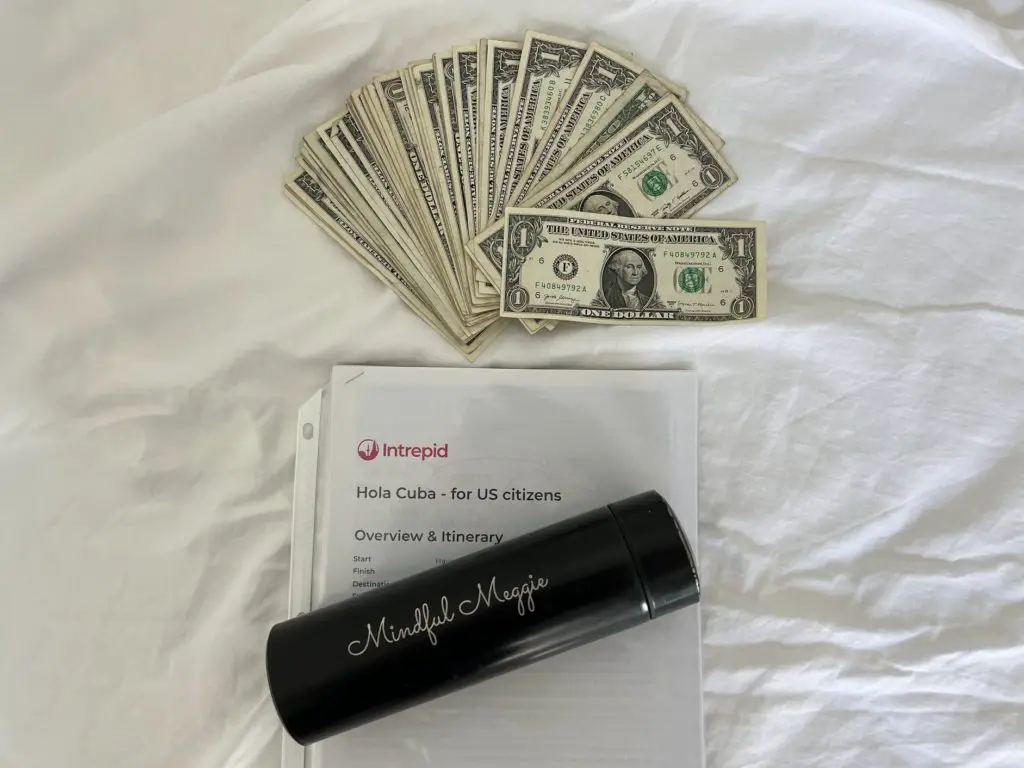 Here are the individual costs (USD/EUR) you can expect to pay in cash:
Attractions and Entertainment
I spent $27 total. Because my tour already included most activities, I spent little cash on extra activities:
$20 for a 1-hour massage in Trinidad
$5 for discotheque admission in Trinidad
$1 for a beach lounge chair at Playa Ancon
$1 for a lookout tower in Cienfuegos
Transportation
Here are transportation expenses:
$10 one-way or $20 round-trip taxi within cities in Havana and Trinidad
$30 for a one-way taxi to and from Havana Airport
$10-25 for a one-way Viazul bus ride from Havana to a city in the west (Viñales, Santa Clara, Cienfuegos, Trinidad)
$50-60 for a one-way Viazul bus ride from Havana to a city in the east (Holguín, Santiago de Cuba)
Meals
Here are my meal expenses:
$25 for a meal at a tourist restaurant
$2-3 for non-alcoholic drinks (double for alcohol)
$3-4 for alcoholic drinks
Tips
Tips took a large chunk of my cash expenses. There isn't a standard on tip amounts, so tip however much you want. I tipped $85 to taxi drivers, day tour guides, music bands, restaurant workers, and bathroom cleaners. I tipped a total of $70 to my multiday tour guide and bus driver.
$10-15 a day to service workers
$5 a day to your multiday tour guide
Souvenirs
I spent $60. (I bought too many CDs!) Here are my souvenir costs:
$15 for a handmade Cuban shirt
$20 for five handmade cigars
$25 for three CDs
$5 or less for small items like magnets
Internet Cards
Internet cards cost $1 for one hour. These cards are required to get access access in Cuba. You can buy them in tourist businesses like inside hotel lobbies.
Guesthouses
The prices of guesthouses depend on the amenities and quality. According to my tour guide, who's a Havana local, the average price is about $50 a night in Havana.
If you bought a tour or booked guesthouses on Airbnb before coming to Cuba, you don't need to worry about spending cash for guesthouse stays (except tips).
If you are traveling independently and want to drop by guesthouses, you can pay the guesthouse owner before your first night in cash.
***
One of the biggest worries in Cuba is having enough cash. US citizens, in particular, need to bring lots of cash as it's the only way to spend money in Cuba.
That's why I have provided a recommended daily budget based on your type of trip and a breakdown of my personal costs. My guide, based on my firsthand experience in Cuba, will help you prepare the amount of cash you need. By bringing more than enough cash into Cuba, you can focus on having fun exploring its historic cities!
Photo credits:
CUP bill in front of the Capitol Building: Willmar, Meggie's tour guide
Layout of CUP bills and coins: Helen, Meggie's tour mate
CUP bills on a wooden table: Jillian, Meggie's tour mate