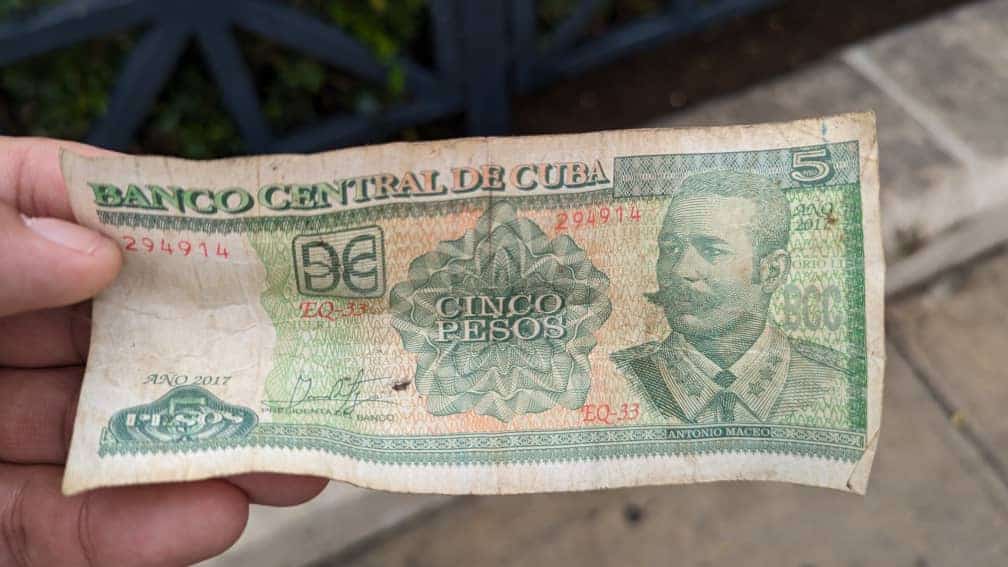 Posted: October 14, 2023
Visiting Cuba is like stepping back to more traditional times. You'll feel the time-travel effect as you spend the days without the internet as you walk past eroding buildings and ride in classic 1950s cars.
The other part that makes Cuba feel more old-timey? You should bring cash, and lots of it.
During my nine-day trip in Cuba, I spent everything in cash: restaurants, attractions, souvenirs, taxis, and tips. I was glad to have lots of cash with me so that I wouldn't have the stress of running out of cash.
Make sure to bring lots of cash (USD or Euros) because cash is the primary way to spend money in Cuba.
Americans should bring more than enough cash because you cannot pay with your US-issued debit and credit cards. All the money you will spend in Cuba is the cash you'll bring from home. As an American, I brought more cash than necessary, so I didn't stress out one bit.
Here is how you can pay for things in Cuba with cash:
First, budget how much cash you should bring. If you want to know typical expenses in Cuba, check out my cash budgeting guide, where I break down all my cash spending in Cuba.
Then, go to your bank to withdraw lots of small bills, preferably $1 and $5 bills. My fellow American tour mate regretted bringing big bills because expenses in Cuba were low. I ended up being a Bank of Meggie because my friend traded me their big bills for my small ones!
When you land in Cuba, go to a tourist restaurant to exchange some of your bills for Cuban pesos (CUP). Restaurants have the best exchange rate. A good rate is 200 pesos per $1 USD. Exchange only some of your cash, not all of it. It is illegal to take pesos outside of Cuba, so don't have too many pesos on you. You can go back to a tourist restaurant to get more pesos.
Always have some pesos and USD/Euros with you. Here are some tips as you carry this cash around:
Keep some with you, and leave the rest in the safe of your guesthouse. One time, I forgot to carry cash around and I had to borrow cash from my tour guide.
Carry small bills. I often tipped bathroom cleaners. Also, many attractions have low entrance fees.
Try to spend all your pesos before spending in USD/Euros. You'll get a better rate if you pay in pesos. When I paid in USD, sometimes it cost me more money (but not that much more, by American standards).
Run out of pesos? Not a problem. From my experience, all servicepeople and most businesses took USD and Euros.
Before leaving Cuba, spend all your pesos. It is against the law to remove pesos from Cuba. (The Cubans really need their pesos as they are in an economic crisis.)
By following these steps and tips, you can travel throughout Cuba more reassured that you'll know how to exchange and spend cash. Besides restaurant bills and attraction admission, you'll also spend the cash as tips for many service workers, sometimes unexpectedly. This being a cash-heavy country, bring lots of cash!
You won't regret it. I didn't hesitate to spend my cash on well-made souvenirs, affordable restaurants, and epic experiences like bell tower climbs and local dance clubs! All these and more await you in Cuba.
Featured image credit: Willmar, Meggie's tour guide in Cuba